Erie Idol 2021: Saylor Russ Takes The Win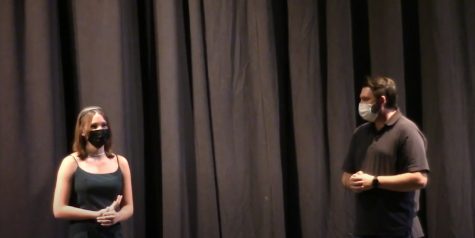 The stage lights shone upon the contestants of Erie Idol this last Friday, April 16th, in the Erie Auditorium as an audience looked in awe at the talent of this year's top five performances. Though having to submit to covid-19 regulations like a limited audience and masked singers, Thalia Burd, Brandon Bird, other administrators, and the students participating made the show go on in a competitive sprawl of musical notes and lyrics. 
Sydney Peterson, who gave a winning performance in Erie Idol 2019, decided to sit out of this year's competition in hopes of giving someone else their time to shine. As to who shined the most is hard to say.
"Anybody could win, there is so much talent," Stephanie Brooks, a contestant, said. This year there were 11 competitors all trying their best for themselves as well as in some cases their families, dedicating songs and performances to the people they care about.
"Chris [Tempel] and I are doing jazz duets, and you've got Grace Rowbury playing piano and singing. You've got people who are writing their own original songs," said Ryan Erekson, who with Tempel sang Beyond the Sea by Bobby Darren for their top ten performance. 
"I've done Erie Idol for three years or so, and each time I've learned something new about my voice," Erekson said about how the show impacted his future. He also said that singing in the show helps contestants get a feel for singing in a different kind of way, "This is just a solo performance of what you want to sing." 
Though for many this show does not dramatically change their future, it can change how the contestants felt about themselves and about others. "The show overall gave me a sense of confidence that I have never had," Brooks had mentioned, thankful for the growth that she was able to gain during the show.
There was a lot of talent in this year's show, but only one rose to the top as Peterson did the year before. Saylor Russ took that challenge, and through ups, downs, and every other direction came to take first place.
Russ sang an amazing rendition of Before You Go by Lewis Capaldi in the Top Five performances; then, in the Top Two sang her own original song Cherry, about the exciting parts of a relationship with another person.
A week after the show Russ as well as other contestants feel more confident, and inspired to take their own careers by the hand. "It definitely makes me want to continue writing my own songs," Russ said about how the show impacted her.
"I can't see myself doing anything other than music," Russ said. The young artist wants to go to college, and live out the rest of her life doing music for herself and for others. 
Russ is thankful for the support that was carrying her to the finish line, even after almost quitting the show the day of. "I had so many people supporting me," and "I think it was more so them than me that made me win." 
"I wish they could have promoted it just a bit harder," Russ had said. She, as well as other contestants, were overall grateful for the job that the administration had done especially amidst the year that we have been through. All will have to wait anxiously for next year's show, which will be just as competitive and eye opening for the contestants as well as those who attend.