Take a Bite Out of Fall- Sweet Treats to Commemorate the Season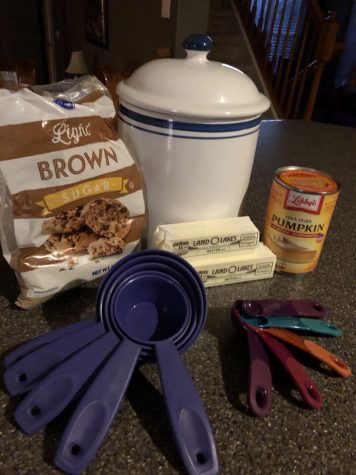 The smell of baking pumpkin and allspice wafting through kitchens is a sign that the holiday season is rapidly approaching. People throughout the world are busily making treats. From chocolate chip pumpkin muffins and pumpkin pie bars to cookies that look like leaves, there is an infinite variety of fall-themed sweets to bake.
Pumpkin is among the most common flavors associated with fall. One of the best ways to have pumpkin is at breakfast. Pumpkin muffins have all the taste of a classic pumpkin pie in a form perfect for an early morning meal. To make them even more special, chocolate chips can be added. They provide the already delicious muffins with a jolt of bittersweetness.
To make chocolate chip pumpkin muffins, start by preheating the oven to 375 degrees. Then mix together an egg, canned pumpkin, brown sugar, milk, and vanilla in a bowl. Next, combine the flour, ginger, allspice, salt, baking soda, and baking powder. Stir in the chocolate chips. Bake for 18-22 minutes and set them aside to cool.
After the muffins are done cooling, they are ready to be enjoyed. Eat them when you wake up, for a fun, festive breakfast, or after a long day of school, as a special treat. 
Pumpkin pie is a must-have dessert for families all over the country. Not only is it a Thanksgiving staple, but it is also a fantastic way to celebrate fall. Pumpkin pie does not always have to look like a pie, it can be in many different forms. A great way to have the pumpkin flavor you know and love without the plainness of a normal pie is through pumpkin pie bars. They are both easy to make and easy to share.
 The first step in making pumpkin pie bars is to preheat the oven to 375 degrees Fahrenheit. Then, line a baking sheet with parchment paper and get started on the crust. Mix together the powdered sugar, butter, and flour until crumbly. Bake the crust as the filling is being made. Mix the eggs and sugar together before adding the cloves, cinnamon, salt, and ginger. Then, stir in the pumpkin and heavy cream. Pour the filling into the crust and pop it back in the oven for 35-40 minutes. After removing from the oven, place it on a wire rack to cool completely before cutting and serving.
If you are not a fan of pumpkin, maple leaf cookies are a great option. Each cookie has a sweet, maple flavor that reminds you of fall in the best way possible.
To make maple leaf cookies, start off by getting out a large bowl. In this bowl, mix the butter and sugars with the mixer on medium speed. As you are mixing, add in maple syrup and vanilla extract. Then, turn the mixer to low speed and mix in the flour and salt. Next, divide the dough into two equal pieces. Wrap each piece in plastic wrap and put them into the refrigerator to set for at least one hour.
While the dough is chilling, preheat the oven to 350 degrees and line the cookie sheets with parchment paper. When the hour is up, take out one of the dough pieces and use a rolling pin to flatten it out until it is about ¼ of an inch thick. Use cookie cutters to make leaf shapes with the dough. Make sure to put the leftover dough in the fridge to use later. Place the cookies on the cookie sheet and bake for 12 to 15 minutes. Remove the cookies from the oven and place them on a wire rack to cool. Repeat this step with any remaining dough. For an extra festive treat, add sprinkles to the cookies.
Pumpkin muffins, pumpkin pie bars, and maple leaf cookies are easy to make and would be the perfect addition to your fall celebrations. Get cooking and create a fall treat that you will never forget!