Elections are Here!
So here's EVERYTHING you need to know to vote this year
Hey Erie High School! It's almost Election Day, which means the Junior-Senior Lounge has disappeared again and we're selecting our student government officials for the 2019-2020 school year.
We've got a (almost) full preview for you of the elections. So read, learn about your candidates, and go vote!
FAQs
Where do I vote?
The Junior-Senior Lounge
Can I vote?
All freshmen, sophomores, juniors, and teachers can vote (sorry seniors)
How long are the polls open?
7:30 to 1:30
Will we know the winners at the end of the day?
Yep! The winners will be announced over the intercom before everyone is dismissed. And this year, the Tiger Times will have LIVE exit polling throughout the day so you can know where your candidate stands! (unofficially, of course)
Have another question?
Ask us @ErieTigerTimes or @grayson_blalock on Twitter tomorrow for your answer!
Now, for the candidate previews:
President –
Gavin Mendoza
Gavin's been in StuGo all throughout high school. He's the only Presidential candidate with StuGo experience.
"The students can always count on me to make it to my commitments and I'm the one you can trust to lead Erie High School to greatness"
Jack Laychak
"Jack is a very organized student and is very intelligent. He is always helping other people around him and making sure to listen to people to help improve his personal success."
"Jack is always striving for something and everyday he is trying to achieve something new. Whenever he is looking for help he always looks to his peers around him."
Bella Tapia
Campaign Slogan: Bella for president? Uh yeah, I sure hope she is. (in the style of the road work ahead vine of course). There's others like for the instagram; double tap for tapia
Experience & Qualifications: I stage manage in the theatre department there, and that role is all about managing a group of students while also listening to them and making the shows fun. Also, although I haven't been in stugo doesn't mean that I don't know what's going on. Josh Alejo has been really helpful and kind to me, explaining the things that go on in stugo and what he wished he could have done and just overall given me really nice advice.
Campaign Promises: To fully listen to students ideas, to highlight under-appreciated sports, clubs, and activities. To implement new clubs and activities to the school, and make the school really the student's school. (Possibly a field day? or teacher vs student activities?)
I'm all about spreading kindness. Recently in the election there's been some shade and negativity, and I received some of that really early on as well, but I refused to get into the drama because I just really want to spread kindness and make a change.
VP
Izzy Hageman – Declined Comment
CJ Ely – "I see that my candidates around me a very strong candidates and have lots of great potential and that alone makes me work harder so I can strive for greatness. I believe that how much I work towards anything I come across separates me from the other candidates around me. Even if I haven't planned an idea, if somehow it crosses my mind or is presented towards me I work super hard to accomplish the said goal
Emma Barrow – Declined Comment
Gage Moore – Declined Comment
Secretary Candidates All Declined Comment
Treasurer
Jamis Schriner – Declined Comment
Mia Weber – "Hi, I'm Mia Weber, I'm a sophomore, and I'm running for student government treasurer. I'm involved in many different areas of the Erie high school community, including being the financial director for Erie's Model un club, being an active member of green team, our environmental club, and playing golf for Erie's golf team. My campaign is founded in two key concepts: The patent pending Dream On Philosophy, and the Backwards Mullet theory. The basic principle of the Dream On Philosophy is this: As a candidate for Treasurer, I don't have the authority to promise you anything, because I won't have the power to execute it once in office. It is because of that that I'm not going to list off a long list of awesome and creative ideas I have for Erie high school. The Backwards Mullet theory exemplifies all the qualities that would make me the best possible treasurer, such being determined, smart, organized, communicative, effective, efficient, I don't take any crap, and I get things done. The Backwards Mullet theory is exactly what it sounds like. The concept of the mullet is Backwards. Instead of business in the front party in the back, Erie High School should be represented by creative presidents and vice presidents that exemplify what we, the student want from our school. We need the business in the back. You want the hard working people like me giving everything they have and more to the "heavy lifting" required to pull of the awesome events stugo puts on. I am dedicated to continuing to make Erie High School the best that it can be. I am Mia Weber and I want to be your next student government Treasurer.
Derek Lundeen – Declined Comment
SCP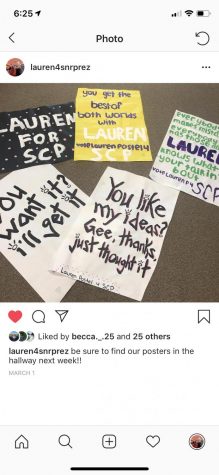 Lauren Postel –
Lauren has one year of StuGo experience and has been a part of pretty much everything you can do at Erie High School:
4A State Champion Cheerleader
Link Leader
NHS Member
Prom Committee Member
Graduation Committee Member
#WhySAT Member
Enrolled in multiple AP/Honors Classes
4th in the Junior Class
FCA Member
Influencer of Inspire the Tigers
NHSS Member
Participated in the Cadaver Lab
Pre-Link Mentoring Program
Grace Jardine – Declined Comment
Will Khanna
Where there's a Will, there's a way. Vote Will for Senior Class President.
As Senior Class President, Will's main goal is to get the black and white graduation robes. He also wants everyone to have a fun and relaxed senior year
Neveah Stanesa – Declined Comment
Nathan Hughes
1. Vote Sister Senior Class President
2. I have many leadership roles in and out of school, I also an the voice of minorities in school.
3. I promise a better parking spots for Seniors, more engagement with students with other students, and also FOOD!!!!!
JCP
Ryan Erekson
Ryan Erekson entered the stage with a bold look. Dressed in a hot pink robe along with several hats stacked on his head, he immediately called for the audience's attention. His campaign video was also very memorable and received many laughs from the crowd. While he was relaxed and humorous about his side of the debate, he was also confident and serious about getting the job done and promising an improved school life for the incoming juniors.
Emma Maiocco
Emma Maiocco is credited with previous student government experience, something that the other candidates do not have. This was a primary aspect of her part of the debate. She also noted the fact that her overall knowledge of and familiarity with the Class of 2021 will allow her to truly recognize what changes her peers wish to see.
Grady Wolver
With a more personal approach to the debate arrived Grady Wolver. Telling details about his adoption at a young age, he won over the emotional side of the audience. Despite the crowd's disapproval towards his recommendation for more standardized testing, his campaign was largely accepted and he connected with the audience on a more one-on-one level.
Noah Liska was adamant about getting the job done. He was direct with his desire for student involvement and many of his answers to the debate questions received positive feedback from the audience. It was clear that Liska was known generally positively amongst his peers.
SoCP
Garrett Felton
My campaign slogan is "Students need a voice so make the right choice." And I've been involved in sports since a young age of 5; I was a gymnast for 8 years, have played football for 2 years now, and am currently doing track for the 3rd year. I believe this helps make me qualified for this position because it shows that I am dedicated. It also shows that I am a hard worker and will not give up on an issue easily. Some promise that I'd be willing to make to the future Sophomore Class of EHS, is that I will be extremely open about problems or issues we encounter at the school and will be going around the community, reaching out to people, and doing surveys, in hopes to get other people's opinions on said issue. My main goal is to try and bring us all together so we're all going in the same direction.
Dario Hinojosa – Declined Comment
Mikayla Garcia – Declined Comment
Jenna Martinez – Declined Comment