Erie High's Homecoming 2022 Theme
On October 8th, Erie High School is holding their annual homecoming dance. The theme is 'Red Carpet Ready' and the students are more than excited. 
Stugo, or Student Government,  has worked incredibly hard to make this dance happen, and one of the first and most important decisions they made was the theme. "We are thinking about just being our fabulous selves, having a red carpet, Hollywood and stars, things like that," Mackenzie Stuart, the Student Council teacher, commented.
Decorations for the dance plays a big part when it comes to choosing a theme. Stugo has to take a lot into account, like money and space. Because the dance is going to be on the football field stugo has plenty of room to work with. This year, decorations are going to revolve around Hollywood and there is going to be a lot of flashy decor as well, given that the theme is pretty flashy and extravagant itself
 Because Stugo takes a lot of information from the student body to make decisions like the theme, it takes quite a lot of people to come up with a good selection. Avery Malek, Student Body Secretary, states, "It normally takes our whole class and some of the student body, considering we use a lot of their input."
 Stugo usually starts this process by setting up a Google form or an Instagram poll that is sent out to the whole school. Emily Frech, Student Body President, said "For this theme we put out an instagram story and we took all the top answers." 
By making these polls, the student government's main hope is to choose a theme and create a dance that everyone in the school will love. The 'Red Carpet Ready' theme is perfect for this, as it allows for everyone to be themselves, feel included and be fancy for a night on the red carpet. 
After taking the students' opinions, Stugo will then take the most reasonable answers and do a poll in class. "We discuss during class and kind of knock out the ones that don't really make much sense and aren't really feasible," Frech said. "We take the final ones and put those in a Google form, basically depending on how split it is, we ask the class if they want to argue a case."
Now that Stugo has chosen the theme for homecoming, the students of Erie High can really start to get excited. Proposals for homecoming dates have been happening left and right here in the hallways.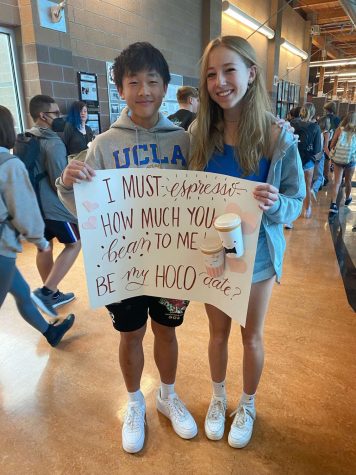 Past homecoming themes can influence what stugo chooses for this year as well. Some previous themes were Mardi Gras(2021), Arabian Nights(2019), and Tropical(2018). Old themes can sway the themes picked for future events as if they are too similar it can seem like they are repeating.
Erie students expressed great enthusiasm for the 'Red Carpet Ready' theme and for the dance itself. Sophomore, Sydney Robertson commented, "I'm super excited to see my friends all dressed up for the night!"
With homecoming right around the corner, be sure to get your tickets, on sale until October 7th at 2:45pm.