Erie Welcomes in the New Boys Basketball Coach Jimmie Lucero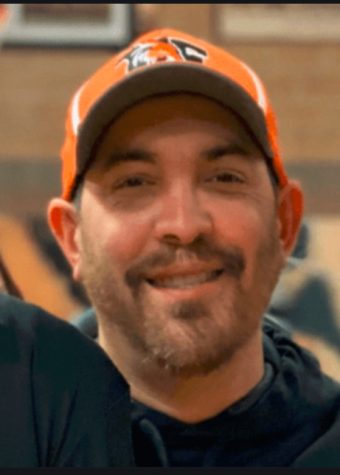 Erie's new 2020 boys basketball coach, Jimmie Lucero, is new and innovative with his coaching techniques and is hoping to lead the boys to a state title. Lucero previously coached at Frederick but decided to coach at Erie when the position opened up. His new defensive standards and drive to work hard are what separates him from other coaches.
"I have been coaching basketball for 15 years, and I have been working for the Denver Nuggets for 20 years. Basketball has always been my passion, and once I had my kids and my older son was five years old I started a coaching habit. That was 16 years ago, and I have been coaching ever since," states Lucero, who has always been driven by his passion for basketball and has formed a life around it. Basketball has given Lucero something to work towards all of his life.
Lucero brings new points of view that he believes will help them to state. Sophomore player Jett Hinze comments, "He will implement different strategies on defense and show us how effort is more important than talent and just push us to be our very best." Lucero wants his players to be the best they can, with less focus on how far the team goes.
"He really wants us to succeed and he pushes us to do so. I like the care that he puts into the program, both in the competitive leagues that we're in right now and the development that he's trying to bring forth into the team for the season in January," says junior player Trent Bowers. "Coach Lucero will lead the team through a lot of hard work and to be in the best shape we can. I think that's a strong suit that he wants us to develop." Lucero wants his players to be able to go farther, and in doing so he is building personality and a drive to work harder.
This year, Lucero is confident for a high playoff season this year. "Yeah, we'll be in the mix, it is going to be really hard to win state though. There are 78 teams. There's gonna be 24 really good teams." With Erie making the Sweet Sixteen last year, Lucero believes Erie will be able to get to the Elite Eight this season.
"I think he will lead the team farther than last year, simply based on his way of coaching. I believe he is here to stay and he's more rooted into the program than the last coach was." Mentions Hinze. Lucero is committed to Erie and getting this program, among the top in 4a.
Erie High School is proud to have a dedicated coach, and someone who truly cares about his team. Lucero will continue to work, and we will get to see them claw their way into the playoffs.