Hippo Campus Captures the Serene Blend of Summer and Fall in Album Bambi
Indie rock band Hippo Campus has yet again surpassed every expectation placed upon their name with their sophomore album Bambi, released September 28, 2018. The 4-piece originated from St. Paul, Minnesota in 2013. Signed with American label Grand Jury Records, the group has performed at several notorious music festivals and venues such as South by Southwest, Bonnaroo, Lollapalooza, Summerfest, and Reading and Leeds, as well as Colorado's local and beloved Red Rocks Amphitheatre.
I discovered Hippo Campus about a year and a half ago while scrolling through Instagram and stumbling upon an ad for their debut album Landmark. Upon first listen, that record put my adoration in a headlock; I was so enthralled by the ability that this band held to paint their music with such unapologetic emotion; both sonically and lyrically. Little did I know, several music fans around me were also infatuated with this band, yet nobody seemed to be shouting their names from the rooftops like they deserved. Shocked, I continued to keep up to date with Hippo Campus, and their new release further proves that they deserve much more praise than they are receiving.
Bambi opens with "Mistakes," a piece overflowing with colorful ambience and soothing vibrations. Choral-like harmonies fill the picture, before closing in on lead singer Jake Luppen's vulnerable voice. The track trickles into gentle, ethereal swirling and a sense of mystery as it begins to fade, until it is swiftly interrupted by the bubbly pinging of the second track, "Anxious."
"Anxious" is the introduction to a theme found all throughout the album, which is the haunting feeling of self-doubt and, you guessed it, anxiety. Luppen abruptly comes in from the start with low vocals and lyrics of melancholy and indifference towards everyday life. Still, these words, written by bassist Zach Sutton, manage to also provide reassurance to the listener, with lines like "Don't you know you're not to blame for feeling?"
Choruses are another one of this band's great assets, which is made especially evident all throughout these ten tracks. Luppen takes advantage of his signature stylistic vocals and guitarist Nathan Stocker reminds us of the great appeal of his bright instrumentality with the dreamy chorus in "Doubt," creating this realm of airy summer nostalgia (which may or may not coincide with the band's name, a reference to the part of our brains that channels memories and emotions).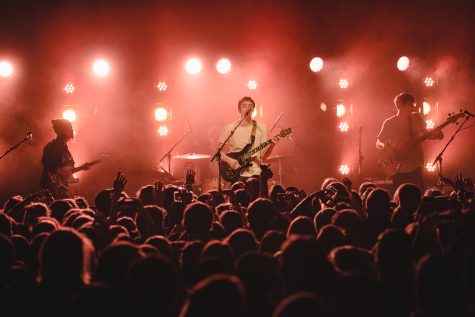 Still, infectious hooks are not the only highlight; Bambi is also infused with touches of Hippo Campus' guitar-driven roots in songs like "Why Even Try," which juxtaposes the summery characteristics of "Doubt" with acoustic reminders of the tranquility of autumn. This brings comfort to listeners familiar with the band's older works, while still offering something new to grasp.
These feelings of serenity are carried through the remaining four tracks, while mixing with joyous guitar riffs like that of "Honestly" and catchy rhythms from drummer Whistler Allen that will have you subconsciously tapping your feet. As the album wraps up with the track "Passenger" and Luppen's vocal ability demands the listener's ears with effortless falsetto and raw emotion, you are left with the familiar floating, sporadic sounds that you met when you first pressed play on this chapter in music.
And there you have it, the musical experience that is Bambi by Hippo Campus. This collection of affirming and comforting pieces is fit for a diverse selection of listeners seeking different aspects of this band's music; whether it be the classic sound they have held since the release of their first EP, Bashful Creatures, in 2014, or the swimming ambient pop sound they have managed to interweave into their indie rock roots, Bambi has something for all fans, old and new. This release has me on my toes for what is to come in the band's promising future.