The Story of an Average High School Musician
There are so many unheard stories from Erie High School, but here is the story of a musician-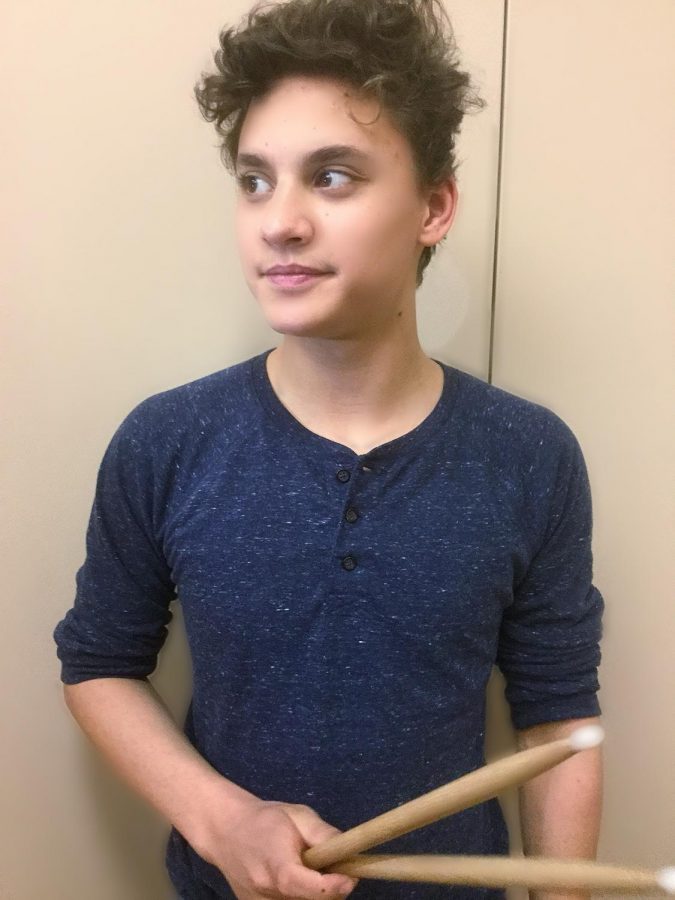 Many students are involved in music in school. From learning how to play, or joining the band already knowing how to play ten instruments, there are multitudes of kids who gain something from the Erie High School music programs. Joey Bealer is one of these students. His appreciation of music and his passion for the arts shows through when he plays and talks about music.
Bealer was born on February 28, 2002.
"It's great because I have so many twos in my birth date. I was born by a C-section because I was premature"
He was born in the Denver Saint Jude's hospital, and he was an only child for about two years until his brother was born. In response to this occasion, Bealer's words are, "Oh, boy that was great."
Bealer's sister came two years after his brother, and he has two dogs. The family used to have five, but they had to put the fifth down recently because he had leukemia. There are many people Bealer looks up to. He knows his dad will always be there for him, and his siblings.
"I look up to my dad," Bealer says,  "he has always pushed me to do new things and that has given me a lot of insight on how the real world runs. He is strong, and often intimidating, but I love and appreciate him. My parents have supported many of my decisions."
One of the most important people in Bealer's life is his band director, Doug Carmichael. Carmichael has worked at the high school for many years, and is one of the most beloved and appreciated people working at Erie High School. Many students are involved in his classes and programs.
Speaking about of the director, Bealer says, "He is one of the kindest people I know, and I am positive that our band would be so much worse without him and his expertise. Honestly, I love him."
Bealer mentions the fact that many students call Carmichael "Daddy Douglas" because of how many students see him as a father figure-type teacher. The director gives a lot to the band and works very hard on his own music and his own bands as well, Bealer thinks.
Bealer has two siblings for whom he tries to be a role model, and though they sometimes act immature, as younger siblings do, he loves and appreciates them nonetheless.
"I think my siblings look up to me. I appreciate them, even when they act exactly like younger siblings. I think my friends look up to me as well. They are great"
Another group of people for which Bealer acts as a role model is the group of younger band students in his section. He hopes that some of the younger and more inexperienced drummers can look up to him in the coming years. Bealer is the section leader for the percussion, and he tries to make a big difference in the band. One of his main dreams is to be a drum major. He hopes that one day it can happen.
When talking about his acquaintances, Bealer mentions that he has had many in childhood. They taught him many important lessons, and often he sees parts of himself come out that were inspired by his friends from a younger age. Bealer thinks that his friends have taught him to be a better musician, and have helped encourage him to get more solos and become more confident in music.
One of Bealer's regrets is not pursuing his dreams as a younger kid. Starting younger would have allowed Bealer to be more professional now, and he wishes that he had realized that in his younger years. Another dream of Bealer's is to work with a professional band, and he knows that if he had started pursuing music younger, he would be more prepared to work professionally. In Bealer's words, "I would love to leave a mark on all the different audiences that I could play for in a band."
The one valuable lesson that Bealer think regret teaches someone is how to hold yourself accountable and learn from your previous mistakes.
In Bealer's words, " I have not had too much regret throughout my life, but I know there is always regret to come in the future, and I am ready to embrace it."
Bealer's most valuable childhood memories would be his first band concert and falling in love with his current girlfriend. He says that she is his first true love and that they often help each other through school and life.
Speaking of his girlfriend, Bealer says, "She has given me everything, and I care for her deeply."
In Bealer's mind, experiences affect future opinions, because what one thinks about what happens affects how someone thinks about similar situations that one may encounter in the future.
"Positive encouragement and atmospheres help me stay optimistic in life, and I can appreciate that. I can also appreciate the people that support that and support me and my ambitions."
Bealer's one true inspiration in life is music. His love for music has been one of his true inspirations, and he enjoys listening to and making music. As any young musician does, Bealer really wants to start a band with his friends. When talking about this, and of his friends, Bealer says, "They may be "dweebs" but they are loveable dweebs, and I can not wait to hang out with them in the future and grow up with them."
Bealer's love for music gives him strength when he is going through difficult times. It can be there to support him when nothing else can be there.
"When I am upset, when I get a bad grade on something I worked hard for, or when my siblings are being obnoxious I know that music can be there for me and that I can fall on it when I need to fall."
In the next 20 years, Bealer sees himself married to his current girlfriend. He wants to serve in the army for a while, and he wants to eventually work towards finishing college and buying a house. Bealer wants to have a house filled with pets that he loves. Bealer wants to be able to support himself financially, in the future, but he is worried about the state of the American economy and what is coming for future generations. Though this is a substantial fear, and rightfully placed, no matter what, Bealer knows he will be able to get through the struggles that life throws at him.
In a friend, Bealer looks for someone that is silly, but someone who can make himself feel good about himself. He wants someone that he can trust and confide in.
Bealer believes that the features that describe a treasured employee are integrity and truthfulness. He thinks that everyone makes mistakes, but that it is an inevitable part of life, and being honest and learning from your mistakes is completely necessary to develop emotional well-being in a mature fashion.
Other than starting a band Bealer would love to become a music teacher.
"Working by giving lessons would be amazing. I would enjoy teaching students and making a difference in their lives. Giving back music from what I have learned would bring me a lot of joy."
Bealer's most treasured possessions are his four guitars and his drum set. He sees playing them as a stress reliever, and he loves strumming on his guitar when he is wound up from school, family, and life.
"I can always just sit, and strum my problems away for hours at a time."
Bealer's outlook on life is positive, for the most part. He knows that he can learn from anything that he finds unsatisfactory.
"Of course there are always things that happen to make me upset, but I never lose my optimism when it comes to thinking about the future. There are always new opportunities and I am excited to see what comes from them."
The one future aspiration Bealer harbors is starting a band. Even from childhood, Bealer had wanted to start a band. He is excited because of the opportunity to do so, but he knows it is not something everyone gets to enjoy.
"I know having your own band in high school sounds a bit cheesy, but you only live once, right? You may as well take what you get and give what you can."
When confronted by problems, Bealer's main strategy is taking them head-on. He is worried about the impending student loan debt that so many college students experience when they have not prepared a proper college fund or savings account.
One passion that Bealer holds is marching band, which is taught and performed by Erie High School in the fall season.
"I have the aspiration to become drum major for next marching band season. It is something I feel I have the skill and ability to do, and I have longed to try it for quite a long time."
The meaning of life for Bealer is to live each and every day as though it is your last.
"Regret is a painful skeleton to have in your closet, so live how you want. Do not worry about yesterday or even tomorrow. Live for today."
Bealer's girlfriend is a very important part of his life. He enjoys being with her and spending time with her. Though he knows that they are both young, he sees the possibilities in the future.
"She always makes my day regardless of how hers is going, and she is always there for me."
Bealer's goals for the future are to go to the Colorado University of Boulder. He wants to get a music degree. Bealer is also interested in CU's history and automotive studies. Another goal he harbors is working as a lifeguard this summer, although Bealer already earns money by mowing lawns in his neighborhood.
Bealer believes that taking on a job as a teenager serves as a good lesson in time management and responsibility, both things that he thinks he needs to work on before coming back to school in the fall. Bealer is taking two Advanced Placement classes next year, and he hopes to work on his various mental skills to succeed in these classes.
When speaking of his more difficult classes next year, Bealer says, "It is going to be difficult for me, but I enjoy overcoming challenges presented to me."
One of Bealer's most stressful experiences in high school was when he failed a class freshman year. It caused him a lot of angst and regret and feeling like he was not good enough when it came to schoolwork and the effort needed for such.
"I had become severely stressed that I would not be able to get that grade up."
Bealer started learning how to play the drums at the beginning of sixth grade. He has always wanted and still wants to be an amazing drummer, but he is also interested in playing the guitar. He decided to get into guitar because of Avenged Sevenfold: The Stage single. Since he has loved playing the guitar with an undying passion.
Bealer can find inspiration in any type of music, and it has totally changed how his passion for music affects him. Just listening to the melody of a song can give him inspiration. Bealer says that "pushing (himself) into the mindset of 'hey I could do that' but my own version of it" helps him focus on music.
Bealer enjoys challenging himself by playing more difficult pieces of music. One of his favorite types to play is Nu Metal – in between Heavy metal and normal metal because the guitar parts in those songs are often a more difficult challenge. Bealer's favorite song is Everlong by Foo Fighters.
Speaking of Everlong, "This song has always been a favorite of mine and will always have a special place in my heart."
Bealer believes that society has influenced music because songs have been written by personal experiences and reactions to what is going on globally. He thinks that in some ways, music is a reflection of society and that in others, it is the flip side where society is a reflection of the music.
"Pop culture is spread through both hierarchical and contagious diffusion. This results in many followers of trends, meaning one after another, we all eventually become engulfed in the world of pop culture."
Bealer also has some opinions on how music can have negative effects, and what the impact of those effects is on general populations.
"In the terms of music, sometimes that is where negative things have been found. For example, many popular songs have drug references which gather a teenage audience. But on the flip side, many songs with positive messages have been recently created, which is rather inspirational."
In Bealer's opinion, music can evolve and has evolved differently across the world. He thinks that because so many cultures affecting the development of music, it will evolve differently across the world.
"Music has always been associated with primitive rituals, such as The Rain dance. And with regards to uneven development, many places vary drastically, quite clearly their music tastes and levels will vary as well, because their culture and living standards do."
Bealer has a plethora of opinions on how music has changed worldviews. He understands the inspiration gained from the environments that musicians live in, and he believes that the connection between a musician and listeners is very similar to an abstract artist's painting, and art critics trying to understand the meaning behind each stroke of color.
Bealer believes that songs can use different emotions to tell a story and that happiness and sadness are just as useful when making a song.
"Many songs talk about personal experiences, and about how they had lost someone close to them. But a lot of songs talk about how the songwriter's lives have been changed or affected. The mood of the music can either be depressing or it can be invigorating. Both are necessary for different times, I believe."
Bealer's advice to young and aspiring musicians, like himself is "to always remain positive In everything you do. It is very beneficial because, take for example, if you tell yourself something enough times you begin to believe it. If you remain positive, you will gradually gain confidence."
Learning music has changed Bealer's life in many ways. His day to day choices have not changed as much, but when looking ahead to the future, Bealer has different aspects to his hopes and wishes. He believes that music has changed his choices, from applying to colleges to inviting friends over for the day. Practicing music has become a part of Bealer's everyday life. He works on making his music seem more accurate, with correct dynamics and rhythms. Bealer also works on staying on time and accentuating accents in the music.  
If Bealer could become known in the music industry, he says he would write songs about his experiences in high school and hope people learn from his mistakes. He does not want others to follow in his footsteps when they led him to various downfalls.
Bealer believes that it is important for a musician to remember it is okay to make mistakes.
"They are obviously inevitable, and they are learning opportunities. Yes, making mistakes in this practice is frustrating, and it can break you down at points. But over time, you begin to realize it is not as big of a deal as people make it out to be, and very rarely people notice."
Bealer wants aspiring musicians to know that they should always be true to themselves as a musician and as a student. He also thinks one should never overthink or overlook their abilities.
"If you do not believe in yourself, how are you going to push yourself, and how can you succeed when you doubt your abilities and yourself?"
Bealer believes one of the most important things you could learn in the music world is how to interact with others, make new friends, and learn how to cope with stress.
"I am not particularly fond of having the common curriculum that does not follow my future career path, but it is important because you learn how to strive through something life has presented, and that is not under your control. In terms of music, the most important thing you can learn in school is how to bond with others through the wonders what music really is."
Bealer knows that there are important problems in the school system, that need to be solved for students to be able to function adequately and control stress while in school.
"We are not really taught how to cope with a lot of stress and how to deal with depression. With rent becoming more expensive and student loan debt growing, there is a lot of stress for college students. Even though it is important to learn on our own, some help along the way would be very beneficial for students."
To incoming freshman, Bealer's advice is to take a music class
"I know not everyone has the same love of music as I do, but it provides fun in the average school day, and it is much easier when it is compared to AP classes, and it is stress relieving in one way or another. "
Bealer's comparison for life, to music, is that life is like conducting ⅞ time to ⅝ time one measure after another. He says that it provides a beautiful melody with the right tune, but it is difficult in its own way. There are ups and downs, but in the end, the denouement is worth the effort one must pass to get there.
In another life, Bealer would love to be remembered as someone that people looked up to for his passion for music, his enthusiasm, and his loud personality.
In Bealer's final words:
"I would like to conclude this interview by thanking Carmichael for changing my perspective and igniting my passion for music. He has been so enthusiastic and supportive throughout my music career. Even when I have messed up, he has been so supportive and I really appreciate it. Music has created a flow in my life that I can just follow, and wait to see where it takes me."
About the Contributor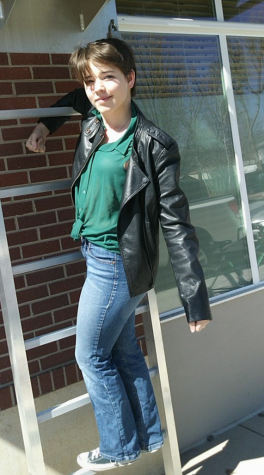 Isabelle Spetalieri, Staff Writer
Isabelle Spetalieri is sophomore and a journalist with Erie Tiger Times, and she enjoys writing and participating in all different types of classes. She...