Roaring To Another Title
As the 2023 Erie Girls golf season golfers Hadley Ashton and Logan Hale have their eyes on the prize to win state in back to back years for the first time in program history. 
Coming back this year after winning the 4A State championship last year, there are more expectations for the lady tigers to repeat this year.
Coming into this season Logan had goals to be the number one player on the team and grind out two good rounds to try to win the individual state title.
"I've had some momentum coming into the year after playing well at a few tournaments and feeling good about my swing and golf game."
L Hale has been hitting the indoor facilities this winter and just grinding out her game to get it consistently. 
On the flip side, Ashton is trying to win a state title for the second year in a row. After last year's dominant performance by beating the field by 8 strokes, you could say people are expecting her to take the title.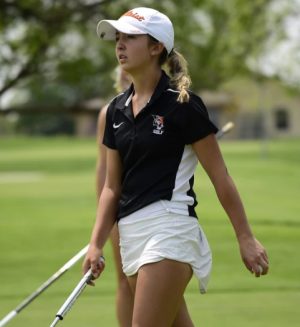 When the season started Hadley got off to a hot start by winning the first front-range league tournament with a 68 and second place shot a 77. 
On top of dominating in almost every high school tournament she plays in, Ashton is playing in American Junior Golf Association all over the country.
"My schedule has been crazy but it is so much fun to go out and play with these great golfers at these tournaments across the country."
Ashton has been getting letters from different colleges and getting national attention. Being a D1 golfer on a high school team is crazy but having two is even crazier.
Also, L Hale committed to Denver University before the season took place. Hale felt like she was at home when she visited the Coach and campus of Denver.
"The program that I saw and was surrounded by just made me feel comfortable and felt like the best place for me."
The friendly competition that Ashton and L Hale bring to the table is the type of leadership that the Lady Tigers need to compete for another state title. 
Then, if you asked the head girls golf coach Brandon Bird about the rankings of the team he would tell you about the top two but after that, the three and four spots would be up for grabs. 
T Hale who was one of the best golfers in Colorado quit the sport to pursue skiing but came back to the sport when the Hale family moved down to Erie. 
When you get back into the game of golf even after being good at it, it is still a very cruel game. 
"The work ethic and focus it has taken me to get back to where I want to be with my game has been very difficult."
To begin the season, T Hale found some momentum by starting within the top five and building the confidence that she would need to compete at regionals and state.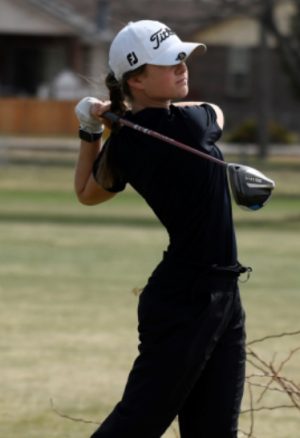 Even though she struggled throughout a few tournaments she still held her rankings within the team and enjoyed being on the team. 
As the season progressed, T Hale secured her third spot but the fourth spot was up for grabs.
A few more players, Hollyn Drennon and Sydney O'Connor are two exceptional golfers with the Tigers and had a friendly competition throughout the season to secure the fourth spot. 
"Every tournament it felt like it would switch to the other person but the next few days it could switch like that again," Drennon stated. 
Hollyn had some extra motivation going into the season this year because last year she felt like she could make state but Sydney went instead. 
O'Connor going into this year also wanted to repeat her state appearance, especially being her last season on the team. 
"This is a very special year for me since it is my last. I'm looking forward to competing and having fun to capitalize on my high school golf career." Sydney explained. 
A tough tournament for O'Connor switched the momentum into Hollyns favor since O'Connor had to withdraw from a tournament. 
Coach Bird is all about giving opportunities to all of his golfers especially if the rankings are very close to the end of the year. Bird decided that Hollyn and Sydney will do a win-or-go-home round of golf to determine who will make the regional squad.
After a tight race that was very energetic and stressful, Hollyn prevailed as the winner. 
"It was probably one of the most stressful rounds of my life and it took so much energy for me to focus for the full 18 holes. In the end, I'm very excited for regionals and state." Drennon presented. 
Now that the last four girls on the team have two more tournaments to finish the year, this team just needs to take baby steps to win another title. 
The girls are going to compete in a tough course at Fox Hill on Tuesday, May 23rd. This course tests every golfer's game and how much they can manage their game. 
Ashton is so consistent with her clubs off the tee, she just purely dominates the competition at tree line courses. When Hadley has played at courses like Collindale or Flatirons she has finished top 5. 
The ability to hit it straight almost every single time off the tee is what separates her from most golfers in competition. 
"Treeline courses just fit my game and how I want to work the ball on every hole. There is just a sense of comfort mentally with tree line courses." Ashton stated. 
L Hale has some revenge-seeking for tree line courses. L Hale still plays very well on tree line courses but she has yet to break through at a course with a bunch of trees. 
"My game doesn't necessarily work with tree line courses but I'm still confident in my game. I'm just going to take it hole by hole." Logan says. 
At the end of the day, when everyone is on the first tee they start at even par and just have to go from there. For golfers like L Hale and Ashton, it is very easy to control their game but also the mental side messes up a lot of people. 
Going into regionals this year, it is all about confidence and feeling. L Hale knows that she has a great chance to qualify for the state competition so she is seeing this as a checkpoint for her game mentally and physically before state. 
"I just wanna go out there and play a good round for me, not putting too much pressure on myself just kind of looking at it as a state-practice round. It's a tough course but I just have to be intentional and not be too aggressive." Logan stated.
This is the same with Ashton, just play a relaxed round and do not put a lot of pressure on yourself even if you don't play as great as you think you should. 
"I'm just going to go out there and have fun with my playing partners. Being able to play in a relaxed environment while still focusing makes the game a lot more fun and easier to manage the round." Ashton said.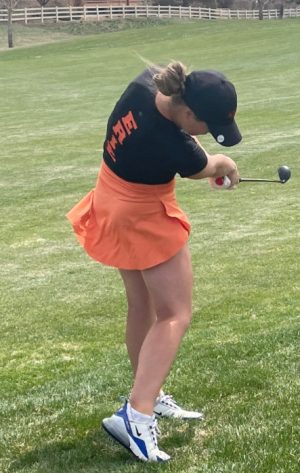 Especially for T Hale and Drennon who are going to regionals for the first time, it is extremely important to control their emotions. 
"I want to be able to have a solid round and keep my game in check. There will be nerves on the first tee but I'm looking forward to settling in throughout the round." Taylor said. 
Of course, winning the state competition is what the Erie team is looking for, Bird loves the emotions that go with these tournaments. 
Bird is looking forward to returning to these emotions that come with a big lead. Having the ability to be a proud coach of this accomplished young program is something he will cherish. 
For the parents as well, seeing their teenagers work so hard at their crafts, and going through the ups and downs of the game is something that develops these people into great humans. 
As these girls go into the regional tournaments starting at 9 am tomorrow, the nerves will be through the roof and expectations will be set to win. 
The main goal out of all of this for Coach Bird and the Erie Tigers is to rise to the throne of Colorado 4A girls' golf and win another title.