Coleman Manuel, a Natural Leader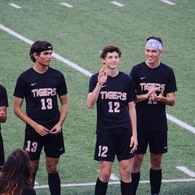 Overcoming adversity this year, Coleman Manuel is a leader in all aspects of his life. Manuel is a member of the boys soccer team as well as a team captain. His accomplishments on the field speak for themselves with 2 goals and 4 assists, but if you watch him play it is noticeable how the game runs through him even while he is off the ball. Blake Nemeth, who is also a senior on the team called Manuel "A huge leader for the team, he is constantly pushing his teammates to do their best keeping them accountable. The team really benefited from him setting that example." 
Manuel has played soccer at high levels since he was young. He played for a club named Trebol for several years where he represented the club's top team  for the club in his age group. Since then, he has played for both the school team as well as the club Broomfield Blast. The high level of play certainly garnered attention from his peers because he showed the same traits of leadership since then. 
Off the field, Manuel's antics are just as impressive. He is a model student taking several AP classes including AP Biology, AP Calculus AB, and AP Calculus BC and performing well in his classes. He is also a great person to have around in social environments too. Nemeth noted that Manuel was "Super outgoing and chill with a great positive attitude." 
Manuel is a senior this year and it has been a long term goal of his to play soccer in college. He achieved this and noted how much of an accomplishment it was to get accepted to play soccer at and attend Central College in Iowa. He remarked on the accomplishment, "It is just really nice to have a plan and know what I'm going to be doing with my life for at least the next four years."
Manuel's experience has not been all smooth sailing though. This past year COVID-19 put a stop to a lot of the plans for him. Training facilities were closed so it was a real struggle to train for soccer.
"I had to find ways to train to stay in shape and practiced so I had to get a bit creative with some of the work I did such as having to train inside," This work paid off considering Manuel will be continuing his soccer career in college. "I've been playing soccer my whole life and while I tried other sports like baseball when I was younger they were fun but never stuck like soccer did."
Overall, Manuel is a stand out player and a stand out member of the community. His leadership in all aspects of life is able to rally others around him creating a better place wherever he goes.