Fire and Ice: How Wildfires and Avalanches Have Impacted Our Community
Amy Hood, Senior Staff Writer
February 26, 2021
As wildfires and avalanches have ravaged the mountains of Colorado this last year, Erie students and Colorado residents watched as athletic seasons were almost ruined, cabins were nearly destroyed, and lives were lost. 
For many athletes, like Lauren Davia, an Erie High School senior and tri-season athlete, the prospect of more wildfires is more than just a small inconvenience for a couple of weeks out of the year. As both a cross-country runner at the peak of the fires and someone with asthma, Davia dealt with a lot this past season. 
"There were days that I would show up to practice but I literally couldn't do the workout because I was having an asthma attack," Davia explained. Thankfully she and the cross country team still ended up having one of their most successful seasons.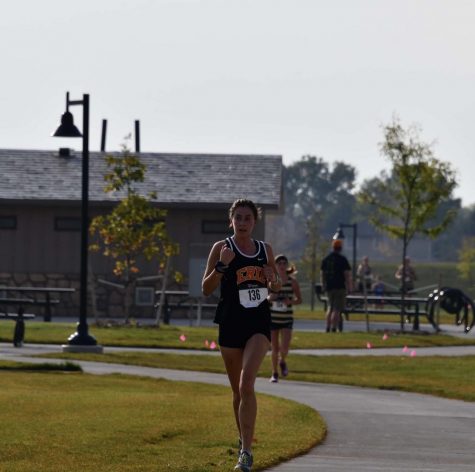 For many with asthma, the prospect of increased wildfires is dangerous in the short and long-term impact it can have on the body. For Davia, she's "seen that my lungs definitely aren't as good as they were before the wildfires which is disappointing." This makes her nervous for summers to come and college athletics because, as she explains "I can have long term and lifelong effects from going outside and doing that, and that makes me really sad." Davia hopes experts will figure out a way to control our wildfires and forest brush, so she and others with asthma and lung conditions can enjoy the outdoors and our atmosphere can stay cleaner. 
Mikayla Dotson, an Erie High School senior, also got to experience some of the fear that came along with the wildfires. She has lived in Colorado her entire life and has enjoyed going up to her family's cabin near Estes Park each year. "Usually around the holidays or summer, my cousins come from California and my whole family loves to go up to our cabin to hang out together," Dotson said. Her family hopes to pass the cabin down for generations, but that tradition was almost destroyed last fall.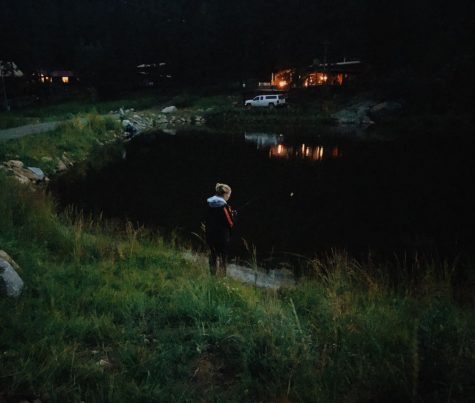 With wildfires burning up much of Rocky Mountain National Park and Estes Park residents having to evacuate, Dotson's cabin was in great danger of being lost. "My family was very concerned about the fires, and the possibility of losing a place where we all love to go… to lose it would be heartbreaking," Dotson elaborated. Thankfully, Dotson's cabin was not touched by the flames, but she and her family remain nervous for what will happen in the coming years. She hopes the US Forest Service can find a way to get these wildfires more under control, so not only her cabin but other people's homes and property are not lost. 
Julie Mitchell, a Geology and AP Environmental Science Teacher at Erie High School, gave a scientific perspective on the causes of these fires and what can be expected in the future. She first started by explaining the heat in Colorado, "Each year we keep striking records… here with heat. So, with the dryness, as that continues, [Colorado is] going to have more strain on our system, which is going to cause more wildfires." 
This is not a trend just for 2020, "Unfortunately, our wildfire seasons are going to continue to get worse and it is attributed to climate change because what you have is global temperature warming, (Earth is) about 1.5°F warmer," explains Mitchell. 
El Niño, a shift every seven to nine years in the Pacific jet stream to the South-East, also has a huge impact on the weather we see year to year. "It's kind of strange that something in the Pacific Ocean could affect us here in Colorado, but that's the thing about climate change… the whole idea is that you have this whole system warming up, as it warms up it shifts, everything it shifts oscillation patterns of the ocean. It shifts the albedo of your north and south poles, which can also change the weather for everybody everywhere else," Mitchell elaborated. El Niño years cause Colorado to have dryer years, which can also be a major player in wildfires and high temperatures.
With winter comes another threat that is sure to be another major prohibitor on outdoor enjoyment and safety. Currently, we are in a La Niña year, which is the colder sister that occurs when El Niño is not present. La Niña years bring the Rocky Mountains and plains of Colorado more precipitation as well as some dangerous phenomenons. "[During a La Niña year] we get more snow up in the mountains, so the snow causes an increase of avalanche potential because there's more snow, there can be a bigger impact," Mitchell explains. This winter there has already been 11 deaths due to avalanches, which is nearing the record high of 12 set in 1993. 
La Niña is not the only reason we may break that record though. In an interview with the Washington Post Tad Pfeffer, a glaciologist with the Institute of Arctic and Alpine Research at the University of Colorado at Boulder, predicted we will see much more dangerous avalanches to come thanks to climate change. He warns that people "will get in trouble if they rely on what they knew in the past. They have to have their eyes open and not go somewhere or do something simply because it worked out five years earlier." We have yet to see the full extent of this season's avalanches and hope no more lives will be lost. 
As Colorado moves through the end of this winter avalanche season and shifts towards summer and the prospect of more wildfires, Erie is unfortunately doomed to see how these events will continue to impact our community.