Quentin Hartel and his Path to Greatness
Growing up in Erie, Quentin Hartel was always surrounded around sports. Throughout Hartel's young life he played football and basketball. He was always known for how fast he was and how he could outrun anybody at any given moment. Hartel was one of the stars on the Erie youth football team. Having great hands, blazing speed, and crazy kicking power, Hartel was thrown around the field into multiple different positions. Whether he was punting the ball 40 yards downfield or receiving a hand off to bust into the end one, him and his team never underestimated his own athletic ability.
    All of Hartel's friends and family knew how talented he was and knew he had the potential to be on the big stage one day. One thing Hartel always told himself while growing up was to never get down on himself. Hartel said, "If I allow myself to look down upon myself it can affect how I perform. Whether that's on the field or court, or simply just in the real world."
    Hartel wasn't just athletically gifted. Going through elementary school Hartel, was always the top of his class and never ceased to amaze his family. Hartel knew how important doing well in school was and made sure to put academics first. Even throughout middle school Hartel managed to do very well in every one of his classes and received lots of praise from all of his teachers. Hartel had lots of confidence heading into high school academically knowing he was capable of achieving high honor roll and doing very well in every class.
     Heading into seventh grade, Hartel's track coach had a ton planned for him. He knew how gifted Hartel was and knew he was a valuable asset to the team. As one of the teams top 100 meter sprinters, Hartel was a new addition to the A 4×100 team. Hartel was the only seventh grader on that team and was one of the best on it. Hartel helped his 4×100 come second in districts as well as being awarded the second fastest 4×100 in the state of Colorado. In addition to second in state for the 4×100, Hartel also, placed 5th at districts in the 100 meter dash. "My favorite part was for sure placing 5th in districts for the 100. It really showed me what I'm capable of," said Hartel on his favorite moment from middle school track.
    With another year left in middle school, Hartel knew it was his time to shine and be the best on the team. Hartel smashed his competition left and right all season winning every race in the 100 meter dash, 200 meter dash, and 4×100. In addition to his three running events, Hartel competed in high jump. In his last meet as an eighth grader, Hartel placed second in the 100 meter dash, first in the 200 meter dash, first in the 4×100 meter relay, and seventh in high jump. His 100 meter and 200 meter dashes set new school records with times of 12.12 and 25.36 seconds.
    Heading into freshman year, there was a ton Hartel looked forward too. He was excited to experience the new pace of high school football, but most importantly, he had his eyes dead set on the track season. After coming off of the impressive eighth grade season, he wanted to see how high school training could truly improve his ability to sprint down the track. Hartel also stated, "I'm really excited to be able to compete in the bigger meets. Just having so many people looking down at you and seeing you crush the competition is exciting."
    Hartel had a hard time enjoying football because he wanted to focus on track. As he went through the season Hartel was the teams punter and was super reliable as he always made the punt team one of the best. After football season was done he went straight into basketball. Hartel was one of Erie's centers and was super dominant on the court. Whenever Hartel was playing, the coach wanted the ball in his hands. Hartel was a good under the hoop, and could always guard in the paint. Hartel's coach knew how creative he was with his shots and knew when the game came down to the line, he could rely on Hartel.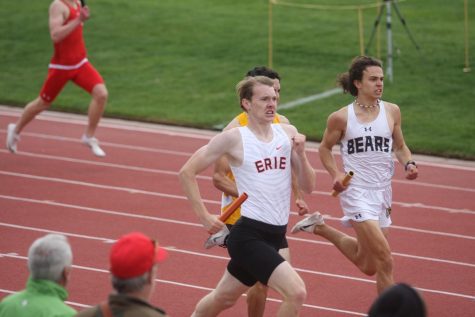 Right after basketball season was finished, it was into track season. This was the most exciting part of the year for Hartel as he was anxious to throw on some spikes and sprint across the track for once again another season. With a brand new coach for Erie High School Track and Field, Hartel was very excited to be able to get a coach who has never meet any of the athletes on the team. From the moment Hartel did his 100 meter and 200 meter time trial, Coach Havard knew how special he was. Hartel came into the season expecting to be one of the best 100 and 200 meter sprinters. Little did he know, he'd turn out to be one of the best 400 meter runners in the state. Having never ran a 400 in a meet before, he was a little nervous and didn't know how to feel about it. Shortly after the season started, Hartel adapted and started to enjoy running the 400. Hartel was quickly thrown on to the teams elite 4×400 team. He was once again, the youngest on the team. Throughout the season, Hartel continued to improve and impress coaches. He quickly grew to be one of the favorites on the tea, and had many people look up to him. Hartel finished the season ranked 5th in the entire state of Colorado for freshman and he quickly grew to be one of Erie's best 400 runners.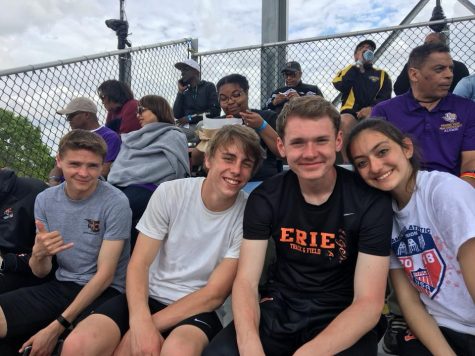 Hartel decided to no do football in his sophomore season so he could put more focus into track. In order to get a head start in track, Hartel joined some of the cross country practices to get more endurance for his 400. After basketball season was done, Hartel wanted to hit the weight room hard to gain some muscle and get stronger before the track season officially started. As the season went on Hartel solidified his spot as one of Erie's best 400 runners and showed insane potential for state in the up and coming years. In the last meet of the season before state, Hartel, showed up big time in the 4×400 and lead the surge for the team to achieve a new personal best and qualify for state. Hartel said, "My favorite moment this season was at St. Vrain Invitational when we qualified for state in the 4×400. At that time I also accomplished my goal to qualify for state."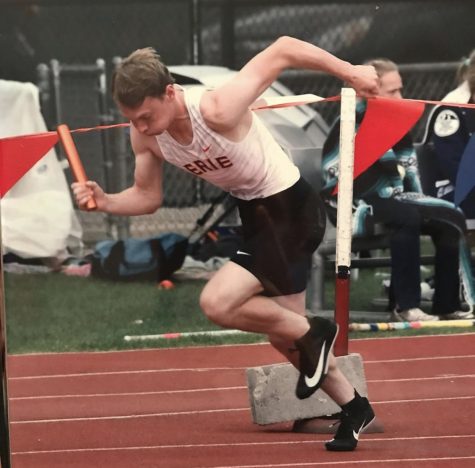 Now that Hartel's sophomore year is finished, Hartel looks to once again work extremely hard in the off season and put all of his effort forward for the next track season. Hartel said he won't be doing basketball next season but will join cross country fulltime to make sure he focuses solely on track. With lots of potential and high hopes, Hartel looks forward to attempt to break some school records and qualifying for state once again next year.
About the Contributor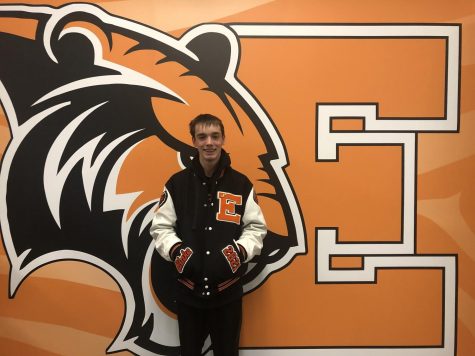 Blake Donaldson, Staff Writer
Blake is a Sophomore at Erie High School. He runs on the Varisry Track Team running the 100m dash, 200m dash, 4x100m relay, and 4x200m relay. He also plays...