After the Fall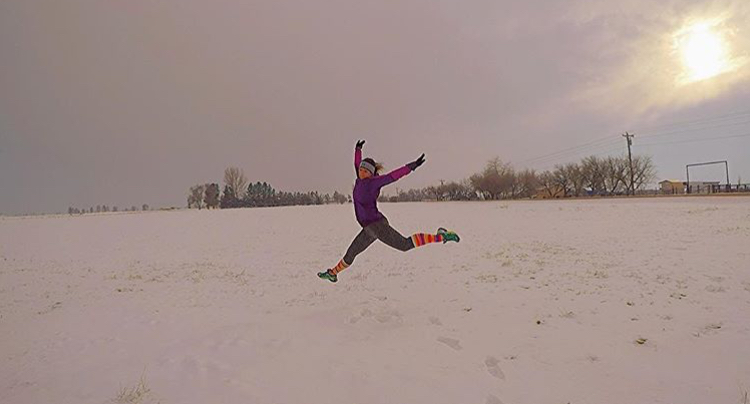 The most challenging events in a person's life are the events that teach a person the most about themselves. Learning to overcome the rocks that life throws into your path is what molds a person into who they are.
"I got a text from my brother, asking if I wanted to go climb, and I said sure. I boulder from time to time, but I don't (usually) climb."
Coming into 2018, Kaitlyn Gentert knew what she wanted to achieve. As someone who loved trail running, she was training for a 50k during the summer, in between teaching social studies and coaching softball lessons.
"There was one climbing route that I had not completed. My brother and I scoped it out, talked it over, and said those infamous last words that you should never say: I'll try it one more time."
She had made it 13 weeks into her training program for the 50k , and had run 308 out of the 1000 miles that she had wanted to run in preparation for her race. Heading into April, she was looking unstoppable.
"I completed the route, I was pumped, and I started looking for the most efficient way down. I looked to the right, and as I'm looking, my left hand let go from fatigue. It was just done."
If you've ever asked anyone who's had Ms. Gentert, or Ms. G, as a teacher before, they'll tell you that she is among the most eccentric, engaging, and energetic teachers that they have ever had. When she teaches, she is the focus of the classroom, and even the kids in the back seats are attentive to what she has to say.
"And then I fell, straight down."
March 30th, 2018, is a day that will forever serve as the start of the most challenging period that she has ever been through. What was just an outing with her brother suddenly turned into an event that completely changed the way she moved, the way she taught, and the way she lived her life. After letting go of the wall, the next 12 feet would mold Ms. G into the person she is today.
"I heard a lot. I don't remember feeling much upon impact, which I'm grateful for. I heard it, and everyone in the gym heard it."
What she heard was her right ankle fracturing on impact and her left ankle dislocating, as she fell from the climbing wall to the mat. Later she would find out that she would need several invasive surgeries to fix the damage that had been done by the Fall to her right ankle, and she would struggle for months to regain mobility.
"I just laid there, and I kept thinking: Ok, we'll take a couple days off of running and we'll be fine. But my brother came over, and put his hand on my leg, and told me that everything was gonna be ok. That's when I realized that something was really wrong."
To Ms. G, running wasn't just a pastime or a hobby, it meant the world to her. The 50k that she had been training for up until the Fall had been one of her most ambitious goals to date, and when she understood that goal couldn't be realized, it broke her.
Her feelings about the accident change from day to day. To the people who know her, Ms. G is an eternal optimist, and for many she is relentless in her ability to offer positive support to others. The Fall caused her seemingly unshakable positivity to waver.
"During different phases you're going to get different answers. I'm less than 24 hours from my next and final surgery, so I've done a lot of reflecting and I was not in a great place, even a week ago."
Ms. G has to have one more surgery on her right ankle, with the intention of eventually regaining regular walking motion in both legs. For month's she's been battling, slowly regaining mobility, and learning to walk again but there are still problems with her right foot that prevent her from walking normally without pain.
"I'm finally coming to grips with what's happening, but it's probably going to take me a lifetime to unpack just how much all of this darkness and confusion and desolation and things like that have transformed me."
2018 has been a year of rebuilding for her, with constant visits to physical therapy, kickboxing, and recently hiking outside with her close friends, the last one being a major ambition of hers since the accident.
There are few people who can confidently face adversity like Ms. G can. To her students and colleagues, she is a leader who is not afraid to take on new challenges and work through problems. Not only does she teach a schedule that consists only of rigorous AP Classes, but she consistently goes above and beyond to create projects that challenge students to think of competitive and creative solutions while engaging the students in the necessary material. Every year, she is one of the heads of the Student Government elections for her AP Government classes. She also started the Shark Tank Project for her AP Human Geography Classes, and she is a veteran of leading students through AP Research, which is the second part of the AP Capstone program that was pioneered at Erie. Ms. G consistently leads by example, and her involvement at Erie both inside and outside the classroom serves as an example of what all educators should strive for. Her students rave about being in her class:
"Ms. G is spontaneous in the classroom and really cares about her student's individual needs. She genuinely cares about all of her kids and their success."
For her, teaching isn't just her profession, it's her passion.
"She explains everything you want, but also encourages further diving into topics you don't quite understand. She really knows how to explain everything in a good way. Also she knows how to relate to younger people, like she can break through the layer of teen angst towards high school and can get people to participate in class."
After the Fall left her in a wheelchair for several months, Ms. G was limited to what she could do in the classroom. Usually actively pacing the room, she had to adapt her teaching style because of her limited mobility.
"I was terrified to teach in a wheelchair, but the wheelchair ended up being ok. My students helped me rearrange the room. I'd find little notes that said 'You are not your legs,' and at that point I was like Oh, it's the energy, it's the vibe that kids cling to. But it was all kids I knew. I was so intimidated to start this school year, because I can't be bubbly and jump on tables and do all the stuff I normally do, and I had an entirely new crop of kids to meet."
Ms. G's AP Human Geography class is often taken by freshman so that underclassmen can dip their toes in the water of AP level curriculum so that they feel comfortable signing up for harder classes when they become older. Every year, she meets some of the brightest incoming freshmen head on and gives them a positive first experience with AP classes, which gives them the confidence to take more of them. The incoming freshman this year had never met Ms. G prior to the fall, and those freshmen not getting to see her teach in the style that she was accustomed to was a challenge for her.
"How do I even explain to them why your teacher limps around? I ended up putting pictures from recovery onto a slide and just walked them through it the first day of school, and I was super open about it and vulnerable about it. I didn't know how it was going affect them, I would just reach out and help them. It's insane what that did, because from the get-go they saw vulnerability, and they saw a woman who was going through some stuff. I have had the most incredible semester, because this is the most genuine version of me, period. The connections I have made have been indescribable."
The fall semester of 2018 has been demanding for Ms. G as a teacher, but she has continued to embrace this obstacle with open arms, and ultimately having a fantastic semester, despite her Fall. Another big transition that she had to make with her teaching was the move from her first classroom in the P wing to her new classroom in the upper C wing, where she could be surrounded by the Social Studies department.
"I was attached to the room. It was my very first classroom, so all the successes, failures, all of it was in that room. I was devastated to leave it, but then I come up here and turn this into yet another amazing environment for myself, my kids, and my colleagues. There are people in here all the time, sipping tea and sharing life."
Ms. G's room has always been a hub of activity even when class isn't in session. During lunch there are dozens of her students who opt to hang out in the environment that she has set up, and you can count on students finding their way into her room during her planning periods, where you can find her engaged in conversation with her kids. Every second that students are in school, she is prioritizing her kids above all else.
Another advantage to being upstairs now is that Ms. G is surrounded by the Social Studies department, where she continues to lead her colleagues.
"My Social Studies department is incredible as far as encouragement goes. As the department captain I still feel obligated to still be everywhere and have the meetings and things like that. Being able to have a meeting while I'm sitting down, icing my ankle, like it doesn't matter that I'm sitting, I can still have that energy and that positivity. Just because I walk slower or can't be at seven thousand meetings, like they still feel that energy, and to be surrounded by them who remind me of that has been a huge force for me."
Ms. Gentert as a teacher has the substantial responsibility of teaching students material and leading a plethora of events, and even after the Fall she continues to guide her students and her colleagues with care, encouragement, and enthusiasm.
Ms. G is more than a fantastic leader to her students, she's a human being, too.
"These guys see your heart. They don't know all the miles that you've run, or the things that you train for, they just see your heart. They know me as someone who loves them unconditionally, and so to have that above all else is really cool."
If a student of Ms. G's is having a problem in their life, she sees that, and she talks to them about it. Her care for her kids is unrivaled, but following the Fall something changed. The Fall took her through the lowest lows she's ever experienced, and she's learned from it all.
"I know now that I needed to go through those things for whatever's coming, which is exciting and terrifying at the same time."
She views the Fall as an opportunity to grow, and she knows that this event will forever leave an impact on her life, not just on her physical state, but on her personality as well.
"I think that valleys teach you so much more than mountaintops ever will. This was a crazy valley, and I know that sometimes to go to the next experience in life, life sometimes takes away some stuff. I had created this life that I loved, but apparently for whatever is coming I needed to be shaken up."
Ms. G is not one to be beaten by this Fall. 9 months later, she is ready for one final surgery, which will end 2018 for her as a symbolic closing to this phase of recovery.
"I'm not planning anything for 2019. I have every intention to live in every moment. I'm going to fight like hell in this recovery to fight to do the activities I want to do."
If anyone can fight like hell after a Fall so tremendous and so resonant within one's life, it's Kaitlyn Gentert. The amount of gratitude she has for the most minute things shows that no matter what you put in her way, she won't be defeated.
"I will walk correctly, be able to take stairs, get out of bed and walk to the bathroom without crutches. And then, to be able to run again."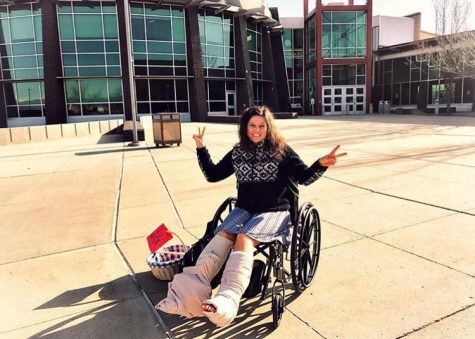 Ms. G doesn't know what 2019 has to offer her and her recovery, but she knows that she will boldly stand in the face of whatever adversity is thrown her way. She plans to take the lessons that the Fall has taught her and run with them, with the intention of improving her own life as well as the lives of her students and everyone else around her.
"It's exciting because now I know how to ask for and accept help. I know how to accept love. I know how to see vulnerability as a strength. I know how to fight through anything."
About the Contributor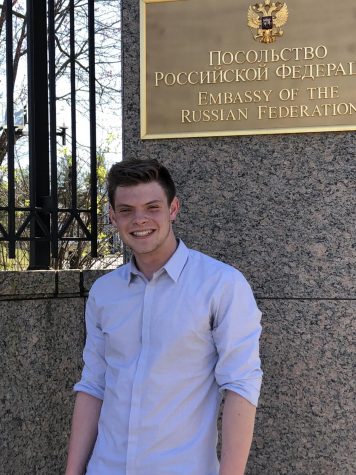 Christian Haakmeester, Staff Writer
Christian Haakmeester is currently a senior at Erie High school. He likes to play piano and guitar, and in his free time he enjoys building guitars. After...