Erie Wrestling Send Double Digits To State
Erie Boys Wrestling showed their inner Tiger as they sent ten wrestlers to take on the 4A State competition. 
Sophomore Carson Hageman, dominated the state competition by finishing third in this year's state competition. Hageman knew that the task of going to state wasn't going to be easy but he also knew the path to success was going to have a few bumps in the road. "The bumps on the way, sicknesses, making weight every week but making it as a team was very important to our success"
Wrestling has its struggles just like any other sport but there are also lessons and experiences that come with the sport. Junior Jackson Cowgill is somewhat new to the wrestling world. Jackson, who is a football star on the Erie team, needed a sport to keep him in shape for camps in the spring and wrestling season was at the right time.
"Overall, going into wrestling from never doing it, it has been an experience for sure. Definitely the hardest sport that I've ever competed in and practiced for."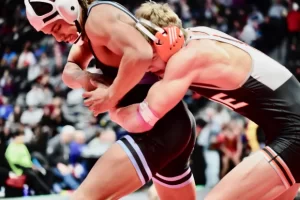 Hageman and Jackson aren't done yet though, looking forward to next year already and are focused on bringing the Erie wrestling team to a whole new level. The Erie team took ten wrestlers to the state competition to try and compete for multiple titles in weight divisions. 
With all of these wrestlers going to the competition, Hageman wasn't done thinking about the competition that those ten wrestlers faced to get into state. "I didn't really beat anyone of the caliber that I wanted to. It was pretty easy but at the end of the day we qualified ten guys." 
As the season went on and came to the end, Carson and Jackson never backed down from a fight and never let the spark in them dimmer. Next year, this Erie Boys wrestling team will be back for more and looking for a chance to capture more titles.