From Beginning to Intermediate, See the Different Levels of Ceramics at Erie High
Erie High school offers a wide variety of art classes for students to take including drawing/painting, animation, photography, and, one of the more popular options, ceramics. 
Ceramics focuses on utilizing clay and tools to create sculptures that often can be used for daily needs, such as pots or mugs. Like the drawing/painting and photography classes, the ceramics department offers classes at both the beginning and intermediate level. 
Renita Orellana, the ceramics teacher, explains that, "I feel really lucky to teach beginning level classes like Beginning Ceramics, and then I also teach Intermediate Ceramics, where kids have learned the basics and are getting to get a little more abstract thought."
Currently, in Beginning Ceramics, students are creating slab sculptures. With this project, students get more freedom to experiment and use their imaginations to create different sculptures. Junior Ella Beck explains that, "I'm making pots in ceramics and just molding the clay."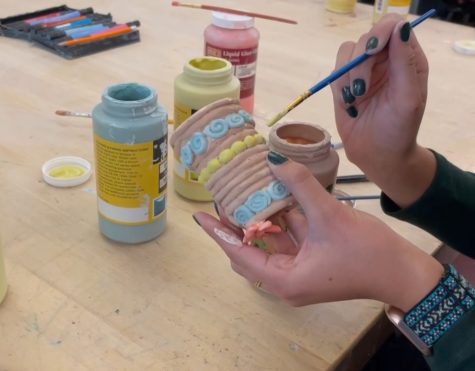 Some of the things that you can expect to learn in this class include molding the clay, slipping and scoring—a method for attaching clay together—,the different levels of dryness, and glazing, a very meticulous process of coating/painting your artwork.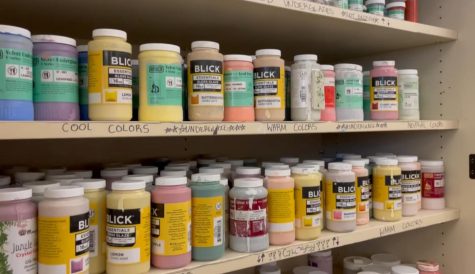 While the beginning students learn the basics of ceramics, the intermediate students are using their previous experience to make coral reef installations that will be displayed for the school to see in the weeks following Thanksgiving Break. Going into this project, students researched the current state of coral reefs in the world, and are preparing to share their knowledge with the school along with their detailed artwork. 
Students can expect to see multiple installations around the school featuring the artwork of the two intermediate classes. The requirements of each student include featuring four different types of coral and at least one oceanic animal. Displayed on each installation will be a QR code with the research done by the students of that particular installation.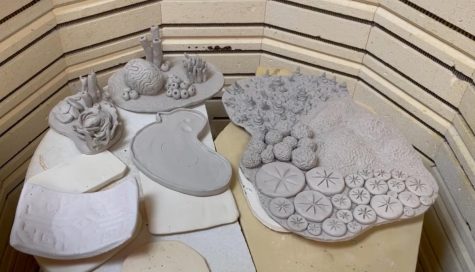 Along with ceramics, Orellana teaches AP art where experienced art students have the opportunity to create with any form of art they choose. "They get really abstract in their thoughts and they get to go really deep with their work so it's really cool to get to see the full range of students."
Ceramics at Erie High School covers a wide range of levels. By taking the beginning class you get an introduction to ceramics, where you can then increase your experience in the intermediate class. By continuing your journey in AP Art you can take your skills to the next level. 
Whether you need a class to fill your schedule or you have an interest in the field of art, Ceramics is an option that will give you multiple years of art experience.