Signing Day Overview
The 2021 signing day featured all kinds of star athletes signing the sheets to set their futures. There was representation from many sports all over the school sending athletes to all levels of college sports. 
The event was a little different this year as every athlete had to sign at separate times. There was a system with one person after the other, giving each person time to sign papers and take pictures. This change made the event smaller but gave everyone the spotlight for their moment to sign.
Trey Hollis, who is set to become a pitcher for Otero Junior College's baseball team. "It was great to get the offer to compete at the next level and I am ready to perform for the rattlers." Otero is located in La Junta, Colorado several hours south of Erie. Hollis will be pitching against some other athletes in similar positions to show his skill set for Otero. While he still has to play his senior baseball season here at Erie, this is certainly something that he can look forward to competing in.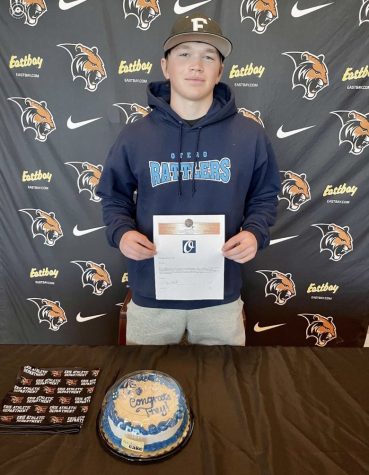 Maddie Hays is going to be playing soccer for Simpson College. Simpson is located in Indianola, Iowa. It is an NCAA Division 3 program making NCAA tournaments regularly across their different programs. Hays said, "It is a program that I am really excited to be a part of with great academics and a great soccer team." It is a small town in Iowa and she said "It is similar to Erie which is nice." 
Hays commented that her experience here has helped her get to where she is now signing to this great school. "Both academically and with my soccer career, coach Jeff Vigil has given me so many opportunities and helped me grow as a player over the past four years, which I'm very thankful for." She will be competing for Erie one last season as well in her senior soccer season. 
Of course there were many more amazing athletes who signed. The Tigers will be cheering for all of these fellow students in their athletic careers while they progress on the next step.