More Than Just a Team- Erie Lacrosse
Erie has a very established athletic program with state winning softball, baseball, golf, football, track, tennis, soccer, and especially lacrosse. Ever since its introduction to Erie, it's been a driving factor to the community of Erie athletics bringing everyone together.
Lacrosse plays a significant role in shaping the dynamic of a high school community. As a sport that requires teamwork, dedication, and skill, lacrosse programs bring students, coaches, parents, and community members together. The presence of lacrosse within a high school creates a sense of unity and school spirit, as athletes proudly represent their school on the field. Lacrosse has been a relatively new sport that has been welcomed to Saint Vrain Valley Schools. With the program first being introduced in 2018, and with Head Coach Nicholas Mandia it turned into more than just an Athletic program.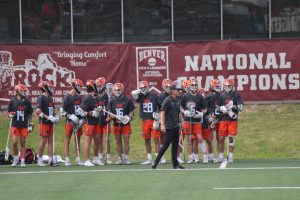 Lacrosse has been a very historical sport, with it being dated back to the native Americans of North America. According to its Coach Nick Mandia. It was a sport used to settle tribal arguments. Without going to war, it was a peaceful solution to a conflict. Lacrosse was started by the Native American Indians and was originally known as stickball. The Native American games were seen as major events, which took place over several days, much like finals and state today. Knowing the origin of lacrosse helps its players form a relationship around the sport itself and pay tribute to what It once was. Coach Mandia makes sure that his players have that gratitude towards the sport, "…it connects them to life in general and they play lacrosse as a way to show their gratitude for their abilities…they're saying thank you via their play and that's really cool to acknowledge." It was considered a sport that toughened up young warriors for war but it was also a game played for recreation and for religious reasons. Now lacrosse can be seen being played all across the country by many individuals that consider it their sport.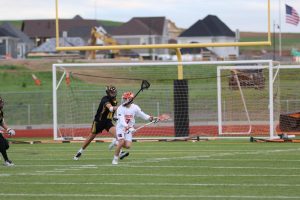 Erie's lacrosse teams are made up of players from all across the district, mostly from Erie. Throughout the program's past five years they have been rather successful with making it to the semi-finals almost every year. The program has affected hundreds of kids across the it's history, including athletes such as Davis Mundy that views the team as a family, "we have a word that we say is 'matake' and that's because we pulled from so many schools and are one big family", because of its Native American origin. It's not just Davis that feels heavily impacted by Erie's lacrosse program; other players on Varsity such as Aidan Guam are very thankful for the lessons that he learned on and off the field, "Our coach Nicholas Mandia believes that it's not just a sport, it's a way of life, so he teaches us how to be true to ourselves and become real human's in this world."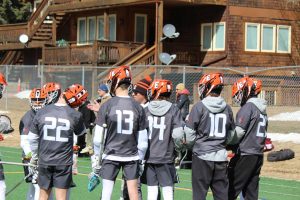 Erie's Lacrosse head coach Nicolas Mandia has played a leading role in the success of the team. When Saint Vrain Valley School District went to create a team they were looking for the right person for the job. Mandia has had a long experience in lacrosse, playing it ever since he was a kid. He is thankful of the opportunities that lacrosse has given him and of the district's opportunities. He explained that lacrosse was the reason he was able to move out to Colorado and start a life with his wife, "with my wife here in Colorado and lacrosse has been the reason I've been able to do that the reason I was able to get in an interview for a health and phys Ed job here in Erie and Saint Vrain Valley was because they had a lacrosse program there about to start and they didn't have a coach and they needed a coach…Lacrosse open that door for a career."
Lacrosse has been such a popular sport in the same area, Saint Vrain Valley School District athletics has added a girls lacrosse team at Mead High School, coached by Katie Coleman and Connor Bergman There are kids all across the district participating on the team and they just recently won state against Castleview with a shattering 15-3 victory. Players on the team such as Kennedy and Gorske are very proud of how the team played together, "we love that we can get together at Mead and play a sport we all enjoy…I'm very proud of how we worked together and brought it home [Mead]". With the girls lacrosse team hopefully to continue bringing back State championships in the program's future years. 
As the end of the Regular Boys Lacrosse season for 2022 to 2023 comes to an end we look back on a rather successful team. Erie has had a very successful sports program for the past few years, with almost every sports team making it to the playoffs, semifinals and even state. Erie lacrosse has been a continuous team to make it to the playoffs. This year making it to state against Cheyenne Mountain, a team that has won state for the past three years including this one. Erie went into finals as the 1st in the 4A Northern division, and will be holding their heads up high as they are thankful for the lessons that they have been able to learn and obtain from coach Mandia, looking forward to the postseason, "I'm grateful that we got to postseason to dive into here."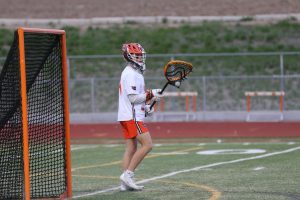 As lacrosse in St Vrain Valley School District expands and outreaches into other schools, it's become clear that they're not just playing a sport, but it's a livelihood. Lacrosse is outreached to kids "across the country and around the world"(Mandia). Many kids in Erie's lacrosse program are very thankful and express that gratitude in many different ways. Coach Mandia and the athletic program ensure that the kids understand the history of lacrosse, and understand that the community around them will show support and encourage them. Many of the kids in the Erie lacrosse program have played lacrosse for many years such as Davis Mundy and Aidan Quam, playing club lacrosse outside of high school. But, most of the athletes on the team plan on playing for the remainder of their High School career. As they continue they will eventually reach senior year and those lessons, memories and friends will have to say a goodbye. As another season comes to an end, everybody on the team including coaches has to say goodbye to the seniors leaving. A bittersweet farewell to individuals that will forever be a part of the Erie Community and Erie High School. Coach Mandia says he's, "never ready to say goodbye to the seniors." They teach everybody on the team so much and their name will be remembered in the athletic program, for years to come.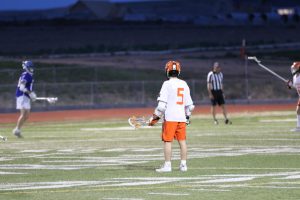 With most having plans after high school to go to college it's an exciting step into their future. Mandia is excited for the upcoming season, and he's ready to take lessons from this year and apply them to next. Seniors on the team such as Sean Davison, a graduate from Frederick High School are, "Thankful for the lacrosse program and will miss his team mates…but I'm excited to go to college and make and meet new friends." The Erie community and the lacrosse program has been able to leave a lasting impact on Sean as a person and says he will, "take the lessons he learned from the program and take them to college."
Because of the St. Vrain District engaging in lacrosse, students not only excel athletically but also demonstrate their commitment to academic success, as they learn to balance their athletic pursuits with their academic responsibilities. Overall, lacrosse programs provide a platform for students to develop important life skills while fostering a sense of community and pride within the high school setting. Looking ahead to the future season at Erie and the postseason Mandia will continue to grow the team as a family and teach them that it's more than just a game, "there's a family here, and it's connected throughout the country throughout the world," adding to not just a sport but to a family.