Molly Irwin's 15th year as a Tiger
When you walk into Erie high one of the first things you'll notice is Molly Irwin's warm and welcoming smile. She keeps us safe and lights up the school with her constant positivity. Molly Irwin makes a huge impact here at Erie, and no matter the time, you can always see her prepared to take on the day.
Irwin explained that, "This job has changed my life with all the relationships over the last fifteen years. My heart is definitely full!" Irwin constantly talks about how much she loves the students and staff here at Erie. She has been able to spend much more time with her kids and family due to the work hours and continually mentions her gratitude for this job.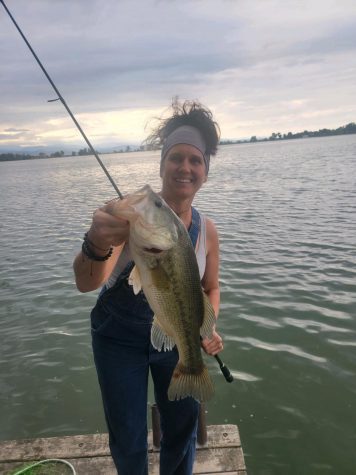 After 15 years of giving so much to Erie High, Irwin gets to begin one of  her lifelong dreams. "I am now in the process of getting my Private Investigators license that I always wanted to pursue and now have the opportunity," she exclaimed.
Irwin balances lots of things from family, to work, to additional interests. She has gone mountain climbing, fishing, hiking, four wheeling, and even loves dressing up during Erie's spirit weeks. Irwin carries so much passion in the things she loves and does everything with 100% effort. She always gives it her all.  
Not too long after Irwin graduated high school, she met her husband Heath Irwin. He is now a former NFL player that was drafted by the New England Patriots, the Miami Dolphins, and the St. Louis Rams, as well as the  Denver Broncos. Heath and Molly had a very beautiful wedding and had even coincidentally went to the same high school. Despite attending different Colleges, they found each other and have been happily married for 27 years. Molly went to UNC, whereas Heath went to the University of Colorado. They bumped into each other when Molly went down to visit some of her old friends. Heath simply said he thought she was beautiful and asked her to go out sometime. After they went out and it went well, they've been together since. 
Heath played in the NFL for 7 years pursuing his dreams. He ended with Denver his eighth preseason year. While Molly Irwin was supporting him she was also helping raise their children Bailee, who is now 24, and Houston, who is now 22 years old and married.  
"I genuinely love coming to work and seeing all my kids. Some of my favorite parts about this job are the morning greetings to half asleep kids and daily interaction and conversations with students, staff, and community." Irwin says. 
Molly Irwin was born and raised in Boulder Colorado. Heath and Molly both attended Boulder High School, however Molly Irwin decided to go to UNC. "I got my bachelors in Criminal Justice and a minor in Speech Communications at UNC." Molly Irwin was very passionate about this career and is still to this day looking to pursue it soon.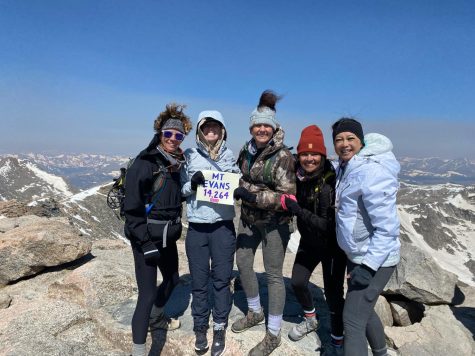 Irwin has made many friends with not only students but also staff members. They often go mountain climbing together when they get the opportunity to. They've climbed Mt. Evans, Quandary Peak, and many more together. 
Courtney Stanesa says "She is one of a kind for sure. She makes you feel like you are valued no matter who you are. She gets to know you and always puts you before herself." Everyone describes Irwin as someone with a big hearted personality, and very genuine. She's also extremely hard working when needed. She'll never do something at the bare minimum, she'll give it her all no matter what it is even if it seems pointless. 
Irwin values kindness and is extremely selfless. Stanesa shared, "From flinging rubber chickens across the offices to hacking emails to hiding under desks, she lights up every room she walks in. Her heart is bigger than anything I have ever seen."
It truly goes to show how much Molly Irwin loves this job. It is especially easy for her to put others before herself because of her big heart as Stanesa explained. Molly Irwin can lift anyone's spirits, she continually thinks of others and is considerate of all, while also keeping everyone as safe as possible. 
Ricky, a hall monitor at Erie High School, discussed his relationship with  Molly Irwin when he explained, "With Molly's husband playing in the NFL, she definitely opened herself up to different cultures and see new things as well as meet new people."
Irwin was able to balance many things from the start; she supported her husband, made new friends all around the U.S, and learned so much while traveling. She gained a lot of experience from traveling, from learning to adjust every time to attempting to stay connected with family and friends from far away. 
When talking about what it's like being away from home, Molly Irwin mentioned " It was always hard being so far from family and things like that, but I was always there to support his Football career." Molly always puts others before herself as she goes and puts all her focus into anything/everyone. 
Irwin keeps up a good faith in everything and everyone, she'll always be there for you no matter what. Many students have a strong relationship with her now and love her. You can often see Irwin talking to students and having a genuine interest in what they have to say. 
Ricky also mentioned that, "She was able to bring all the connections she made while traveling around the U.S. into Erie High which can really help out students."
 Irwin has many stories to tell from traveling with her husband. She was able to experience so many new things and even just learn things about other states cultures and how they may celebrate things differently. 
Students like Cash Rhodes and Jocelyn Klickna exclaimed, "She has a good soul/heart, is super energetic and fun, and sometimes scary, but it's a good thing because it helps keep everyone safe."
Irwin was also a very good student growing up, she gained a good habit of working harder to earn those good grades early on when her parents talked about C's being "unacceptable." She worked hard to make her parents happy and even just to have better opportunities in her future. 
Ricky stated, " She has a very 'A' type personality. She likes to be in charge and always knows what's going on. We have a good open-minded communication, there's never a time where I don't know what she's doing and vice versa." Irwins communication skills have always been good, it really shows in all her relationships as well. She will always prioritize listening to someone's problems rather than talking about her own. 
Molly Irwin is definitely a leader over a follower and encourages people to not be followers. She encourages people to be themself and never feel the need to have to follow other people. One of Irwins strengths is absolutely not caring about how people view her, and just focusing on what makes her happy instead of what would make people like her more. In the end being yourself is more important than having people like you for someone you're not. Never lose sight of who you are.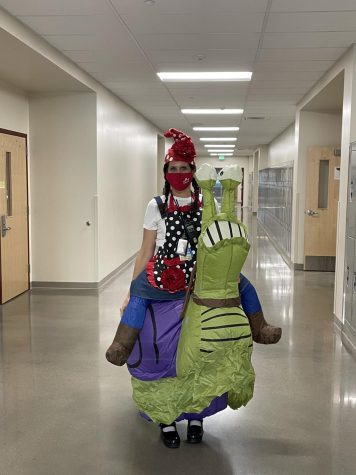 Kristi Anderson, a Fitness Teacher here at Erie, said, " She holds the building together. She's the glue that just makes everything happen. Molly's perfect for this job and we're so lucky to have her."
When you're around Molly Irwin there's never a dull moment. She can always think of ways to make students laugh and even some staff. There's no doubt about it, Molly Irwin has the kind of humor to make anyone laugh.
"Molly definitely makes a lot of jokes. You can always hear laughing from the other end of the building," Anderson explained. When it comes down to it, Irwin makes sure to keep everyone's spirits up from the moment they walk in the building, she's there ready to make you smile and start off your day good. 
Loretta Hardin, a good friend of Molly and fellow office worker, explained "We've worked together for 15 years now. Our children got married last October!" Irwin and Hardin have a strong bond and love each other, Hardin has many stories on Molly and just how loving her personality is.
"She invests her time in others and helps them through whatever they may need. Our students love her, and our staff definitely loves her ," Hardin stated. The office staff say things wouldn't be the same without Molly Irwin, she really does brighten everyones day all the time. 
"She has a huge impact on our community, she just genuinely cares so much about students and staff. She takes time to get to know people and help them. She'll always go the extra mile whenever something needs attention, she never just brushes things off," Hardin exclaims. 
Irwin impacts so many people in so many different ways. Her passion spreads to others and she's been able to successfully influence students in taking on their dreams in life, following a career for a job they would genuinely enjoy. 
Irwin's advice to the students at Erie high is to "be passionate about what you believe, but stay humble/kind, and people will follow and listen.  Be a leader not a follower! ALWAYS REMEMBER YOU MATTER!"