Top 50 Athletes 20 to 11
The top 20 to 11 are finally here, as we approach the top 10 athletes. I apologize for the long wait, it took longer than expected to write this out and get to know these next ten. There won't be an honorable mention this week. The final list is already being written and I should have it out soon. I hope you enjoy these next ten, and thank you for the support.
#20 Gavin Malek, Sr, Football/Wrestling 
Playing one of the toughest positions on the field Gavin has excelled at the linebacker spot. As a physical player, Gavin executes his job perfectly almost every time. During the 2021 season he had 32 tackles, with 20 of those being solo. Gavin never gives up on plays, and is always around the tackle. My favorite example of his play is a stunt that works for him every time. It landed him 11 tackles for a loss, the most on the team. He keeps a clean and focused mind while making sure he plays better than any player on the other side. Gavin has also been an incredible wrestler who could take Erie by storm this year. He comes into each practice and game with a personable attitude, he also has a good relationship with all his teammates and has created a strong bond with the whole defense. Gavin has strived to be the best player on the field while becoming a leader, and players should aspire to be like him in anything they do.
#19 Charlie O'Brien, So, Lacrosse 
In only his Freshman year, O'Brien shocked everyone as he became not only one of the best scorers at Erie, but in the state. In 12 games last year O'brien scored 32 goals, 3rd most on the team. He also added 13 assists to his name, all together he had a total of 45 offensive points in the 2020 and 2021 season. Coming into his second season, O'Brien is getting ready to give another show to the fans at Erie. With many of the former seniors gone, O'Brien will have more weight on his shoulders to perform at a higher level. But, many believe that he's ready to step up even more than he already has for the tigers. There is no doubt that O'Brien will be another top 3 lacrosse player at Erie and possibly the state.
#18 Liam Connors, So, Lacrosse 
Another young phenomenon, Liam Connors was an absolute stud in his freshman season for the tigers. With 46 goals last season Connors was a scoring machine,averaging 4 goals per game. His offensive power is something no team should ever overlook, especially with him having a shot on goal percentage of .529. The future for him is looking strong, especially with teammates like O'Brien and Selters being there for the next three years. His great play has led to him being awarded a max preps first team all state spot last season. Connors not only went above and beyond, but went to the moon. Now it only gets more exciting knowing we get to watch a young lacrosse player who will try his best every game for the next three years.
#17 Evan Hutson, Sr, Soccer
The top soccer player at Erie, Evan Hutson, has always seemed to stand out in all of his four years of soccer. Hudson's main play comes on the offensive side with him being a top 3 scorer for the team the last 3 seasons. He led the team this year in both goals and assists with 4 in both categories. It also should be noted that he had crossed the 10 plus goal mark in both his sophomore and junior years. His play has not been overlooked by the media, as he's racked up two all state honorable mentions and a second all state in 2020. The work he's put into the sport, and his teammates is why he's at this spot, it cannot be overstated how pivotal he was to this team. Without him it's hard to tell if the team would have made such impressive runs to make it to the playoffs. Hutson deserves the accolades with how much he pushed himself to be the best.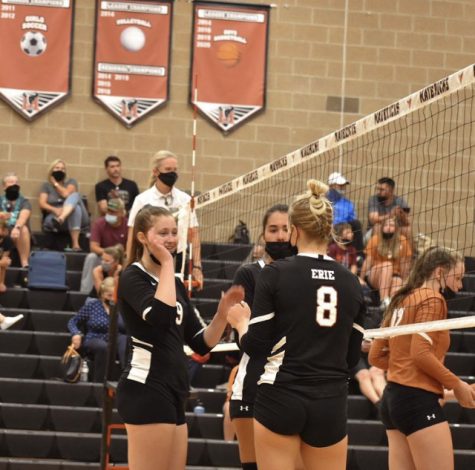 #16 Rowan Ramsey, Jr, Volleyball
Volleyball's biggest breakout player, Rowan Ramsey, showed many why she's ready to be the prime playmaker for Erie. Ramsey did everything this season, being an offensive monster with 160 kills leading second one the team. It doesn't stop there, she also had 49 blocks this season followed by 214 digs as well. Her Swiss Army knife style of play has been entertaining to watch, It's a huge jump from her last season. She's put in the work and you can't help but respect how much she does for the team. Because of her skills she got a Max preps state honorable mention and a few 'Player of the Game' titles. It is only going to go up for her in her senior year, as she and her teammates begin the track to get a volleyball championship for Erie.
#15 Audrey Moeding, Sr, Volleyball
In her final year of volleyball at Erie, Moeding was a star on a team that went high above any expectations. She was the  third highest scorer on the team, with 146 kills, and she made a strong front court with 64 total blocks as well. Moeding also contributed to serving with 127 serves that resulted in goals. Her front play was valuable the whole season, and was a major factor of the team being 20 and 7, and making a playoff push. Hannah Osmann, a teammate of Audrey's, says, "Audrey was a phenomenally consistent player. While playing right side hitter, she could also hit well and consistently in other positions like outside. Audrey was an awesome, all-around player, and was always kind both on and off the court, showing others the value of consistent hard work and the team mindset." 
#14 Dillon Alcouffe, Sr, Baseball 
Alcouffe's school of Mines commitment came out of left field last season, after he finally got the chance to show his skill on the diamond. While his sophomore season was cut short due to Covid 19, many waited patiently for the opportunity to see what we've been missing in Dillon Alcouffe. With 19 hits last season, Alcouffe tallied 19 RBIs which led the team, while also having 6 doubles tied for second. On defense he grabbed 18 pop ups. All of this was in the span of 17 games. Going into this season the hype around him has only grown bigger as he gets ready for an explosive final season with Erie. He's already shown how well he works in the outfield, but don't be surprised if he takes some action on the mound. Get ready for a huge season from Dillon that could no doubt lead to him getting rewarded for his incredible play.
#13 Lily Meskers, Sr, Track and Field
In a sport like track and field, it takes hours of devotion to get to the top of the mountain. Lily Meskers has put in the time and it's paid off for her. Since her freshman year in 2018, Lily has 18 first place finishes, many of those in the 2021 season. In that last season Lily only placed out of the top ten just once, an incredible feat. It doesn't stop there, her best stretch last year was her 4x 200 meter where she placed 1st three times in the span of two weeks. All of this, plus her low times in events like 100 meters, truly shows how much effort she puts into the sport, and it hasn't gone unnoticed. Her work paid off with her getting a scholarship to Montana state to keep outrunning her opponents. We still have much to see as Lily gets ready for her final track season here at Erie. There is little doubt that she'll keep competing at the top of the state.
#12 Jaylen Klickna, Sr, Football/Lacrosse 
The first of the three main team captains, Klickna stepped up huge all season to bring the Tigers to state. Including playoffs, he led the team with 42 catches and 597 yards in 14 games, being Barnett's best productive receiver in the final 7 games of the season. Jaylen also made contributions to the defensive side of the ball, playing in the secondary where he had receivers stopped with a 47.3 passer rating around him. He will also be what many believe a key contributor to lacrosse this coming season. Jaylen has made huge strides in becoming an incredible leader this season, he stepped up to the plate when called on and everyone rallied around him. In all four years of high school football Jaylen was always a strong athlete, from playing QB in his Freshman year to being a top tier wide receiver who's ranked number 7 in 4a state wideouts. Jaylen proved why he is such a formidable athlete to line up against, but also an incredible caption. 
#11 Evan Kraus, Jr, Cross County/Track
The highest ranked Track and Cross Country star on the list is Evan Kraus, who is not only seen around the whole state of Colorado, but around the country. The long distance runner has definitely caught the attention of people at Erie after an impressive sophomore year. With 4 first place finishes and 2 second place in events like 800 meter and 1600 meter Kraus is phenomenal at running far distances. His event time in the 3200 meter was above average as well, with him clocking in at 9 minutes and 32 seconds. The average being around 9 minutes and 50 seconds. This all landed him huge accolades, like a Boco preps all-region honorable mention, and CHSAA second team. Last year Kraus also got a nod for National athlete of the week, a huge achievement that is not just given out to anyone. Kraus has definitely impressed in only two years at Erie, the future for him and the Cross county program look bright.
For any questions or and opinions feel free to contact any of these media's 
Personal:
Email:[email protected]
Instagram:@Josh_zero73
Erie tiger media:https://erietigertimes.com
Instagram:erietigermedia