Senior Soccer Player Cyrus Neghabat Commits to Cal Poly
With the end of the year right around the corner, Erie High will have to say their goodbyes to the class of 2023. Cyrus Neghabat, who is one of those seniors, joined the Erie community two years ago, and now he is making his way to Cal Poly State University-San Luis Obispo.
Neghabat committed to Cal Poly to play soccer, where he will study to major in business and administration. Though a majority of his life revolves around soccer, he lived his high school years to the fullest by attending all sorts of sports games and hanging out with his friends. "I think I'm going to miss high school football games and being able to hang out with my friends on the weekends, and being able to meet new people from other schools." He says, " I have a feeling it's going to be hard making time for everything at college." 
Neghabat expresses how much he will miss the people, specifically his friends and family, and just the feeling of living in a small Colorado town, but he is beyond excited to experience living somewhere new. "I'm most excited to live near the beach, and just be able to go there whenever I'm free." 
It takes a lot of time, perseverance, and overall hard work to get to the skill level Neghabat is at for playing soccer at such a high level. He explains how his family has been his biggest support system through the years of playing soccer, and he couldn't do it without them by his side. "My dad, he's been with me my whole life, and he's always pushed me to be the best version of myself. He's also given me the opportunities to go off and chase my dreams, which I really admire him for."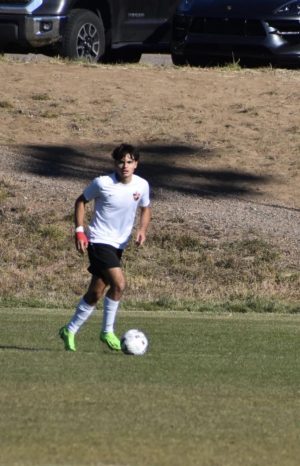 Being able to play soccer for a school at the NCAA Division 1 level is a huge honor for anyone, but Neghabat is shooting for a bigger goal. He is hoping to continue soccer after his college years are over. "If I play good and soccer continues to go well for me, I'm hoping to play after college, and maybe even go overseas to play." 
As it is hard to say goodbye to the memories made and people he has become close to, Neghabat shows he is ready to receive his diploma and move on to the next chapter of his life. His friends and family of Erie will be cheering him on as everyone hopes to see him succeed in what he loves.