Top 50 Athletes 10 To 1
Here is the final list of the top 50 Athletes and the last two honorable mentions.
Cheer and dance
The question that's been asked the most from all the lists is 'why I haven't had any cheer or dance girls in the top 50?'. During the making of the full list I thought about it, but after a while I came to the conclusion that it would be difficult to only add a certain amount of the women from both teams. There's no bigger team sport than Cheer and dance, every person involved has worked hard to get Erie multiple championships in the last half decade. I have the most respect for both Cheer and Dance, and in all honesty tried to find a way to work it into the list. In the end it wouldn't do them justice to only add a few of the many hard working girls that have put their names in the records of Erie. I'm always available to contact through email or my social media found at the bottom of the list for any questions.
The Honorable Mentions below were chosen by poles via social media. There was a slot for one male and one female. 
Honorable Mention: Jace Ohnstad 
With both Gavin Malek and Ryan McConnell graduating this spring, the linebacker positions will need new guys to step up. Ohnstad could play both Sam and Mike's linebacker positions and be the next defensive leader next season. Jace played a consistent role for the Tigers and was a strong force in the run game. The future for him looks as bright as the sun with him already having stepped up multiple times last year.
Honorable Mention: Brooke Irwin 
One of the best young gymnasts in all of Colorado was highly praised by everyone who did the pole. She has put some much effort into her sport and if Erie had a gymnastics program she would be the ultimate ace on the team. Irwin's Work led to a scholarship to the number eleven ranked West Virginia University. Even without playing a sport at Erie, Irwin still has made some noise at the school for her skills and her positive attitude to everyone.
#10 Sam Stem, Sr, Baseball/Tennis 
The four year varsity player has always been a powerful ace for the baseball squad. After a junior year cut short to one game because of Covid, Stem came out swinging. Fielding wise he recorded 33 putouts in 17 games averaging almost 2 per game. His hitting was strong, with a high batting average of .434 and 11 RBI's. When baseball is not happening, he heads to the courts of tennis. This last season, he and Trent Bowers got 4-0 in doubles. His skills caught the eye of D1 school Gonzaga. Stem's calm, relaxed manner towards everyone makes him a great presence for his teammates, and every one I've talked to has nothing but nice things to say about Stem and his play. The season should fully show what Sam step can do in fielding and batting. He's already started the season with a batting average of .417 and 2 RBI's. He is showing signs of a great season to come. 
#9 Kayan Hargraves, Sr, Basketball 
Kayan, the focal point of the Tigers basketball team,  had another fantastic season. The three year starter might have had a new cast of players around him from years past, but that didn't stop him from having his most productive season in his whole high school career. He recorded 14.7 points per game, beating his last number of 13.8. Not to mention he also had career highs in both rebounds and steals. His ability to score in the paint and beyond the three is what divides him from other players. His height and shooting percentage make for a frustrating time trying to guard him. The team's captain was pivotal to the growth of players going into the 2022 and 2023 season. All of this got him a max preps all state Honorable mention. Hargreaves represented Erie basketball for the last three years with not only his play, but his focus on being a great teammate and a leader for many.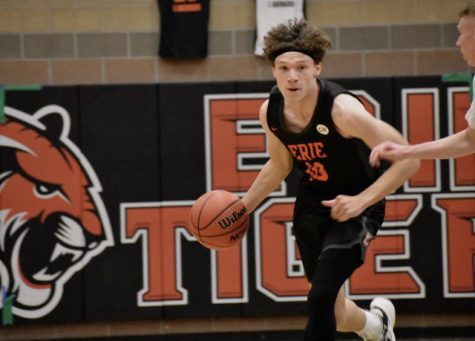 #8 Aiden Achtziger, Sr, Football
Aiden's play was pivotal  for Tigers football, so it's important not to underestimate what he did in the late season and playoffs. In 8 total games played this season, at the tight end position, he averaged almost ten yards per catch, with a total of 253 yards and 4 TDs. His best came in the conference championship match against Montrose where he had 5 catches for 61 yards, and a incredible front flip dive into the endzone for a touchdown. He also gave fans another show when on the biggest football stage in colorado. His height and big receiver frame makes him hard to bring down. Aiden led the team in yards after contact in the final 5 games of the year. Playing with him, and knowing Aiden for a while, I've never met a person on the field who  plays with so much emotion. He truly loves the game of football and works his hardest no matter what obstacle comes in the way. He will still get the opportunity to play with his signing to Western Colorado. Aidens impressive 4 years at Erie might have come to an end, but I have no doubt he will be a key weapon for WC for the next few years.
#7 Maggie Olson, Sr, Volleyball 
It's hard not to miss Maggie Olson on the court. It seems she is always in the mix on every play. Her biggest stat was a huge 342 count on kills, which was not only the highest on the team, but was one of highest in the state. She averaged around 48.3 kills per game. Add in her 231 digs and 73 blocks she was able to do anything to help her team win. Olson was in the top 3 in every statistical category this season, showing how valuable she was to her whole volleyball team. Every teammate has raved about how much of a leader she is during both games and practice, while also teaching and helping grow the next group of girls volleyball players. She won't be ending her volleyball career yet as she has committed to Western Colorado. This Max Preps all state first teamer was spectacular and her name will no doubt carry on at Erie high school for a long time.
#6 Ashlee Lovett, Sr, Softball
The Highest ranked softball player on the list, Ashley Lovett, played with great success this past season. The left fielder was dominant on both defense and offense. With a 0.547 batting percentage, and an on base percentage of 0.602, she was a consistent  scorer in almost every game this past season. Lovett possesses some incredible speed. She is probably the fastest player in all of softball, and it shows with not only her base percentage, but her having a team high of 28 stolen bases also was a feat of her own this season. Lovett additionally logged 32 RBIs, which was second on the team, and 16 doubles. Her outstanding play was rewarded, getting a max preps all state second team award. Lovett made the most out of a senior season with logging high-school-career-highs in softball and being a leader for rising players. It will be exciting to see what the future holds for her on the diamond.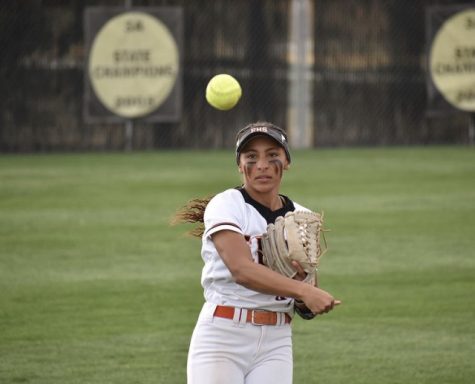 #5 Blake Barnett, So, Football/Basketball/Track and field 
 What is there to be said about Blake Barnett that hasn't been said yet? The second year starting quarterback lit the field on fire after being able to play a full season. With 27 passing touchdowns, and 24 rushing touchdowns, Barnett accounted for almost 70 percent of the scores for Erie. He totaled 3,609 total yards from both air and ground, averaging 200 yards per game. Barnett worked hard with his teammates on offense to make a group that were consistent 40 point plus scorers. He also has learned to play under pressure. When Erie was down in the conference championship he did not flinch. His amazing two point conversion dive was a moment that has been edged into erie sports. No one can deny that Blake will be a force to reckon with going forward. Barnett also brought home max preps all state first team awards, with more to come. Barnetts skill also translates into basketball where he's gotten some quality minutes, and track and field where he puts his speed to good use. With the trejection Barnetts going don't be surprised to see him get higher on the list and take Colorado sports by storm.
#4 Ryan McConnell, Sr, Football
Ryan Mcconnell is a freak of nature on the field. The two year capton was a moving wall on both offense and defense. Ryan was a headsore for defenses with him pancaking corners and safeties as he blocked for his running backs. He also only gave up two sacks the whole season including playoffs. Ryans linebacker play was explosive to say the least. He racked up 83 total tackles and was second in sacks with 6. What strikes me as his number one skill is his football IQ. It's not an easy task to play positions where you're made to direct other players and do your task as well, but Ryan does that to a high standard. He also joined the lacrosse team to add even more firepower to that team. Ryan proved to everyone at Erie how great of an athlete and leader he was for the Tigers. His attitude towards the game of football rubs off on everyone who's had the opportunity to play with him.
#3 Caleb Theisen, Sr, Football
In the very first list when talking about #43 Trey Khanna, I brought up some of the best running backs from the past five years. Caleb is just the latest and maybe the most skilled so far. With over 2000 total yards at the running back position, Caleb was never slowed down. Caleb also tallied 29 total touchdowns, 27 of those from the ground. What makes Caleb such a potent runner is not only his ability to impose his strength and shed multiple tackles, but also to turn the jets on and burn every player trying to tackle him. He also exercises at catching the ball with 407 total yards and 2TDs. If you thought that was all, you were wrong; Caleb contributed to the defensive side of the ball. At the free safety position he racked up 68 total tackles, 3 interceptions, and 2 fumble recoveries including a game sealing one in the conference championship against Montrose. His hard work awarded him a maxpreps all state first team. Caleb is still not done with athletics at Erie, with him having a role in the school's lacrosse team. Caleb was pivotal in Erie's run to the championship, he was the anchor to the team with his playmaking, and his leadership that made everyone around him fight harder like he does every practice and game. 
#2 Ava Welty, Sr, Basketball/lacrosse 
Welty's 4 years at Erie gave some spectacular moments with success. The lacrosse and Basketball star has been a threatening issue to anyone on the court or field. Welty's play in basketball showed how formidable she can be on both offense and defense. Averaging 7.9 points per game in the last two seasons, Welty was a reliable source for scoring for the tigers. She also had the best average offensive rebound percentage for Erie in the last 4 years with a 3.2 per game. On defense, Welty was fantastic at locking up opponents and playmaking. Her guarding in both the paint and outside three point line had to upset opponents trying anything to make a bucket. Welty kept the team together even after some coaching change ups and so player departures. Welty is also a star in lacrosse, with her being one of the best players in the state. The Fairview starter has gained attention from multiple colleges, but decided on attending a school close to home, with a commitment to Denver University. Welty will certainly be a thorn in the sides of teams having to share the field with her.
#1 John Pastore, Sr, Football/Basketball/Track and Field
When making the list it became clear early on who I thought the number one player was going to be. John's three starting years of play on the offensive and defensive line were of the most explosive in the state. Being the blindside protector for his quarterbacks, John in his senior year gave up only one sack during the whole season, including playoffs. He was also serving up pancakes all season with a team high of 51 total pancakes. A huge factor on the run to the championship game was how well John kept the pocket clean, and opened running lanes. Defensively, John was a nonstop issue for lineman on the edge. He averaged 20 plus tackles in the last two seasons while also having 10 sacks total in both years. The most interesting stat was a Colorado high 4 field goal blocks in the shortened 2020 season. John was also part of the basketball team and is also in track and field. He was rewarded with multiple awards, 2020 max preps second team, and this year a first team selection. All this has led to him getting to be able to keep playing football at Kansas state. John's competitive play and leadership catapulted him and his teammates to great success. He will no doubt be one of the best players to come out of Erie.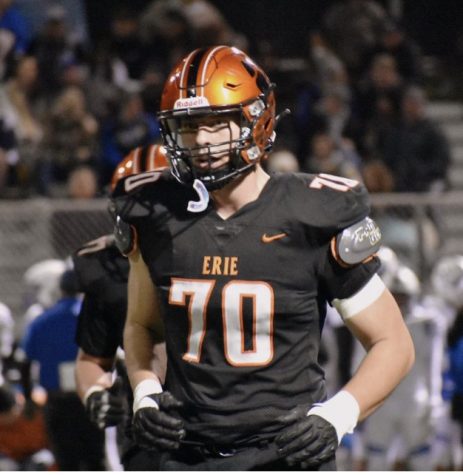 Thank you
I want to thank everyone who read all of the articles and wrote to me. I didn't think that all this would become as big as it did but here we are. I can't thank everyone enough for the support.
Personal
Email:[email protected]
Instagram:@Josh_zero73
Erie tiger media:https://erietigertimes.com
Instagram:erietigermedia