Monica Smiley: The Orchestra Teacher With a Plan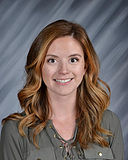 Sounds of bow on string, and the stomp of a high heeled shoe on a platform, shakes the brick walls which surround the small orchestra room at Erie High School. The low rolling sounds of cello and bass are felt underneath your feet, and the sounds which come from the violin and viola section dance through the air in their higher clefs, all of which are exaggerated by the new face in the P wing. 

Monica Smiley has been involved in music for the better part of her lifetime, starting with cello in sixth grade Smiley fell in love with making music. "I did pit orchestra for the musicals all four years of high school and taught my peers privately, which was kind of fun because when I was a senior I got to teach the freshmen privately. Gotta make a few bucks here and there." Smiley laughed. 
Smiley was even given the opportunity to try out and play cello in the Colorado All State Orchestra. After high school Smiley went to the University of Colorado, though her career of teaching was not at all planned. 
"So since [the day of my decision], I guess it was kind of determined. But prior to that I really kind of had no clue." she laughs, as she recalls the day she made the life-altering decision to start teaching. 
Smiley also had teachers which she admired in high school, they inspired her to be the best teacher she can be. "They would do anything for their students," she says. "…and I didn't see that from many other teachers." 
Smiley started teaching at Coal Ridge Middle School in Firestone, Colorado 10 years ago. There she shared an office with one of Erie High School's dean of students, Matthew Romig, for nine years. There Romig taught the choir department. "[Smiley's] really easy to get along with, and works well with others," he says. 
While at Coal Ridge, Smiley worked hard to give her students the experiences that would aid them in high school. Romig recalls that, "Sometimes I  and Smiley would collaborate, or her and Mrs. Meyer would collaborate, and stream a whole orchestra piece."
Together they took on part of the music department, and while Romig was hired in the spring Smiley won the hearts of our administrators over the summer. 
Smiley's application and interview wowed our administrators with her teaching experience, "Just her experience growing Coal Ridge Middle School's orchestra program from something very small to a very big program in not very long at all." Liz Russell says, believing that Smiley can do the same for Erie. 
Smiley thinks she can grow the program too, but her plans go deeper than that. "I want people to talk about us." She laughs. This year she starts with the first orchestra concert on October Seventh, hoping for a good night to bring our community together.                                                                                                                                                                                                                                                                                                                                                                                                                                                                                                                                                                                                                                                                                                                                                                                                                                                                                                                                                                                                                                                                                                                                                                                                                                                                                                                                                                                                                                                                                                                                                                                                                                                                                                                                                                                                                                                                                                           
Both Romig, Russel, and many of the staff at Erie all think that Smiley is going to do great things for the orchestra program at Erie. All we have to do is wait, and let her accomplishments, like playing the cello, and her teaching experiences speak for themselves.