The Constant of the Tiger Times
The sun crawls over the eastern plain of Colorado on one summer Saturday morning, warming the water of the pool. A few minutes later, a swimmer hops in. The water jolts her awake as she begins stretching out.
Other swimmers are there, and they begin to warm up as well. The camaraderie that swimmers of different teams share is rare, as they, unlike most other athletes, have plenty of time to talk between, before, and after races during their day-long meets.
The sun has risen more in the sky, with not a cloud to be seen. The bright rays pour down on the now large group of swimmers, many of whom are putting on sunscreen. It's the first outdoor meet of the season, and excitement ripples through the air as the first swimmers are called to the blocks of the long course pool.
BEEP
BEEP
BEEP
The swimmers splash into the water race after race. Eventually, the 200 yard Individual Medley, or 200 IM, is next. In the 200 IM, all four major strokes are swam, alternating every 50 meters.
It's the final heat. The swimmers walk in to Immortals across the bulkhead and behind the blocks. Kailey Pickering steps up in Lane 3, pulls her goggles over her eyes, and hops in the water. She pushes off the bottom of the pool and grabs the handles of the blocks as she prepares for the backstroke.
A minute later, she's hit the 50 meter mark of the relay, and she flips over and to the breaststroke. She draws out each stroke as long as she can, pushing through the pool.
As she finishes the breaststroke, she readies for the butterfly, one of the most, if not THE most physically demanding stroke. She shoves off the wall and drives down into the depths of the pool, staying underwater for as long as she can to take as few strokes as possible.
The piano didn't quite land on her back during the butterfly, but it came close. All she has left to finish the race is 50 meters of the freestyle, her favorite stroke.
She grins as she picks up her kick on the way back. After she touches the pad to finish the race, she looks up at the timing board. It reads 2:21. She's beaten her personal record in her favorite event yet again. She pulls off her goggles and hops out of the pool to the cheers of her parents, grandmother, sister, team, and coaches. That time won the race, so she'll get a medal.
First though, she hops in the adjacent pool to warm down. Her smile can be seen for miles as she stops to talk to other swimmers while warming down.
---
A few months earlier, she left swim practice and headed to Erie High School. This day is a B Day, so her first class is Tiger Times. She stops by a Starbucks on the way and grabs a coffee as she walks in around 7:20 instead of 7:10 or 7:15, because, without fail, her sister slept for a bit too long.
Still, she's usually one of the first to a class that technically starts at 7:30, but inevitably has one or two seniors that walk in a minute or two late.
All the perpetually late seniors have arrived to class, and Mr. Bird addresses the class. Stories were due last class, so today is story brainstorming day. Kailey hops off the desk and walks up to the whiteboard. "Any ideas?" she asks.
Nope, not many today. I toss out the upcoming events, games, and players that they could write a feature about, and Mr. Bird gives some other ideas. But for the most part, people keep their ideas, or lack thereof, to themselves.
From there, class is calm. Christian Haakmeester creates a meme or two on photoshop despite Kailey telling him not to, which leads to Mr. Bird groaning in frustration as Christian proudly hangs his creations on the whiteboard.
Kailey chats with everyone in the small class, asking them what story they're working on, and how their day and life is going in general. And somehow, she manages to make everyone's day just a little bit better every time she talks to them.
---
Kailey Pickering has always loved to write, but was never able to finish stories that she began, so when she heard that there would be a journalism class in its first semester, she jumped at the chance to be in it. The fledgling class was different from what it is today – or from what they are today. The class began as the Erie Tiger Times and the Erie Tiger Network combined, as a broadcast and online news program on erietigernetwork.com. In fact, the Tiger Times didn't even officially exist, it was simply an idea. And the ETN was different as well: there's no weekly news, the broadcasts are on the NFHS Network, not YouTube, and so on.
When Kailey entered the class, she expected to write and not to work with computers, so she was taken aback by all of the video media incorporated into the class. All the computer work and video editing scared her as a 15 year old sophomore. Despite the fact that she enjoyed the broadcasts, the video involvement overwhelmed her and she decided to drop the class for Adventure Bound. But towards the end of the semester, Mr. Bird sat down with her and asked if she would like to be the inaugural editor of the Tiger Times (which, at this point in time, still hasn't been named). She was surprised, and told him that she was dropping the class. The next semester, every time Mr. Bird saw her in the hallways, he told her to take the writing class.
Little did she then know that the Tiger Times, the class she was talked into by running into Mr. Bird in the halls, would shape her destiny.
The next year, she came into class with renewed expectations. She decided that she didn't want to be an editor her junior year, so she passed up the opportunity that had caused her to take the class. Instead, she took the position of a staff writer, and wrote. Her first story, like everyone's in the class, was for the fall sports program.
After the program was produced, the class decided to switch to an online format.
Her first online stories, about homecoming and the annual fall block party, were published on October 27, the first day of the website.
The fourth story she wrote may have been the most impactful, but she wouldn't know it for five months after it was written. Every student had to write a feature that fall, and she chose to write hers on Ms. Mitchell, a science teacher at Erie. "Mr. Bird (said) we had to write a feature, and I was freaking out, and I (didn't know) who I was going to write it on. And I was like 'I can write it on Ms. Mitchell.' She was just this really energetic and bright person."
She kept writing as the pages of the calendar turned. Book reviews have always been a staple of her work, with other stories ranging from Erie officially getting a new swim team to all-state orchestra, and, of course, features. "I have this love for features. I just love telling people's stories, I love listening to people's stories and getting to know them."
'That story kinda kicked off my feature high" she laughs.
Once the class moved to a news website, it became much more laid back. "I don't know why I remember this so fondly, but I remember Kyle and Caleb sitting there like stapling themselves, and they were upperclassmen and we all thought they were cool. It was just fun to be in there, and playing UNO obviously. I did work in that class, but most of the time I got it done at home so I could hang out with people and talk to people in class.'"
'I remember one time I was like 'I gotta get this done' and that was when I was handwriting all my interviews. They had this ETN tent, and I just went under it and put my earphones in and was writing and they took a picture of me and put it on twitter."
The April of her junior year, the Tiger Times submitted stories for the annual Colorado Student Media Association (CSMA) Best of Colorado contest. Her story on Ms. Mitchell was submitted for the personality profile category, and after weeks of waiting, she found out that it won!
"I remember that day so well. I woke up late and I was walking into school with my friends and there was a puddle in the parking lot, and I (said) 'Oh my gosh guys, I'm gonna kick the puddle', and I was in jeans and Converse, and I was soaked all day long."
'I remember coming in that class, and (Mr. Bird) was announcing all these awards, and he played this cool music, and then he said 'In first place' and he looked right at me and I (thought) "No way"
Going into her junior year, her plan was to be a teacher. But throughout the course of the summer and her senior year, she changed her mind. "I really want to impact people. Done. And teaching seemed like the best way to do that. (But) this summer, I taught swim lessons, and found out that I'm not good at managing kids, and you definitely need that for a classroom."
"So I decided to focus on journalism and (to) write.
In the August of her senior year, she decided she wanted to be the Editor-in-Chief of the Tiger Times. The Tiger Times had fewer students in it in its second year, which resulted in less stories as a class. Kailey kept writing, in addition to the editing role she had taken on. Her favorite story of her senior year was her story about vaping at Erie, primarily because of all the research and effort she put into it, as well as getting to talk to a group of people who wouldn't always be interviewed in other stories.
As her final days in the class wind down, she reflects on the days past. Despite talking about it all year, we never went to Starbucks as a class, although Jackson Higgins and Karis Moore brought some for everyone on the last day of class. The two years were unique in their own ways. Each semester and every person had their impact on her, and she had her impact on them.
Kailey will be attending college at Colorado State in Fort Collins, only 45 minutes away from Erie. She plans to major in journalism at CSU. After college, her dream is to travel the world and write about everywhere she goes. "I've never been outside America. I've been to Washington (D.C), California, and Nebraska, and that's all the places I've been."
"I want to go everywhere in the world."
While swimming and writing only make up two parts of Kailey, they are two significant parts of her that she will keep with her forever. She won't have to ever stop swimming and she'll never have to stop writing.
Kailey Pickering helped mold the Tiger Times into what it is today. It went from not existing, to a print newspaper for the shortest of a time, to an online news website. Every step of the way, her fingerprints have been on it, and although it isn't always necessarily visible from the outside, Kailey has been the constant of the Tiger Times. It is impossible to understate how much the class will miss her, from her writing to her editing, from her leadership, to her friendship.
The Tiger Times has never existed without Kailey, but after the senior's last day, it will. And it will never be the same.
For all that you've done for the Tiger Times, Kailey, I speak on behalf of last year's staff, this year's staff, and Mr. Bird when I say thank you. We'll miss you next year and beyond.
Goodbye Kailey
Leave a Comment
About the Writer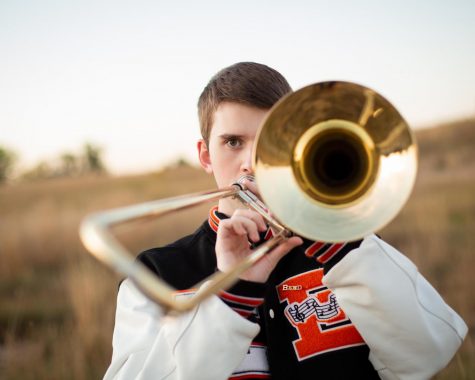 Grayson Blalock, Fall Editor-in-Chief
Grayson is the Fall Editor-in-Chief of the 2019-2020 Tiger Times. He was the Assistant/Sports Editor for the 2017-18 Tiger Times and was the Sports Editor...