Giving Back, One Donation at a Time
Erie High's National Honor Society launches a Personal Care Donation Drive
As the temperatures rise and the sun begins to gleam, the National Honor Society (NHS) picks up donations for the Personal Care Kit Donation Drive on March 12th.
This is NHS's second donation drive of the current school year, with the Food Drive being a success back in November. NHS members are partnering with Erie Uplink to put together personal care kits for students from Erie schools who are in need. There will also be a donation for people in Boulder who do not have access to a home. These people in need can have a say in what type of donations they want to be donated.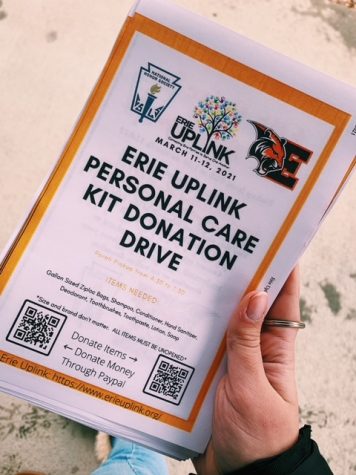 Jamis Schriner, the NHS Secretary, who is in charge of this project, explains, "We are planning on letting people get a say, week to week, about what they want. This way, they can feel like humans and get what they need."
NHS members picked up donations from around the Erie Community. These neighborhoods included Colliers Hill, Erie Highlands, Erie Village, and Kenosha Farms, to name a few. A few weeks ago, flyers were sent out around Erie. They had information about the drive, what to donate, and QR codes to use if people are interested in donating. People could fill out a Google Form to notify NHS members that they were donating and what house to pick the donations up from.
NHS member, Sydney Parriott, explains, "Picking up donations ended up being really fun. It was good to get the community involved in helping out!"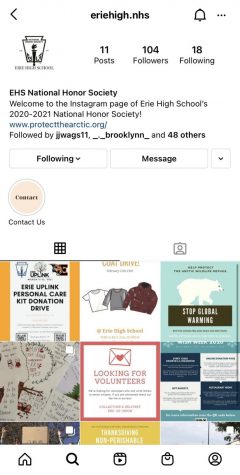 Erie community members were asked to donate much-needed items, such as gallon-sized Ziploc bags, shampoo, conditioner, hand sanitizer, deodorant, toothbrushes, toothpaste, lotion, and soap.
Some people also donated food and uplifting books. If they were not interested in donating items, they could donate money. Individuals used a QR code on the flyers to donate money through PayPal, to go directly to Erie Uplink.
Although the school year is coming to an end, the Erie community has still been able to help the NHS with this donation project. The donations are greatly appreciated and will be used for the greater good.
When the community comes together to lend a helping hand, not only does it help those in need, but also brings the people of Erie closer to one another. It is a victory for all who participated.