A New "Burd" in the Choir's Nest: Erie Hires a New Choir Director
BREAKING – Erie High School has hired Thalia Burd from Holy Family High School to be the school's next choir director.
Before coming to Erie, she taught at Holy Family High School for ten years, and at Sacred Heart K-8 for two. She graduated from CU, just like Mrs. Bird. She has also served on the Colorado All-State Choir Board for four years.
"Mrs. Burd's energy and enthusiasm, combined with her ten years of experience, made her the optimal candidate to lead Erie's outstanding choir program," said Principal Matt Buchler.
Mrs. Burd was hired from a field of 30 mid-year applicants for the position. Once they were down to the final three, they had those applicants come to Erie yesterday and work with around 30 choir students on warmups and a short rehearsal on a song that students already knew to see their teaching style and how well they worked with students.
"She's awesome, she reminds me of Mrs. Bird," said senior Jack Laychak while on a ski lift. "I think that's why so many of the students loved her."
Mrs. Burd will come to one of the best choirs in the district – Erie had 12 students selected to all-state, and three to all-state jazz this year.  
"I was in all-state choir my junior and senior year here in Colorado, and the moment I stepped into that room and worked with that amazing conductor I knew that's what I wanted to do," said Mrs. Burd.
One of the several reasons that she made the decision to come to Erie was because of the larger choir program. "I've wanted the opportunity to work with more students and more choirs, so I'm really excited about that."
Another contributing factor to her move is the traveling and trips that the choirs take. "Travel is my passion, so I'm so excited about the Disney trip and potential trips to Europe and Carnegie Hall and who knows where else in the future."
With Mrs. Burd, the Erie choirs are in good hands. "I've had the chance to work alongside Mrs. Burd for a long time." said departing choir director Janay Bird. "I have great peace of mind knowing the program is in good hands and know she will continue to do great things with these students." 
The position opened when Janay Bird, who came to Erie in 2011, accepted the Fine Arts Coordinator position for the St. Vrain Valley School District on November 22. Mrs. Bird became the first-ever District Fine Arts Coordinator, as the position was recently created under the umbrella of the Director of Athletics, Activities, and Fine Arts, held by Chase McBride, who stepped into the role this year after longtime Director Rob Berry's retirement.
About the Writer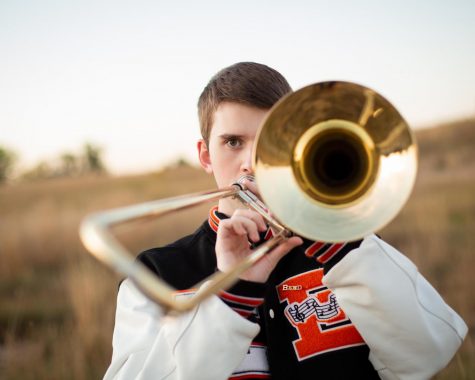 Grayson Blalock, Fall Editor-in-Chief
Grayson is the Fall Editor-in-Chief of the 2019-2020 Tiger Times. He was the Assistant/Sports Editor for the 2017-18 Tiger Times and was the Sports Editor...