Mixed Feelings Fill the Erie Choir As It Says Goodbye To Its Beloved Choir Director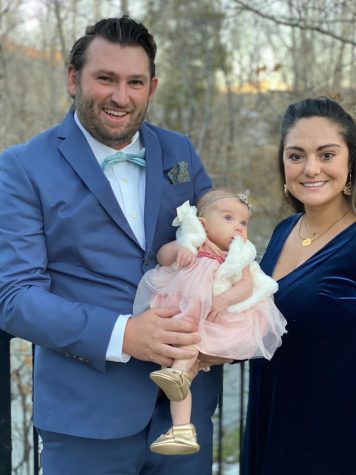 ERIE – A bittersweet moment has arrived for Erie's choir. Janay Bird, the choir director, is leaving. However, Mrs. Bird's is opening a new chapter of her life as St. Vrain's Fine Arts Coordinator will open up many new opportunities for teachers and students that weren't available before.
 "I am excited, for sure, and I think it's time that a position like this exists in the district" Mrs. Bird says. After working at Erie as a choir teacher for 9 years, her work ends this semester after finals. This is not simply an end, but a beginning for her. It is a way to bring new and better things for the St. Vrain Valley School District. As the Fine Arts Coordinator, she'll be able to help all the arts teachers, "Right now our teachers in the district do a lot of work. And so this position will hopefully take some things off their plate," like organizing the district honor choir. "In addition to that, I'll be able to create professional development opportunities for all of our teachers."
Mrs. Bird has been apart of Erie High for nine years, and had an impact on so many people's lives. Many students and administrators will miss Mrs. Bird, but all are excited for her new journey.
Mikaela Schindler, a senior who has known Mrs. Bird since her 6th grade year says, "She has opened my eyes to the magic of music and has allowed me to fall in love with singing. She has encouraged me to aspire and achieve, and has allowed me to reach many musical goals in my life." That's not something many would forget. Emma Thompson, a senior, has been affected by Mrs. Bird also, "She's just so relatable to us, I haven't had a teacher that can get us as much as she can." Mrs. Bird has also brought encouragement to many, Thompson adds, "She's inspired us because she's told us that we can do it."
When someone impacts your life like Mrs. Bird has done for her students, it's hard to lose them, but it's also hard not to be excited for new opportunities. Thompson remarked, "I think I speak for everyone when we say we're going to miss her so much, but we're glad that she's getting to do what she really is meant to do." Mrs. Bird's students, despite wanting her to stay, see and believe her new position and opportunity will affect not just Erie High, but the whole of St. Vrain schools. 
"She's gonna have a lot more say in what we get to do for our school program, she'd also like to bring other SVVSD schools to really cool things like CMEA [Colorado Music Educators Association's yearly choir clinic] because… Erie High School has gotten a lot of cool opportunities, but not everybody in our district has." Thompson anticipates. Schindler also believes that, "Her new job is going to open up endless opportunities for the choir department." And they've got the right idea.
Erie is losing a loved teacher, as Mrs. Bird has left an impact on this school that won't be forgotten.