Cafarelli Qualifies for State Golf
ERIE – Braden Cafarelli became Erie's first golfer in three years to qualify for the state tournament. Cafarelli finished 13th at Coyote Creek in Ft. Lupton last Thursday.
Cafarelli reflected on the way he played on Thursday, admitting that it was "a little bit of a rough round, but [he] got it done."
Cafarelli is in Montrose for state today, hoping to win, despite never having played on the course there. He commented that he is excited to play at state, and hopes to "bring the title back for Erie."
This is a big win for Cafarelli, who could have qualified for state last year, but as a transfer from Holy Family High School, he was not eligible
As a freshman at Holy Family, he went to regionals and lost, but they cut someone who qualified, which meant Cafarelli needed to shoot an 84 to qualify and he shot an 85.
After coming to Erie High School, he averaged a 76 but could not play on varsity because he was a transfer student. Luckily this year, Cafarelli is playing on varsity and shooting strong.
"The goal is to win," he said with a smile. His goal for regionals was top ten, which he made, and now hopes to make top ten for state, as well. 
Being on a golf team means balancing group dynamics and working together with other people, and Cafarelli notes that there are " a lot of kids who want to be good," and that golf is going really well so far this year, for both himself and the team, but that there are still kids who need a bit more practice. Cafarelli concluded that it should "be interesting to see what next year holds."
Behind the talent and success is a disciplined and motivated student who cites his "parents and [his] work ethic" as the things that have helped him reach this point in his golf career. Cafarelli practices a lot, and his father often helps him practice and has been a huge support system for him.
Cafarelli's closing comment was that he wanted to "thank Coach cause he's going to make the trip" to state and that he hopes he plays well today at state. Good luck Braden!
About the Contributor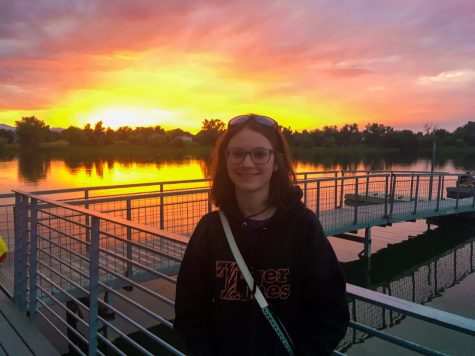 Emma Sanders, Editor-in-Chief
 Emma Sanders was Copy Editor of the Tiger Times from 2017-2019 and 2020 Editor-in-Chief. She has won multiple CSMA awards and is an ardent supporter...