The Most Clever or Cliché Valentine's Gift Ideas
Want a special gift for a special person?
Valentine's Day is a day to express to our loved ones how much we truly care about them. The way we get our feelings across is usually from a date night or through gifts. However, has it crossed your mind that the gift you gave is a little cliche? When spending the money, why not get something more original and special on this day?
The top five gifts everyone gets for Valentine's Day are:
Flowers
Store bought card
Box of chocolates
Teddy Bear
Jewelry
Even though these gifts are nice, they can also be a little cliche. Here are just a few ways to spice up these same gifts into something that shows love and keeps the Valentine's Day gift tradition.
Flowers: When getting flowers, pick them up for a date and give them to that special someone. Another way to give flowers is to tie the flowers as a cute and loving gift, or write a little taped on note to each flower about how much they mean to you. When giving them the arrangement, you could also give them reasons why you love them.
Card: Why buy a card when you have a glue stick and pair of scissors? Make a homemade card, straight from you heart or Pinterest. Either way, this shows the effort and time it took you to create something for them. This idea is also cheaper than buying a card. The best part is you don't have to be a craft major to make a nice card.
Box of Chocolates: There are two super cute ways to turn this cliche gift into something making them "aww". The first one is to make a chocolate basket. As you know, everyone has their favorite chocolates, treats, and candies. Fill up a basket of all their favorites and put a ribbon on it. This is something everyone will love. You could also fill up a mason jar with little chocolates, a ribbon, and a note sharing a saying or displaying your love.
Teddy Bear: As this gift is often a waste of money, you could spice it up with a note or chocolate. Teddy bears however are the most classic gift. Although some think it's cute to show love through the traditions.
Jewelry: This gift shows your love through something they can wear and have close to them everyday. Keep in mind that the more effort you put in, the more enjoyable the items will be. For instance, adding a note or quote makes this gift mean a lot more.
These are many other ways to express your love on this romantic day, without being cliche. However, if they want a card or chocolates, then the gift is great! If you want to be the one to show your love without being cliche check out these clever ideas:
50 reason why I love you jar: As this idea is cute, it resembles effort, love, and is inexpensive if you're on a budget. To make this, you use a jar, write little notes, put them in the jar, and decorate.
Dinner and Dessert: Show your love by making a nice romantic dinner, and dessert. This gives you a reason to have them come over and saves money as you don't need to take them out and buy them dinner.
Taste Tester: This is a cute little game, as you can make a few different pastries. You will have them taste test them. This is a fun game to play with your lover, and they get to enjoy dessert. It's a win, win, right?
Play on words Candy: This is a great last minute gift as you can through together candy with explaining.
Picture frame: Make a collage of the cutest photos, or keep it simple with one photo and a cute saying. Either way, it shows care, as is something cute they can hang up.
The most important thing to do when coming up with a clever gift, is to get creative and personal. The best gifts are always the most personal
. This will ensure to make your gift the best one yet for this romantic holiday.
About the Writer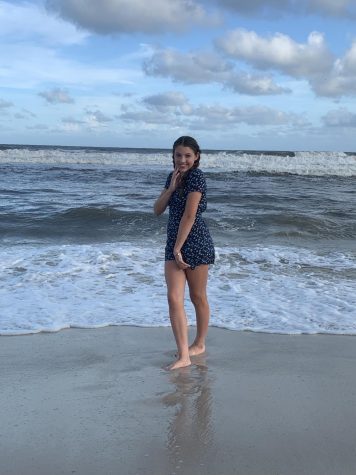 Madison Hays, Assistant Editor
Madison Hays is a junior at Erie High School, and is in her second year of being  a part of the Erie Tiger Times. She is the Assistant Editior of the...