The New Kids on the Block
A brand new PK-8 School is being built right next to the current high school.
Hang on for a minute...we're trying to find some more stories you might like.
Erie is a town whirring with construction, and the scenery that has long been known to be empty, is being filled with with a new PK-8 grade school.
The new school, located just behind Erie High School, will house all of the grades from early on at the kindergarten level, all the way to the late middle school years to create a familiar and easy experience transitioning between many of the milestones in primary schooling.
Cyrus Weinberger, former principal of Red Hawk Elementary which is also located in Erie, was named the principal of the Erie PK-8. In his own words, Weinberger says he has "Been struck by lightning twice" in relation to his roles both at Red Hawk and now with the Erie PK-8 school.
Weinberger goes on to explain that "With Redhawk, I had the opportunity to start that school and be the founding principal, and I'll have the same opportunity here, with the Erie PK-8."
Weinberger's role, just like it was at Red Hawk, will be to create a team that will guide the way the school is shaped, not physically, but in the focus and curriculum. Weinberger will first have to expand his team of three, including himself, to a team of 12 by the end of this year, and eventually over 80 by the time the school opens. It will then be up to everyone involved to decide on a direction they want the school to follow.
There will be community involvement as well. "We'll be working a lot with the community once the boundaries are set, to help name the school, to figure out the mascot, to figure out the different kinds of programming, so a lot of that will depend on what people are interested in, and that's going to help us drive the direction we go in," Weinberger explained.
Much of the guidance of the new school will come from Weinberger's past experience in both planning, and running Red Hawk Elementary. Weinberger was one of the pioneers in the All School Movement program, and plans to build a lot onto what was installed in Red Hawk, but also "Improve that in the areas of really understanding the connection between how your brain works, how movement affects that," explained Weinberger.
The school will be a PK-8, which is a first for Erie, which has only had the standard "Tiers" of schooling for as long as most people remember. One thing to know about this new school is that the PK-5th grades will be separated from the 6-8th grades.
"The other things that I would say that are going to be unique to the Erie PK-8 is the environment itself," adds Weinberger.
The environment will consist of roughly 600 elementary students and 300 middle school students. This will be a smaller school, and Weinberger hopes to use that as an opportunity to make sure that all of the students are best catered to their needs and interests.
Being so close to the high school, collaboration among teachers will be easier than ever. This will also help the transition times for students going from elementary to middle school, and then to high school. One of the biggest dilemmas the students face during transition periods is their lack of knowledge of content. Lindsay Fox, a math teacher at Erie High School said "It's always been a struggle to collaborate with teachers at other schools, but having them literally in your own backyard will be game changing."
In regards to the new PK-8 school, Weinberger explained that "It's really going to be like a K-12 campus, so the strength of a K-8, and it's strength of a K-12 system is really in the collaboration."
The school itself will be state of the art. Not only will it increase collaboration between teachers, but also between students of all grade levels. Crafted with all of this in mind, the PK-8 school will have multiple spaces for groups to branch out from the classroom and have a space to work. The school will also feature "Maker Spaces," which will enhance STEM programming. "The Maker Spaces, the commons learning area – are all designed specifically to have students be able to collaborate, and have lots of small group instructional spaces that can be capitalized on," elaborated Weinberger.
But until then, this previously empty space will continue to transform into a beautiful school, and Weinberger will continue to assemble his team to pursue a world class education for his future students, and future generations.
About the Contributor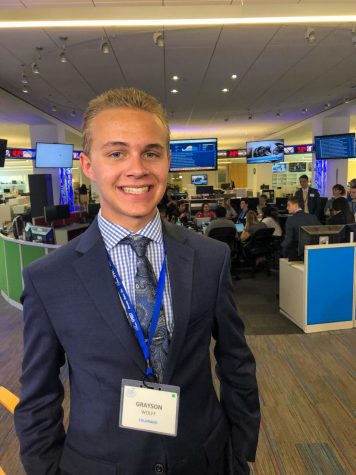 Grayson Wolff, News Director (ETN)
Grayson is a Senior at Erie High School and is the News Director for the electronic media division of Erie Tiger Media called the Erie Tiger Network. He...