A New Start For The Girls Basketball Team
The sound of a basketball beats on the hard wooden planks of a gymnasium floor, and sneakers squeak as girls sweaty with the cost of hardwork rush back and forth, just trying to get the ball through the net on the other side. This year at Erie there is a different coach on the sidelines, and both players and coaches are trying to find a new groove as they head into the girls basketball season.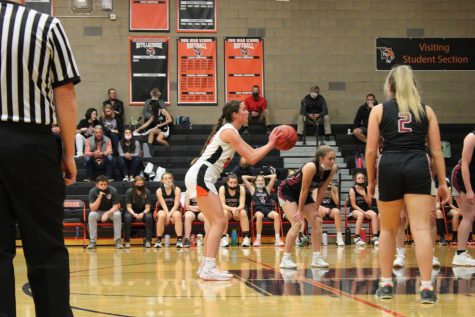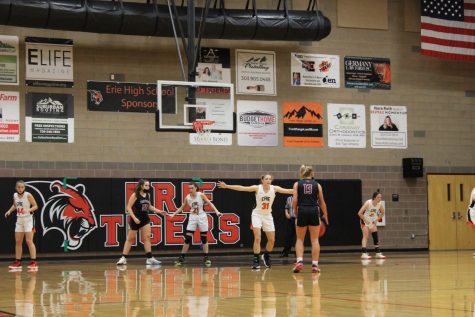 During the abnormal spring season of 2021, which was pushed back because of the pandemic, the head coach of the girls basketball team at Erie high school was known by the name of Chris Walls. Early before this season Walls resigned from his position, leaving Erie's school administration with only a short amount of time to find a new head coach. They had chosen Brandon Havard to fill this role, moving him up from his position as junior varsity coach, and replacing him with Brandon Bird. 
Havard did not always want to be head coach of the basketball team, and recognizes that his time in that position is possibly temporary. "I felt like it was the best move and best for the team for me to step up and say that I would do it," he says. Later he adds, "I'm going to take it and make the most of it, whether it's one year or I keep coaching." 
As the season runs into action, players already feel the effects of new ideas and new styles. "We're going to be in really good shape this year." Ava Welty, a senior player, laughs. "We also are running a different offense this year, which is working a lot better," she adds. 
However, being in good shape, according to Head Coach Brandon Havard, is not the number one goal this season. He explains, "[Our] overall goal is to just bring us all together as a team, with all the changes that we've made this year."
Havard also has another goal in mind, as he remembers the results of last season. "One goal is to definitely make it further than we've made it before," he says, "[We] definitely want to make it to the final four. But the true thing is just to become that true team, and get to know each other and bond, and to just be a team that plays great no matter what the circumstances are." 
Senior Erica Pickering awaits the crowd, something that the team hasn't been able to enjoy since before the Covid 19 pandemic, "I look forward to playing in front of a crowd again, because last year we didn't really have that," she says. 
Between the sounds of a rowdy student section, and the smell of pretzels from the concession stand, a different girls basketball team emerges. Led by Head Coach Brandon Havard, the team rushes out onto the wooden planks of the basketball court. Between a different lineup, year, and head coach, girls basketball at Erie high school suits up to take on any opposing team that comes their way.