Getting Back in the Spotlight: The Return of Band, Choir, and Orchestra Concerts
Amy Hood, Senior Staff Writer
April 15, 2021
For students and teachers in Erie High School's music department, May is one of the most exciting parts of the year, but this year it is much more than that. 
Thalia Burd, EHS choir director, has been doing everything she can to make sure her students do not miss out on all those special moments in class and performing together. With the return of fully in-person school, each choir got the opportunity to sing together as a whole class,"it [was] absolutely amazing. [For the] first time this entire year I've gotten to hear an entire choir sing together, it is just such a great feeling," Burd said.
The choir department is hoping to be able to have a concert with all of its members in May but is unsure restrictions will be loosened enough by then. "Right now, the guideline states that no more than 25 students can be together for after-school activities, so that would pretty much rule out a concert for all the bigger choirs. [T]hat's kind of discouraging but we have lots of ideas for how to get around that. For example, [we could] fight for an ordinance or special permission from Boulder County Health, to have a concert just one choir at a time," explains Burd.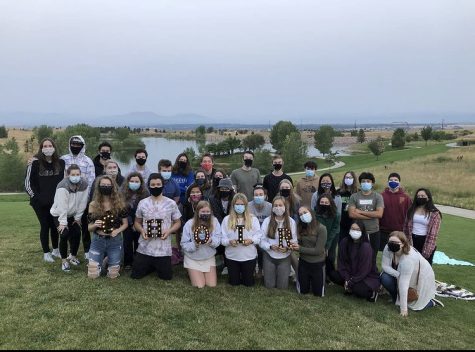 There are some traditions Burd is also determined to make sure are still intact this year. Seniors will hopefully be performing at graduation this year and be able to have senior sunset: an annual get-together at the end of the year where they reflect upon the great memories they have made during their time in choir, "Our last really special senior tradition is called Senior's Last Song, and it's like the theater banquet where we get together seniors and their families and friends, and they can sing a solo or duet, and we just honor them with a special senior slideshow, pictures of their time to acquire and throughout high school".
Finally, the choir department is excited to put on Erie Idol this spring. With the end of the year nearing, many students, and especially seniors, were nervous they were not going to get the opportunity to take part in this event. Erie Idol is a singing competition that has a total of three rounds; the first round where students send in audition videos to the judges, the second round where the top ten are filmed and then people can watch and vote for their favorite, and the third round where the top five compete for a live stream and small audience where they can vote for the winner. The Top Ten premiered last Friday and the Top Five will compete this Friday the 16th. 
Band and orchestra will also be having some performances this May and Doug Carmichael, EHS Band and Orchestra Director, explained how that will work, "Originally we were hoping to have an old school concert on stage with an audience…  Plan A was to have an audience, Plan B was to have everyone come back in the evening and stream the performance, and Plan C is to have Paul Stecina come in and record us. Right now it looks like we're gonna go with Plan C." Carmichael's first priority is to keep all of his students safe, and is happy they will still get to share all they learned with their families in some capacity. 
Carmichael thinks that one thing people will crave, once we are safe to do so, is live music. "People are hungry for live music, so once this thing is over [band and orchestra students] are gonna be like rock stars," Carmichael elaborated. He has already seen how happy and eager his students have been to play together again and is excited for when that can be shared live again.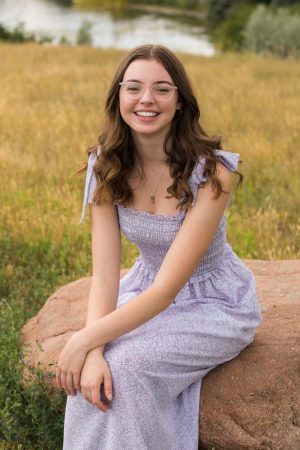 For many seniors at EHS, they are absolutely overjoyed to hear about the prospect of having a Band, Choir, or Orchestra concerts. Kylie Boggus, Co-Vice President of honor choir CR5, has greatly missed getting to sing with her entire class and make music together. "I've missed having the connections with other people because when you're online you can't really hear each other and don't get positive feedback as often as you'd like. I know everyone misses music and we all have the phrase 'Sing Loud, Sing Proud' and we can finally just do that again," Boggus elaborated.
Ryan Erekson is a senior who takes part in CR5, Jazz Band, and wind ensemble. He is also a Drum Major for the marching band and is very excited to get back to performing. "I think I've just missed the atmosphere… especially for band, it's super chill. We all want to do our best so we give the audience something that is kind our best work from the past couple of months, and the atmosphere around that and the kind of excitement and joy that it brings to everybody is unmatched," Erekson explains.
Erekson is also taking part in Erie Idol and will be performing a duet with fellow senior, CR5 member, and Drum Major Chris Tempel. They have moved on to the finals and will be competing this Friday 4/16 live for the judges and a few audience members.
Erekson and Boggus are especially excited for Senior's Last Song, where they can perform a song and celebrate with their peers and family. Erekson has "been to every senior's last song since my freshman year," and is very excited for the opportunity to finally take part in it. 
Erie has surely been missing all the great things produced by the High School's music department, and this spring is sure to be an extra special showcase of all that has been missed.