Sing Loud, Sing Proud: Erie Idol Competition Begins
Microphones and stage lights fill up the Erie High School auditorium on a brisk Friday night. Through many changes to the competition due to COVID-19, Erie Idol has successfully commenced. 
Erie Idol is a competition run by the EHS Choir department. Each year, Erie students, even those who are not involved in the performing arts, can audition to be a part of this singing competition. Students can be soloists, duets, or even have group performances. After the auditions, the top ten performers take center stage to sing live and receive feedback from Ms. Pernas, Mrs. Burd, and the choir pianist, Mrs. Midyett. 
This year, the auditorium was empty, but the live stream was filled with viewers. Those who watch the performance can pay five dollars, through Revtrak, to vote for their favorite performer. After the votes are counted, the top five finalists will be announced. These five students will compete against each other again on Friday, April 16th. On that same night, viewers will vote for their two favorite performances. Then the top two will perform one more time until the final votes are counted. The winner will take home a $50 prize and their name on an Erie Idol plaque. 
Tonight's performances consisted of pop songs, classic pieces, original songs, and some performers even pulled out their guitars or pianos.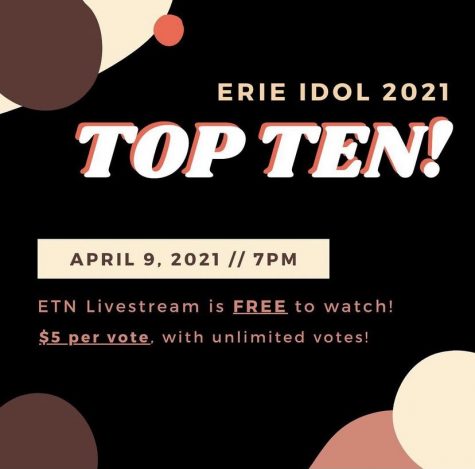 The first performance of the night was from Ryan Erekson and Chris Tempel. They performed the classic "Beyond the Sea" by Bobby Darin with high energy. They did some experimentation with the song and added some new harmonies within it. They dedicated their song to their voice teacher.
Freshman Lucas Lee was up next with his rendition of "Little Lion Man" by Mumford and Sons. This song was a song he grew up listening to. He dedicated his performance to his family, including his parents and his grandparents. 
Saylor Russ then performed the Alto powerhouse song of "Set Fire to the Rain" by Adele. She loves the passion that the song brings, and she wants to share that with the people who have lost something due to COVID-19. 
The next performance was Angie Torres who decided to sing "Vienna" by Billy Joel, but this version was created by Ben Platt. She related to the lyrics and loved the message about taking life easy and realizing that you will get to where you need to be, eventually. 
Senior Stephanie Brooks brought "Waves" by Dean Lewis to the competition. She went to a Dean Lewis concert with her mom and thought performing it would remind her of her mom. Therefore, she dedicated her performance to her mom, who she considers her best friend.
Aislin Ermentraut was up next, singing "Dear John" by Taylor Swift while playing her guitar. She has only recently started performing live with her guitar but has played for five years. She dedicated her song to her friend, Reilly, her parents, and her grandparents.
Tia Tempero performed an original song called "Speedway." This song took her five months to write, and she put her blood, sweat, and tears into creating it. She dedicated her performance to those who have supported her music, including her music teachers, family, and friends.
Mora Walker then sang "Pancakes for Dinner" by Lizzy McAlpine. She recently discovered this artist and has fallen in love with her newest album. Mora dedicated her performance to her dad, who she considers her biggest supporter.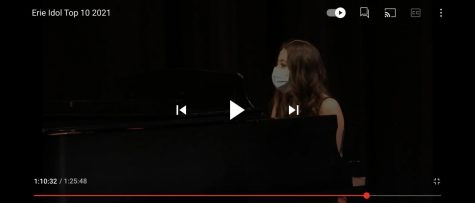 Junior Avery Pekny came to the stage with an original song called "Me, Myself, and I." The message of this song is that sometimes the only person you have in life is yourself. She dedicated her piece to everyone who supports music and Erie Idol. 
The last performance of the night was from Grace Rowberry. She sang "The Climb" by Miley Cyrus, and she loved how the song talks about having the strength to climb the mountains in our lives. She dedicated her performance to her friends and family. 
Each performer was able to show their different styles of music, as well as their different talents. Even without a physical audience. Erie Idol has been a success. This competition is a great opportunity to showcase many different EHS students while also supporting the performing arts. 
Tune back in next Friday, April 16th, to watch the top five performers compete for their chance to become the next Erie Idol winner!