Mya Michaelson is Blazing a Trail
Mya Michaelson will be Erie High School's first ever Division 1 volleyball player when she takes the court for the University of Alabama Birmingham (UAB) next fall.
Michaelson was born on April 5, 2000, in Wichita, Kansas, and her mother was the women's basketball coach at Wichita State University. Michaelson lived in Kansas until she was eight, and it was in Kansas that she was first introduced to volleyball. When Michaelson was eight years old, she moved again to Austin, Texas, where volleyball began to take a firm hold in her life. Michaelson attended a large school which she says helped prepare her for high school volleyball. Michaelson explained that "Even as a middle schooler, you go to the gym at five o'clock in the morning, and then play for two hours before school started. It was a lot more intense in Texas, even more so than here." Michaelson moved to Erie, Colorado in eighth grade, where she decided to focus on volleyball instead of basketball, the sport her mother played and coached in college. Michaelson explained,"I knew, once I sat down and thought about it, that volleyball was the sport I wanted to play for myself."
Michaelson's mother fully supported her daughter's choice of sport, and couldn't be happier for her daughter. In Michaelson's freshman year of high school, Michaelson made the varsity volleyball team, and began starting on the right side during the second half of the season. During Michaelson's sophomore year, under the instruction of coach Russell Fox, she had enough skill to crack the starting lineup of the varsity team. "I knew, going into the year, that that was my goal, to start the first game, and to start every single game. I think that's what drives me to practice so hard, and to go in and lift weights," explained Michaelson.
As the volleyball season progressed, Coach Fox noticed that Mya became oddly nervous before games – especially home games. Michaelson acknowledges that she becomes nervous, but says that all her nervousness disappears once she runs onto the court. "I always get nervous that I'm going to run out and trip on my face while the team is running out and the crowd is cheering us on and watching us," explains Michaelson.
It should be noted that Michaelson has yet to trip and fall while running onto the court. However, once the team begins warming up, the nervousness turns into anxiety, directed at beating the middle for the opposing team. Michaelson commented that "I always want to beat her – if that is getting more kills than her, closing more blocks than her, getting more blocks than her."
Michaelson's stats were impressive during her sophomore year, as she had a .398 hitting percentage, which was good for being first in the state according to MaxPreps, in addition to 215 kills.
Michaelson's favorite game came in the playoffs of her sophomore year when the Erie volleyball team played Steamboat Springs. The entire game was back and forth, with the fan's hearts in their throats during every play. "The crowd was nuts, I love when crowds cheer against me and my team…, I think it's so awesome to be able to shut them up with how good we're playing," says Michaelson. "It was so cool to see how they hated us, and wanted us to lose, and said all these things about us, and then after every point that we got, and every big kill that we got, they'd just be quiet, and I think it's so cool to be able to do that to a big crowd," Michaelson adds.
The energy best exemplified in the Steamboat Springs game is the reason Michaelson has such a passion for volleyball, more so than the other sports she plays. "I think when someone on my team has a huge kill, I just get so excited, and I think that when everyone gets so excited for that one person, it is so awesome to see how much we fight for each other," reflects Michaelson.
However, during her junior year, Michaelson took a step forward and a step back statistically speaking. She had 226 kills but only with a .374 hitting percentage, as well as 65 blocks. According to her teammate, Megan Casillas, Michaelson's best game junior year was against Holy Family. Casillas commented that Michaelson "Really killed it." Megan Casillas says the team will miss Michaelson next year because "She makes everyone laugh and she brings everyone up when we are down." Casillas adds that her favorite thing about Michaelson is how she goes out of her way to talk to her.
Michaelson committed to the University of Alabama Birmingham via Twitter last March. Initially, Michaelson was not certain if she wanted to live and play in the south, but she was swayed during a visit to UAB. "It was so crazy, and it sounds so cliché, but the second I met the coaches and the team I knew I had to play for Coach Kerry and I wanted to be a part of the family dynamic that the team has," comments Michaelson.
The family dynamic that the UAB volleyball team has, is one of the biggest reasons Michaelson chose the university. Michaelson loves how close the team is, and how the coach feels like a mother to her. Michaelson has taken four visits to UAB, and observed that "Each time I go there, I get more and more excited, because this was the first time I watched them play in person, and it makes me so excited for the future, and so excited to be able to play for such an amazing team and such an amazing coach. I couldn't be more excited for where I'm going."
Michaelson's goals for her senior year include making First Team All-State, as well as First Team All-Conference. Michaelson reflected that she made "The All-Conference team my Freshman year, and I made First Team All my sophomore and junior year. I want to leave a legacy, and I want more girls on the Erie volleyball team to get First Team All Conference, and I want them to be noticed. I feel like there is so many girls on my team who could be First Team All Conference this year, and I think they will be."
Michaelson, Casillas, and the rest of the Erie volleyball team have high hopes for this year. One of their goals has been accomplished, as they will be traveling to Palmer Ridge on Saturday for Regionals.
Only time will tell if this season is Michaelson's best, but one thing is certain. When Mya Michaelson plays her final game for Erie, and leaves for Alabama in the spring, and plays her first college game for the UAB Blazers, she will become Erie High School's first ever Division 1 volleyball player, and she will have truly blazed a trail.
About the Contributor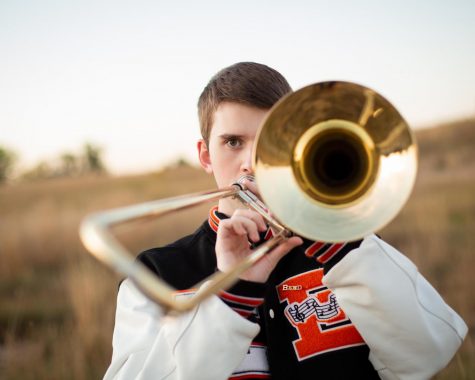 Grayson Blalock, Fall Editor-in-Chief
Grayson is the Fall Editor-in-Chief of the 2019-2020 Tiger Times. He was the Assistant/Sports Editor for the 2017-18 Tiger Times and was the Sports Editor...