Spring Musical 2021
The curtains have closed on Erie High School's (EHS) spring musical for 2021, You're a Good Man, Charlie Brown. The live performances have ended, but those who participated agree that the production was a success.
Scott Wright, drama teacher, director of the EHS theatre department, as well as the EHS theatre academy summer program needed to take many COVID-19 guidelines into consideration.
Wright commented, "The main factor going in with [performing] this year was knowing the COVID restrictions limited the number of people we could have in the building. We had to pick [a musical] that had a small cast size, a small orchestra, and a small tech crew." Luckily, the choice this spring made these accommodations relatively easy to navigate.
On rehearsal challenges, Wright says, "Obviously all participants had to be masked, blocking had to stay six feet apart since they were singing, so all of the choreography needed to keep that in mind." There were multiple cast members sharing a role. However, costumes were not shared and were washed regularly." Wright continues, "The props were disinfected every time they were touched or used, and we had to clear out the room every 30 minutes after we were rehearsing."
COVID-19 has impacted the performances more than it has impacted rehearsals. The auditorium seats over 600 people, but social distancing largely reduced the number of in-person viewers to 100. Families of audience members were seated six feet apart, and thirty-minute intermissions were taken after every thirty minutes of the performing time.
Thalia Burd, Erie's vocal director, shares a similar point of view with Wright concerning COVID-19 related difficulties. Both years she was in charge of vocal directing for a musical were impacted by the virus. However, compared to her other experience, it has still been hard to get used to.
"[this year] was very different this year in terms of the singing rules we had to follow. Number one was singing in masks, specifically surgical style masks, number two was making sure we were six feet apart when we were singing, and then finally, any time we sing we have to air out the room for a half-hour." Burd continues, "We would have to rehearse for half an hour in one room, and then leave it for another half an hour and rehearse in another room."
For just a two-hour rehearsal, the cast would need to switch rooms four times, and masks added a new degree of difficulty to acting and singing to the fullest extent. The frequent room switches, socially distanced rehearsals, and singing in masks could be disruptive. But, Burd commented, "We made it work."
The cast, those working in the theatre department, and the orchestra director Benjamin Tyler were able to work hard and put together a production that may have looked a little different, but still ended up being a hit. Burd concludes, "Honestly, even with all of our challenges, I could not have imagined a more successful musical. Our casting crew was absolutely phenomenal, our musicians in the pit orchestra were amazing, all the staff that worked on the musical was great."
About the Contributor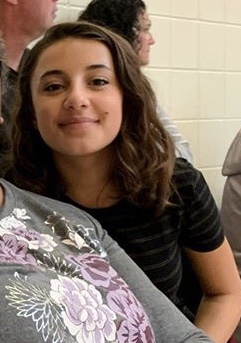 Tillie Mendoza, Staff Writer
Tillie Mendoza is a freshman and this is her first time writing for the Tiger Times. She has always had a passion for writing and her goal this year is...