Good Grief: Charlie Brown Arrives to Center Stage
The EHS Theatre Department has their first performance in a year, "You're A Good Man, Charlie Brown"
As dusk approaches on a Thursday in mid-March, the lights flicker on the stage. The musical, You're A Good Man, Charlie Brown, begins. For the first time in over a year, the Erie High stage comes to life. 
The performance is based on the "Peanut" comic strips written by Charles M. Schulz. The small cast of the musical introduces the characters Charlie Brown, Lucy, Sally, Snoopy, and Schroeder. Each character gets their moment to shine, filling the auditorium with sounds of beautiful music, witty remarks, and laughter. 
Scott Wright explains, in the program's Director Notes, "There could not have been a better production to present to you right now than You're A Good Man, Charlie Brown: a story of a young boy doing his best and trying to make the most of what he has been given in life."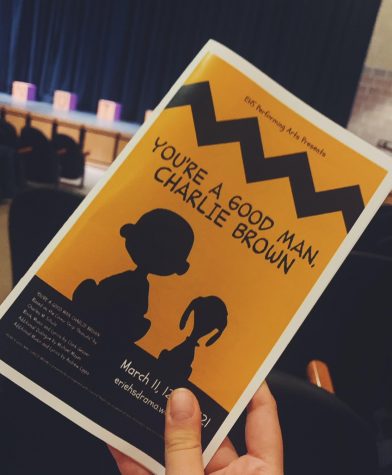 Charlie Brown, played by Chris Tempel, demonstrates his sadness about life. He expresses how he feels as if no one likes him and that he will never get the attention of the little red-headed girl he is in love with. 
Lucy, played by Mora Walker, is the bossy and rude girl she always is. She continually talks about wanting to be queen and tells Charlie Brown he is worthless.
Sally, played by Lexi Schindler, is perplexed by everything. She is irritated with the world, especially her bad grades on her art project and dropping her ice cream. 
Linus, played by Elias Hinojosa, knows everything about life and is very intelligent. However, his smart comments are forgotten when he always talks about how much he loves his blanket. 
Snoopy, played by Dario Hinojosa, chases rabbits with Sally, dances, and realizes that he will only ever be a dog. He wants to live life to the fullest, even if that only means switching his dinner bowl with his water bowl. 
Schroeder, played by Ryan Erekson, only cares about his love for music. Even when he has a girl falling for him, he focuses on celebrating Beethoven's birthday and playing his piano. 
Each of these characters, although dealing with their own lives, come together to make memories that will last them a lifetime. They give each other life advice, play baseball together, and even bond together over their childhood blankets.
The show runs from Thursday, March 11 to Saturday, March 13th. Tickets are available for a live performance, as well as a live stream version. For those in person, social distancing and mask-wearing are heavily enforced. Audience members sit in every other row, and only a few families are allowed to sit within the same section. There are also 30-minute intermissions after every 30 minutes of the performance. This way, the auditorium can "air out" and follow the singing guidelines from Boulder County Health. During these intermissions, people could sit in the cafeteria or watch Charlie Brown cartoons in the Lyceum. 
Even with the COVID-19 guidelines, none of this could have been possible without all of the hard work from the directors, cast, pit orchestra, and crew. Even during a pandemic, the theater department powered through and put together a show that everyone could enjoy.
"I hope you leave [the musical] feeling a little more uplifted, a little more grateful for those around you, and a little more proud of what you have experienced," Wright finishes.