Winter Sports Mid-Season Overview
There is no question that sports seasons this year have been hard, but the sports this winter have had many more challenges not presented in the earlier fall season of football, softball, soccer, golf, and cross country.
Between boys and girls basketball, wrestling, and swim and dive the COVID rules have made seasons shorter and practices harder.
"It is a seven to eight week season. Right before the season we did not have too much contact as a team." mentions swim and dive head coach, Doug Simkins. "With all the restrictions and safety precautions we hit the ground running with a goal of State in mind."
Having a shorter season has forced Erie High School teams to have less preseason and less practice time in season.
"Well, with the shorter season we have had to practice harder and stay more focused. But I think that the girls have done a great job supporting each other all season." Mentions head girls basketball coach Chris Walls.
With so many COVID restrictions it has been hard for people to watch games and matches. However with the help of Erie Tiger Network fans have been able to watch games for the comfort of their own living room. Without spectators the game is bland and is harder for the athletes to focus and compete at their highest level.
"A lot of people swim faster when people are watching them. A lot of our girls do well under pressure and often thrive off of it. They try to do their best in front of people that they want to support them, and so to not have family or friends here is tough. We really relied on being close as a team, and supporting each other no matter what." Comments Simkins.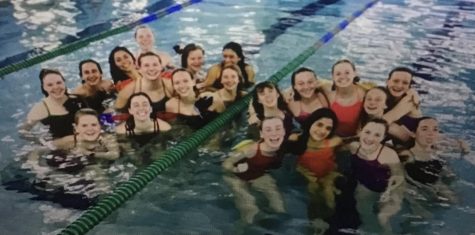 However, Erie High School athletes have persevered and have gotten their teams very far. Thus far putting girls basketball at six and three, boys basketball at six and two, and swim and dive in a strong position for conference.
"We [girls basketball] are currently six and three. And I do believe that we will make it to the playoffs, with the goal of the state championship game." Says Walls.
With so many hardships and rules, teams have been forced to undergo quarantine as well as follow many other safety precautions.
"We got shut down for quarantine, but now we will hop right back into it right before the state tournament." Comments head boys basketball coach Jimmie Lucero. "Having to wear masks and having no fans has made the environment different for sure but we are making the most of it."
With the next big thing in mind, State. All winter sports are giving it their all to represent Erie High School on the biggest stage.
"This year is a little different from the last few years because they [CHSAA] are limiting 20 girls per event. So, they are just going to take the top 20 at the end of the season." explains Simkins.
This year CHSAA has made the decision to only allow the top 20 girls in each event in 4a to compete at state.
Even though there are more challenges for State this year, all teams believe they are in a good place.
"I think we [boys basketball] will be in the elite eight and then we will see how much deeper we get after that." Says Lucero.
As the season starts to wrap up, tiger athletes are happy that they got the chance to play, even if it meant more challenges and hardships along the way.