Objections Sustained on Zoom
After spending the school year with constant meetings and understanding the ins and outs of the courtroom, the Erie High School Mock Trial team Zoomed into their final competition on February 12 and 13, 2021.  
"Mock Trial is a unique kind of organization for any student who is interested in law or how law works," senior member, Jacob Fischer explains, "it is a fake trial that high school students can do and it is a lot of fun."
This club was first introduced to Erie High School in 2018 when Spanish teacher Greta von Bernuth proposed the idea for principal Matt Buchler.
"We have several opportunities [to develop the critical skill of thinking on your feet] here at Erie," von Bernuth continues, "Mock Trial is different than any others, and I wanted to offer another fun and challenging opportunity for students to learn and develop critical skills."
After proposing the club to Buchler, she found the Colorado State Bar Association, which also developed competition rules. Once it was approved, the club was in action.
Since its start in 2018, the Mock Trial team has grown significantly both in size and skill.
"We started out knowing absolutely nothing, and now we really understand the way that prosecution and defense work," von Bernuth mentions.
At the beginning of November, the Colorado State Bar Association releases a fake case for that year's competition, this year was a criminal case where the State of Colorado was accusing a high school student of murder. After dissecting the case, the students get assigned roles and get put on the prosecution or defense side.
"Kids can play attorneys or witnesses, so if you're a logical thinker or a play-actor, there is a great role for you to play," von Bernuth describes.
Each role comes with its own set of responsibilities and an understanding of the law.
"For playing a witness, you get your witness statement, and you have to understand what your character does with the case and how you play the part," explains Fischer, a witness in this year's competition.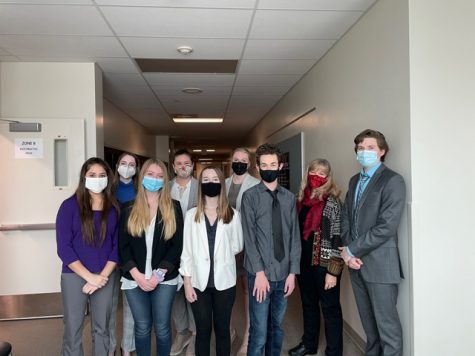 Naomi Kumar, a junior on the team, played an attorney in this year's competition, "As a lawyer you give opening or closing statements, which are the introductions and conclusions of the case, call one witness on your side of the case and direct-examine them. You then cross-examine a witness from the other side of the case."
Direct-examination questions are friendlier and more detailed since there is time in advance to prepare the witness. Cross-examine questions are asked with leading questions and can go unexpectedly since it is with a witness from the other team.
To help understand the law and how to operate in a courtroom, Ken Kupfner and Adrian Van Nice, attorneys in the Boulder District Attorney's Office, volunteer their time to coach the team.
"Ken and Adrian are pretty much our saviors when it comes to Mock Trial since they are experienced lawyers who know what it is actually like to practice," Fischer explains, "They help with their expertise to practice objections, work on the case, and just the techniques that will help us in the long run. We would not have done much without them."
After six months of meetings and over four months with the case, the team finally competed in mid-February. While in other years, the team has been able to compete in an actual courtroom, this year the team gathered their notes and set up camp in the lower C-wing, where they then logged into the trial.
"The competition was really fun this year," Kumar comments, "It was interesting to do on Zoom, but we still made it work and had a great time!"
The team competed in four cases, the prosecution going twice and the defense going twice.
"It was by far our best competition ever," von Bernuth explains with pride, "It was so different because, as with everything during this pandemic, we were competing virtually. But our team has made really great strides in our skills at questioning witnesses, and making and responding to attorney objections."
While most of the team was composed of returning members, some of the team experienced their first trial.
"This year a lot of the people in the club were seniors, but about four of us are not seniors," Kumar mentions, "Next year, there will be a lot of new people, but we will have tons of fun and have a great time in Mock Trial!"
The Mock Trial team is constantly increasing in skill, members, and experience. They hope to see new faces next year and continue their upward trend.
About the Contributor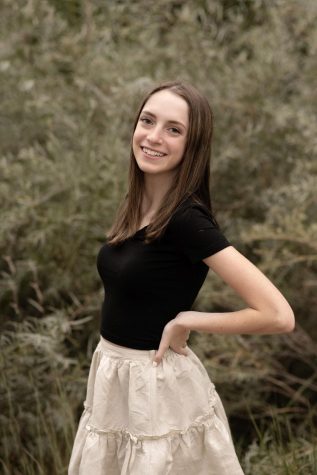 Hannah Goldman, Co Editor-in-Chief
Hannah is a senior at Erie High School. This is her third year writing for Tiger Times. In school, she is a part of Sources of Strength, Teens with Wings,...