The Town of Erie's Ice Rink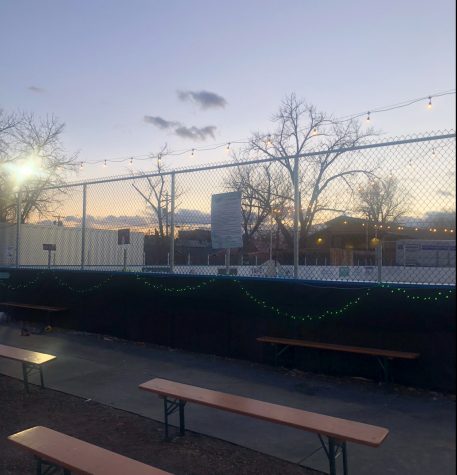 Opened in partnership with The Recess Factory, The Town of Erie's skating rink is an outdoor, COVID-19 aware, and easygoing seasonal activity for the town's community members to enjoy.
The rink is located at 130 Weld Street in Old Town Erie, and it has been open since January 1, 2021. Employee Palmer McQuade says there is no set date for when the rink is closing because it is dependent solely on the weather.
"We are going to try to keep it open for as long as possible, right now our goal is through March. We actually do have cooler machines so we can try to keep it as long as possible."
Aside from public reservations, the rink can also be used for a variety of other events. McQuade says, "We do a little bit of everything. We do stick and puck so we have pucks and goals out there and drop-ins which is also hockey-related. We also do private rentals for birthday parties or other special occasions, and we also offer a free skate element."
Regular hours of operation during weekdays Monday-Thursday are from 4pm-8pm, Friday hours are 2pm-9pm, Saturday hours are from 10am-8pm, and on Sundays, the rink is open from 10am-6pm. McQuade says there are a few exceptions to this rule, including holidays and inclement weather. "Obviously if there was a big snowstorm nobody would be able to skate out here. Holidays have different hours so we are open longer to accommodate more people, since it's always busy around them."
Similar to other establishments in Erie, the skating rink has to stick to COVID-19 safety regulations. "People working here have to wear face masks whenever we are on the premises which includes when skating, we have hand sanitizer around the whole arena, and our capacity is 30 people, which is a rule of the town of Erie." The 30 person rule applies to any event or reservation.
Erie High School freshman Sydney Ahrens says she would definitely recommend visiting the rink for anybody who likes ice skating. She says she is a decent skater and does not have much experience, "But I still definitely enjoyed my time there, even though I am not the best at it."
Ahrens made reservations online and says the online scheduling process was straightforward and easy to navigate. "It was [a] super fun [experience], and it is a pretty big rink for where it is located since it is basically in the middle of Old Town Erie." She also says, "I think it has become pretty popular because a lot of my friends posted about going there on social media."
As far as sticking to COVID-19 safety regulations goes, Ahrens thinks the workers are being more careful than those who were visiting the rink as guests. "The people who were skating were not being as cautious, they were just kind of talking and not socially distancing." On the other hand, she explains, "The people who were actually working there are following the guidelines really well," making sure to wear masks at all times, use hand sanitizer, and keep a safe distance.
The best way to find more information, make a rental or reservation, or ask questions for the employees is on the website www.erieicerink.com.