The Next Step for Braydon Rowe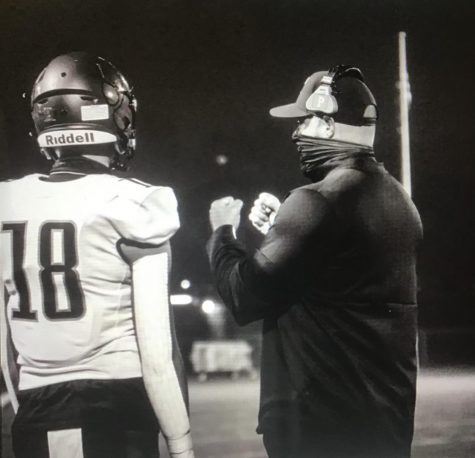 Braydon Rowe is a senior at Erie High School who has always incorporated sports into his life. From a young age, Rowe has played football, which is now leading him onto the next step within his journey, college.
Rowe has been apart of sports throughout his entire life including football and baseball. When he was five years old Rowe fell in love with the game of football and has stuck with it. "I played flag football when I was five and then when I was six my dad told me to try out tackle football." Rowe explained, "However, this meant that I was still a year younger than everybody else on the team. The minor age difference was no problem for me though, as I was tall and had some speed."
Rowe can only thank his father though as he got Rowe to play the game in the first place. Rowe states "My dad coached all of my life. He was a coach since the moment I was born, so kind of just being born into a football family is what got me into football."
Throughout Rowe's football career there has been one person that he has looked up to. His father, Michael Rowe, has been a key figure in Rowe's life as he has been a coach, mentor, and role model since childhood.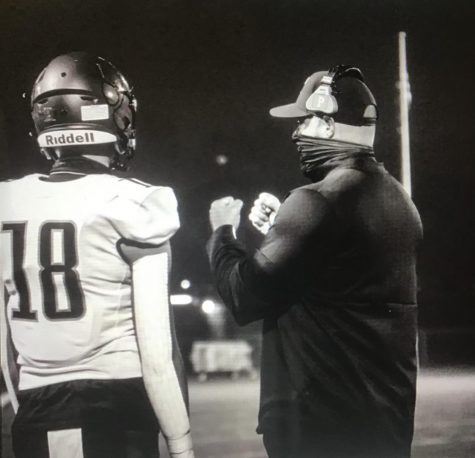 "He [Michael Rowe] has been an extremely important person for me not only in my football career but in life. He has taught me meaningful life lessons through practice." Rowe continued, "I think he has really set me up to be successful not only at the next level of football but in life."
Michael Rowe has expected a lot out of his son as he pushes him to work the hardest in practice. However, Rowe's father is not the only person who has driven him to get better as an athlete.
Rowe explains, "Baseball is definitely more competitive than football. Baseball has brought out a more in-depth and harder drive in me. It has given me the skills of teamwork and being able to work through hard times with both the boys and myself." Baseball has taught Rowe hardships that no person can teach, but one must learn. It has shown him that if you want something you have to give it your all on every single play, place, and skill.
Nevertheless, football has been a focal point in Rowe's life, a place in which he could build off of and give him something to always look forward to. "Football is something special. I have met a lot of people all the way back from my first year. Most of them I still talk to a lot and it is just brought a new aspect of being able to really put my nose down and grind. Football has allowed me to do something fun with people that I like having fun with." comments Rowe.
Since Rowe has built his life around football, he has to work even harder to keep up with the other activities, such as being a 3.3 GPA student-athlete, his family life, and just day-to-day work. With everything Rowe balances on a regular basis, his football career really took off when he got to high school and offered him new beginnings.
Rowe tells us that the coaches at Erie High School have definitely prepared him for the next step within his football career. "The coaches at Erie are something special. All the coaches are extremely knowledgeable and they are all there to help you. 99% of our coaches do not get paid and are volunteer coaches." Rowe explained, "It all comes down to the deepness of their heart and the amount of time they spent over the past four years to helped me, whether it was teaching me life lessons or just helping with recruiting."
Even with the great coaching staff, Rowe still has mixed emotions about his shortened senior year. Rowe says, "I feel like no matter who you ask, they are going to say it sucks. Obviously, it did not go the way that we wanted it to. We were supposed to have ten games like it normally is. But I am just glad that we got to play and I got to be on that field one last time with my brothers."
Rowe's plans after high school started to pick up in his junior year well before his senior year. "The most important year for recruitment was definitely my senior season. I would say most important just for setting myself up for recruiting was my junior year."
Rowe had a serious injury in his junior year, making him kickstart his passion even more. "I had a pretty big injury that took me out, and it kind of put everything into a retrospective view. Like, okay, I need to get things going. I need to start eating and working-out right." states Rowe. Rowe broke his collarbone clean in half and needed a plate to be put in, in surgery.
While he has had a rough last two years, camps have been a major part of his process. "Camps we went to as a team, up in UNC [University of Northern Colorado] or the camps that I went to with Different Breed, a football camp, for aspiring college players were huge," Rowe explained.
These camps and playing high school has led to a lot more. "I have received four offers. I have an offer from Chadron State, from Gus Davis Adolphus College, from Jamestown University, and an offer from Concordia University Wisconsin." expressed Rowe. These four offers have been gateways for Rowe to extend both his academic and athletic careers at a collegiate level.
However, with big moves coming his way there is one thing he will miss. "Friday night, nothing beats Friday night, nothing does." Rowe continues, " It can not get better than being on that field and looking up and seeing every student from your school in the student section, and just seeing the lights and seeing the baby powder that they throw up, nothing will be that."
With another athlete leaving for college soon, Erie High School is proud to say that it is one of theirs. Rowe has not yet chosen a school, but can not wait for what the future holds for him.