Wish Week Recap
In these troubling times, it might be hard to give back to those in need. But the Erie High School  National Honors Society (NHS) has found a way to give back to children with critical illnesses by teaming up with the Make A Wish Foundation. 
 Make A Wish Foundation helps children with illnesses such as cancer, do something they have always wanted to do such as, go on an adventure to somewhere like Disneyland or meeting an idol. When a child receives a wish, it gives them hope and helps them push through their treatments and surgeries.
Last week,  NHS was running a fundraiser that had never been done before, the Make A Wish Foundation Fundraiser. This fundraiser was organized by Mady Brown, a junior at Erie High School.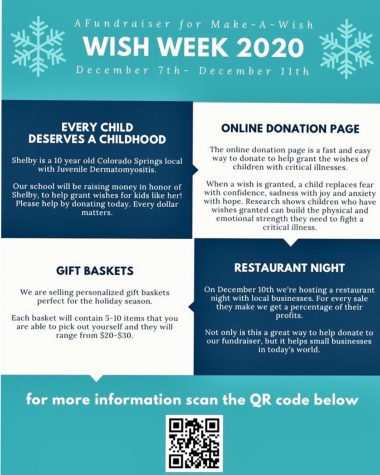 Brown explains why she wanted to do this fundraiser, "My mom's friend has a daughter who had cancer growing up. She was talking about how her school was doing the same fundraiser and it meant a lot to her, to be able to know what it feels like to help children receive a wish."
The goal of the fundraiser was to raise $7,500 because that is how much it costs to grant one wish. 
Due to the pandemic,  NHS had lost word of mouth advertising, making them use the next best thing. They mainly did advertising through social media, including their Instagram, Facebook, Next Door, and StuGo's Instagram page. 
Brown listed how people contributed with donations in this troubling time, "The three main ways that people helped us during these times were, the online donation page. Second, we were selling gift baskets that range from $20 to $30 that included 10 personalized items. And our  restaurant night where you could eat at select restaurants and a percentage of that sale came back to us."

This fundraiser has helped bring those in the Erie community together. "My favorite part is probably seeing how well people work well together," Michael Warner, the NHS president continues, "It's been an honor to see such a diverse group of people put everything together,"
Even though the world is distanced right now, the Erie community was able to come together and bring hope to those in need this year.