The Show Must Go On
The theatre program's One-Act Plays are in full swing to be performed in early 2021.
The house lights dim, the curtains slowly open, and the audience members stir with excitement. Even while the pandemic creates challenges for the EHS Theatre department, One-Act plays have ramped up and will be performed next semester.
"One-Acts are like regular plays and musicals, but are 10-30 minutes long," student director Celina Laslow admits, "students can apply to direct one of these one-acts."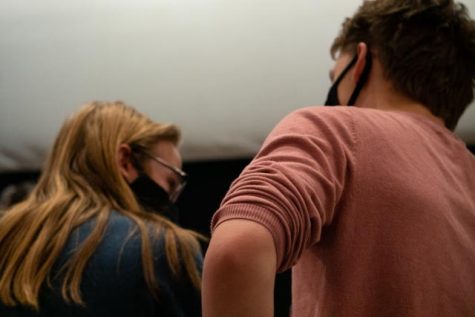 This year, there are four One-Act plays, each directed by a student. The plays range from a comedy about the history of the world from God's perspective to a love story that shadows "The Notebook." People interested in auditioning for these plays did not find themselves needing to prepare a regular audition. Instead, they played improv games with one another. This way, the directors could see the versatility of each actor and determine which play they would fit in best.
The theatre program at Erie has faced many obstacles recently, due to COVID-19. The idea of having a performance that included social distancing and mask was difficult to comprehend. However, the student directors and actors were determined to take on the challenge.
Laslow, who is directing a play about love, comments, "Rehearsals are more spread out and blocking has to be six feet apart, which is the challenge for me. I mean, how do you do a love story six feet apart?"
Although the student directors have found themselves having to change their original ideas, the actors within the performances also have a tough time dealing with the different COVID-19 regulations.
"Theatre kids are always really close, literally, so we have had to learn how to work in our own separation into the show," ensemble actor Hannah Schmalstich informs, "We also cannot handle the same prop, which is an interesting challenge that we have never had before."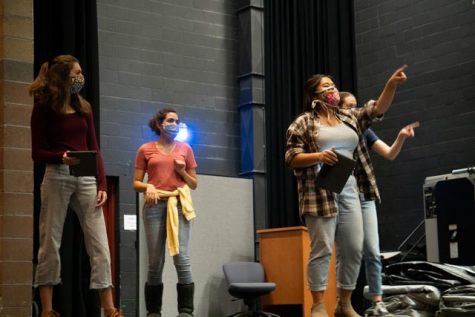 The One-Act Plays were originally scheduled to be performed on December 4th. However, as Colorado has hit the second wave in the pandemic, the theatre department had to reconsider. All four casts thought it would be best to wait to perform until next semester to ensure more safety and preparedness within each act. 
"We, unfortunately, had to postpone our performances to next semester," Schmalstich admits, "I am obviously disappointed, but we are still working super hard and counting down the days until we can perform!"
Nonetheless, the actors and directors are excited to have a chance to perform on stage this year. Even when all plans are up in the air, the theater department is holding onto the idea that they can still have some normalcy and be able to perform for the community.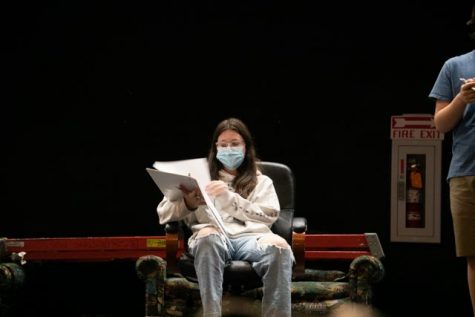 Liam Coventry, a student director of "God's Perspective," discusses, "I want to bring people some hope, as well as make people laugh. With our brilliant cast, there is no trouble accomplishing that."
The One-Act directors and actors are hoping to bring light to a desolate world with these performances; even during these uncertain times, the show must go on.