Hairstyles To Spice Up Your Look
Hair can always change and grow back, but the memories associated with a fun, new hairstyle does not go away. It is never too late to switch up your look. 
When quarantine began, a huge trend, known as the "e-girl trend," swept TikTok. This trend involved teen girls dying the front pieces of their hair bright colors or a bleach blonde. This hairstyle gives you a pop of fun color while not overdoing it.
When it comes to color, there are many different styles you can do. A lot of people also add color to the bottom layer of their hair. This style also allows for a pop of color but is not too crazy. Also, you can choose to cover the color up under your hair or show it off with an updo. 
Another current hairstyle trend is curtain bangs, which are very subtle. Curtain bangs are long enough to grow out or pin back, but they can also be cut into a shorter look. Most people get curtain bangs because they help your hair look like it has more volume and frames the face. If you are thinking about bangs, but you are not fully committed, or just want to do a little something different, maybe give curtain bangs a try.
A cute little accessory that can help vamp up your hairstyle are clips! There are many different kinds of clips you can choose from, such as a barrette, butterfly clips, metallic bobby pins, etc., and is changeable on a regular basis.
Lately, all the rage is around claw clips. Claw clips are the big clips you can probably find in your mom's bathroom. With a smaller claw clip, you can do a half up half down hairstyle using the clip to hold the top half. Using a bigger clip, you can put all of your hair up and use the clip to hold it in place. You could also twirl all your hair and place the clip underneath the hair to give a ponytail or bun effect.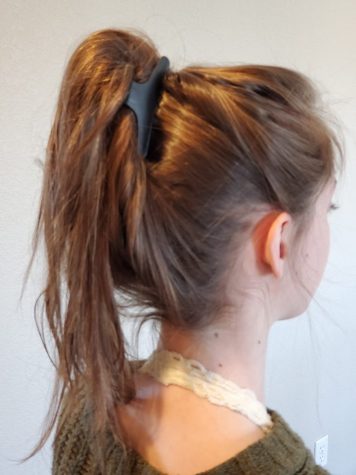 With so many hairstyles to choose from, adding a little bit of your personality with some color or layers is a great way to express yourself and have fun.