Adjusting to Hybrid Learning
The halls half-filled with students is a sign that hybrid learning has begun at Erie High School. Since starting hybrid learning due to COVID-19 at the beginning of October, students have had to adapt to participating in a mix of in-person and virtual classes.
Many students have strong opinions about the district's decision to go to a hybrid learning format.
"I think going hybrid was the right decision," says Adele Eberhardt, a sophomore at Erie High School, "Even though it puts students at a higher risk of getting COVID-19, I think that it's better than having to do just online learning, which was incredibly difficult."
Due to the new hybrid learning format, the average school day looks a lot different for students this year.
"During an in-person school day, the teacher holds class and directs the teaching toward the people in school," explains Riley Woodard, a freshman at Erie High School. "For an online school day, the teacher is either talking or sharing their screen to show everybody something. In most classes, the people online log off the WebEx and have time to do their work by themselves after instructions were given."
Many students have had to make changes in their daily lives in order to adapt to the hybrid learning format.
"In order to adjust to hybrid, I had to wake up earlier to make sure I left the house on time and looked presentable for in-school days," says Woodard, "I also had to remind myself to pay attention in class [during online days] because the teachers didn't focus on us paying attention as much because there were other kids actually in school."
Hybrid learning has brought some new challenges for Erie High School students.
"One challenge of hybrid is that once you leave a Webex, you can't really join it again to ask a question because the teachers have to focus on the students in class," explains Cade Sweeney, a freshman at EHS. 
Despite these challenges, hybrid learning has made some things better for students.
"I feel like I get a lot more work done because of the new hybrid learning format," says Sweeney, "Hybrid also makes it easier to access teachers if you have a question." 
The 2020-2021 school year will be one to remember as students navigate the new hybrid learning format due to COVID-19.
About the Contributor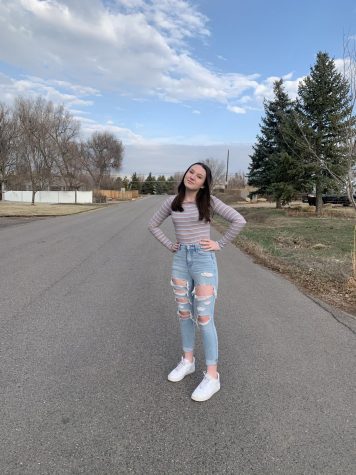 Ella Valania, Staff Writer
Ella is a freshman at Erie High School and is a Staff Writer for the Tiger Times. At school she is involved in choir and theatre. She enjoys music, theatre,...