Tigers Introduce New Volleyball Head Coach Lindsey Brown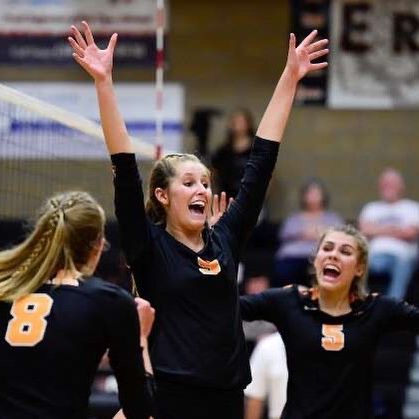 This season, the tigers got a new volleyball coach, Lindsey Brown. Coach Brown is going into the season planning to take them to play high-level volleyball. Athletes are adjusting to the new coaching style as they have gotten some pre-season work over the summer for volleyball. 
Peyton Michaelson, a senior on the volleyball team, explains, "She has done a lot of position based practices so far helping us with hitting. It has really been nice learning new things about hitting and not just making the defense better." Brown has spent time working on these more elaborate practices more tailored to the individual players.
Brown's career in coaching volleyball at the high school level has been very successful. She started off coaching for Mountain View in 2000 bringing them to five state title appearances and three championships. She then led Roosevelt to a playoff appearance before going to coach at University High School for 5 years. Now as a tiger, Brown plans to incorporate the same winning trend and get the tigers a state championship in the 4A division.
Coach Brown is optimistic about this upcoming season saying, "They have set goals for themselves, and you can tell that they are working hard, each day in the gym, whether that's with us at Erie or if that's on their own or with a club team."
As players are adapting well to new coaching styles, the team is working together. The goal of bringing in the new coach was to be able to raise the level of play to heights that win state championships. The team has been on an upward trajectory because of their playoff win last season and boasting an impressive 19-9 record. Brown is aiming to push the team to a higher record and a higher seed in the state playoff tournament.
Michaelson explains, "I think we will be able to go really far and we won't be as surprised by doing well because we will be more prepared for success."
As Brown and her team continue to work, we will watch their performance and see for ourselves if these tigers are really the king of the jungle.