Ava Welty: Denver University Lacrosse Commit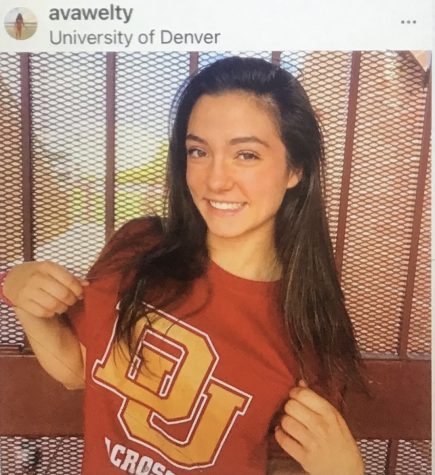 Erie High School junior, Ava Welty, has committed to Denver University (DU) to pursue her academic and lacrosse career at the division one level on Tuesday, September 22, 2020.
"My mom is from the east coast, and she played lacrosse growing up. I played rec lacrosse at Boulder Valley girls lacrosse, so I guess that's just kind of what got me started," stated Welty.
Welty has been playing lacrosse since childhood and has kept with it now being able to play lacrosse at the collegiate level.
"I was interested in UMass, George Mason, and Vermont," says Welty.
Welty talked to coaches across the nation in search to find the right fit. Bringing her back to the one that she knows best, DU.
"A lot of my decision came down to the fact that they have a really great program that is on the rise, and I think that staying in the state was a big priority for me," Welty continues, "I really like their coaching staff and I am really excited to just learn from all the amazing girls that are already there."
Welty decided that DU was the place for her because it was closer to home and had an environment in which she could thrive.
"My recruiting process was a whole lot different because I could not go to any recruitment camps or anything. So, I knew Denver much better than other schools because I didn't get to visit them due to COVID-19, it made my decision a lot easier," states Welty.
Recruitment camps all across the nation were shut down due to Covid-19, making it harder for juniors and seniors to continue their academic and athletic careers at the collegiate level
"I play lacrosse at Fairview, and I love my coach there and she has helped me to get a lot better. So, I guess that experience just helped me become a better player and helped me to get recruited," explains Welty. "A lot of it just came down to talk to coaches. Around the beginning of September, I started talking to coaches, and then after that it just kind of sped up really quick and eventually just led to my decision about three weeks later."
Welty's recruiting process was short but has led her to a place where she can pursue her dream.