Erie Traditions We Missed Due To COVID
The school year has been going through quite a few changes due to COVID. Sadly, because of this, Erie High students have missed out on a few of the traditions that make high school memorable.  
"Homecoming is my all-time favorite week, the pep rally, the assembly, the spirit weeks, getting the theme together, and getting to decorate with your class has always been so fun,-" explains Izzy Hageman, a senior at Erie High School, who loves Homecoming.
Due to hybrid learning,  it has been hard to do school-wide events such as spirit weeks and pep rallies.
"Dressing up for spirit weeks and seeing everyone wanting to have fun, picking people to go up for the pep rally games. Those are always so fun," Hageman continues, "-It just really sucks that we're missing it this year, but I'm trying to make the most of it,-"
Hageman is doing what she can to keep Erie High Students involved and have something to look forward to.
"For homecoming week I am doing a dodgeball tournament, and kickball for the whole school," Hageman added, "I really want to encourage people to dress up with their friends as if they were going to homecoming. And just hang out and have a fun night. Even though we will not have a dance to go to, it could still be really fun."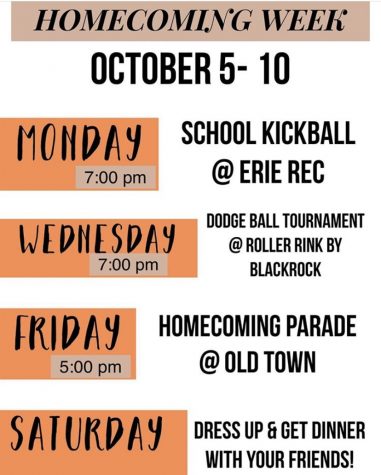 April Fabre, another senior at Erie High School, also looks forward to Homecoming every year.  
"Homecoming week is just so fun. Everyone gets to dress up, all the teachers are super excited, and just everything about that week is so fun."
While some students live for the dances, others are all about sporting events.
"I miss football, standing in front of the field in the senior section. That is something really sad that I'm missing out on,-" Fabre added.
No matter what the sport Erie students always bring the most spirit.
"I did love going to the football games, any sporting event really. Erie always brings the most team spirit,-" says Lily Christensen, a senior at Erie High.
Christensen explains how she loves Erie sports, but fears there is no effective way to follow COVID guidelines at sporting events.
"Sadly, for sporting events, there's no way to really social distance effectively on stands and I have seen videos of other high schools where all the students are huddled together and it's not very safe,-" Christensen concludes.
Though COVID has taken a lot away from Erie High students, they remain hopeful that they will be able to experience their favorite traditions later this year.