A Quarantine in Review: Trends Come and Gone
Since quarantine started in March, many trends have come and gone for teens across the world. From baking bread to playing popular video games, we have just about seen it all. 
TikTok: Previously known as Musical.ly in 2014, TikTok has recently become wildly popular. People with all different interests, cultures, and talents turn to TikTok to find an escape. Whether that be watching videos or creating content.
Erie High School student, Kelly Hobbs, uses TikTok quite often and is one of many people who find it addicting, "There is just so much content out there that is created for people with similar interests as me. It is so easy just to keep scrolling and keep seeing new things".
Bleaching Clothing: Combining art and fashion at the same time, using bleach to make different patterns or to make a tie-dye design on clothing has been extremely popular.  The trend came to be from March through May and still makes a great look. It is a long process that can result in an amazing personal design or many failed attempts overall.
Despite all the issues that might come, freshman Avery Felton still deems this to be a worthy experience. "It definitely is worth it because you can make a simple pair of jeans that were $10 into a very unique article of clothing."
Skincare by Hyram: Arguably one of the biggest YouTubers to rise in popularity during quarantine, skincare specialist Hyram now has a large following of 3.71 million YouTube subscribers and 6.2 million followers on TikTok. His videos include reviews, reactions to celebrity skincare routines, general skincare information, recommended products, and more. Hyram explains to his audience why some ingredients are bad for the skin and can cause permanent damage. With all of these new recommendations and information, teens across the world have gone out and purchased items that were 'Hyram approved'. 
"It did not hurt to take a little bit of time out of my day to focus on what I am putting on my skin." Erie High School student, Katie Tempel, does not regret being part of the Skincare by Hyram craze, she continues, "It benefits me in the long run and I have no regrets about that".
Cloud bread: In early August, the trend of baking "cloud bread" came around. Cloud bread is a fluffy bread from the 1970s. It made its rise to popularity on TikTok at the end of the summer when many people were trying new recipes and attempting to make the bread themselves. However, many realized the bread did not taste very good, given the recipe is essentially cooked egg whites and the optional food coloring. 
Since the cloud break has a poor taste, Kayla Doughty does not find it to be a worthy treat to make. "If you have nothing to do then go for it. But it is honestly just not worth it in the end."
Among Us: The game Among Us is an incredibly big trend all across the world right now and is currently ranked as the number one free game in the App Store. Among Us is a video game that many people have been playing, its a topic of conversation daily for lots of people. The players are on a spaceship trying to complete tasks while an "impostor" is sabotaging the tasks and killing players. The fun colors and costumes draw players into the game. References to this game are made on a regular basis …
Although it is currently very popular, freshman Jailyn Heathman does not think this is a game that will be big forever. "People find it fun but eventually they are just gonna be like 'that was fun while it lasted guys'. But that is how trends are, they do not last forever."
Trends have come and gone for centuries, but with the short-attention-span that came with quarantine, these trends are leaving just as fast as they arrive. With all of the trends that have come into the lives of Erie students, they have taken action to be a part of the trend and distract themselves from the craziness of quarantine.
About the Contributor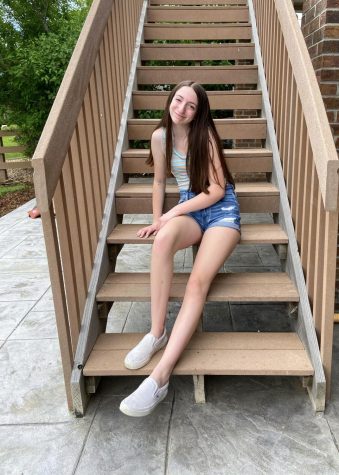 Zoe Goldman, Staff Writer
Zoe is a freshman at Erie High School and is a Staff Writer for the Tiger Times. She enjoys theatre, art, writing, and spending time with her friends and...