Erie Community Library Starts a New Chapter
Since January 2019, the Erie Community Library has been working on an expansion to adapt to the growing Erie community. The interior of the library will be completed the last week of September 2020.
The expansion will feature several new additions to benefit the community, including four new study rooms and large two meeting rooms which can be opened up with a retractable wall to fit more people. It also includes a new children's area with a much larger storytime room, an expanded teen area, and a makerspace.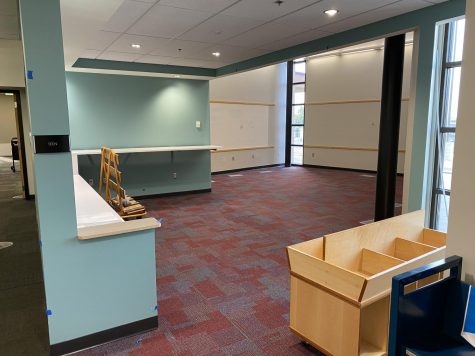 Library manager Joanna McNeal explains the many tools that will be found in the makerspace, "We are going to have a makerspace that will have a laser cutter, 3D printer, possibly some sewing machines, and a variety of other things for people to use to do crafts."
The new event spaces being added will change how programming is being done. Children's librarian Kristin Spencer is looking forward to using the new event spaces.
"Previously we were limited to just one meeting room. So if the teens were having a program, then the children could not [have a program]. If the adults were having a program then they were the only ones [having a program]," commented Spencer, "Now instead of a single space we should have three pretty good spaces to use."
The staff are not the only ones looking forward to the completion of the expansion. Frequent library patron and Erie High School student, Claire Huber, has known about the expansion for quite some time and is excited to see it completed. "I'm very excited to see the library when it's finished. I think it will be really cool but it will also be kind of strange to see the library differently after it looking the same for a very long time."
Although the exterior of the library will need some more work, the interior will be finished by the last week of September. So when the time comes, grab your mask and check out the newly improved Erie Community Library.