Instant Grading the NFL Draft
Pre-Draft: A+
The video narrated by Peyton was incredible, Goodell was sincere, and the National Anthem with the videos of healthcare and frontline workers was perfectly fitting.
Did I appreciate it all too much? Maybe. But aside from the WNBA draft six days ago, which was also incredible (especially the tribute to Gianna Bryant, Alyssa Altobelli, and Payton Chester), this is the first major semi-sporting event, and I'm very ready for it.
And as Goodell said, even the virtual boos are good.
1st Pick: Cincinnati Bengals — Joe Burrow, QB, LSU — A
Burrow was the consensus top pick for months for a reason. No one will blink their eyes at the Burrow pick. He's going back home to the Cincinnati area. Now the Bengals need to get him a lineman or two. He's got weapons in AJ Green and Joe Mixon, and if he has a solid pocket, the Bengals should have a much better offense this year.
2nd Pick: Washington Redskins — Chase Young, Edge, Ohio St — A
Young was the second best player in the draft, and the best defensive player. He follows the Bosa brothers into the NFL from Ohio State, and if he plays as well as they have, he'll have an excellent career. The only reason Washington gets an A- for Young is because the defensive line is their biggest strength already. It got significantly better, but an edge rusher wasn't their greatest positional need.
3rd Pick: Detroit Lions — Jeff Okudah, CB, Ohio St — A+
Okudah is my favorite pick early on. Detroit desperately needed a corner, and they got a great one with the third pick. Okudah has height and length that many corners lack, and it will serve him well in Matt Patricia's defense. He's someone that Rodgers and Cousins will have circled on film, and they won't throw at him often.
4th Pick: New York Giants — Andrew Thomas, OT, Georgia — C-
Oh, New York. The first pick that I didn't guess correctly was Thomas. They had better choices than Thomas, I would've gone with Wirfs or Wills over him. Thomas can be a good or great NFL player, but he wasn't the tackle they should've taken with the fourth pick
5th Pick: Miami Dolphins — Tua Tagovailoa, QB, Alabama — A
The Dolphins gambled a little bit with Tua and his injury history, but they didn't have to trade to get him, and they get to pick again twice in the first round to give him weapons or protection so that he can stay healthy. If he does stay healthy, he'll be a steal with the fifth pick for Miami. Now, like Cincinnati, it will depend on what they can surround him with.
6th Pick: LA Chargers — Justin Hebert, QB, Oregon — C+
I'm not a fan of Herbert with the sixth pick. LA could've traded back and gotten another pick, or another player, and they could've gone with Wirfs or Wills to beef up their offensive line. Herbert has potential, but this is too high of a pick for me.
7th Pick: Carolina Panthers — Derrick Brown, DT, Auburn — B+
Brown is a solid pick for Carolina, but he's not Isaiah Simmons. Any draft pick that isn't Simmons from now on can't get an A. As far as players on the defensive side of the ball go, Brown's the second best one they could have gotten, and he fits in Carolina. They needed a DT, and they got one.
8th Pick: Arizona Cardinals — Isaiah Simmons, Defense, Clemson — A++
What an absolute steal with the eighth pick. Arizona got a top-3 player at the eighth pick. There aren't enough good things to say about Simmons, who can quite literally play almost anywhere on defense. Calling him an OLB is an insult and a joke. Simmons' slide finally ends at the benefit of the Cardinals.
9th Pick: Jacksonville Jaguars — CJ Henderson, CB, Florida — B+
The Jags needed a corner, and Henderson fills that need for them. He's a solid corner and should fit well in Jacksonville. Of all the players in the draft, I don't know as much about Henderson, but he gets significant praise from coaches and analysts.
10th Pick: Cleveland Browns — Jedrick Wills Jr., OT, Alabama — A-
Cleveland got a steal with Wills at 10, who should've gone off the board earlier. His slide wasn't as dramatic as Simmons', but he still slid. Cleveland gets Baker Mayfield a top level tackle to protect his blind side, and the Browns will benefit greatly from his presence. 
11th Pick: New York Jets — Mekhi Becton, OT, Louisville — B
Becton is a solid pick for New York, but I'm surprised that they didn't go with a receiver here. They had needs at both positions, and they went with the lineman instead of the receiver. I also like Tristan Wirfs at tackle, who's sliding down the board.
12th Pick: Las Vegas Raiders — Henry Ruggs, WR, Alabama — C-
There were at least two better receivers on the board better than Ruggs, but it's Gruden, Mayock, and the Raiders. What else would you expect?
As a Denver fan though, this thrills me. 
13th Pick: Tampa Bay Buccaneers — Tristan Wirfs, OT, Iowa — B+
This is a good pick for Tampa. They needed a lineman, and they traded up to get him for the first trade of the draft. 
Now, my top two receivers are on the board and Denver's up in two picks. Fingers. Crossed.
14th Pick: San Francisco 49ers — Javon Kinlaw, DT, South Carolina — B
Kinlaw replaces DeForest Buckner with Javon Kinlaw. It's a surprising pick for a team with a great defense and a need at wide receiver.
15th Pick: Denver Broncos — Jerry Jeudy, WR, Alabama — A-
I wish that I could be more excited about this pick for Denver. Jeudy's great, but I'm going to Oklahoma and I've always been an OU fan. Loved CeeDee too. If Lamb had been off the board, this would've been an A+ pick for me. Jeudy will fit well in the Denver offense though. Just bummed about Lamb.
16th Pick: Atlanta Falcons — AJ Terrell, CB, Clemson — C+
Atlanta needed someone in their secondary, and Terrell filled that need. It's a bit of a stretch this high just because of the need at corner, though.  
17th Pick: Dallas Cowboys — CeeDee Lamb, WR, Oklahoma — A+
It's a team that I don't hate, and see my prior thoughts about CeeDee.
18th Pick: Miami Dolphins — Austin Jackson, OT, USC — A-
Jackson wasn't one of the premier tackles in the draft for me, but he was at the top of the next tier for me, and this makes their Tua pick look much better. This has been a great first round for the Dolphins. 
Miami First Round Grade: A
19th Pick: Las Vegas Raiders — Damon Arnette, CB, Ohio St — D+
Arnette wasn't on my first round radar, and had a second or third round grade from plenty of analysts. He has talent, but I'd be nervous to fill that need this high. I wouldn't like this Vegas draft at all if I was a fan. As someone who's a fan of a team in their division, I'm pleasantly surprised by their picks.
Vegas First Round Grade: C-
20th Pick: Jacksonville Jaguars — K'Lavon Chaisson, OLB, LSU — B+
I really like the Chaisson pick for the Jags. Chaisson reminds me of Simmons, but a bit more locked into the OLB position, and not quite as fast. He should do well in the AFC South, and he's someone that can improve a lot with good coaching and has a high ceiling.
Jacksonville First Round Grade: B+
21st Pick: Philadelphia Eagles— Jalen Reagor, WR, TCU — B
Just about everyone knew that Philly was going to take a wide receiver, and they got a speedster in Reagor. He can go out of the slot or from the outside. He's a bit on the smaller side, and I'm a little surprised that he went above Jefferson. Otherwise, this is a need-filling pick for Philly that makes sense.
Blake Donaldson will be back later tonight or early tomorrow with grades for picks 22-32.
About the Writer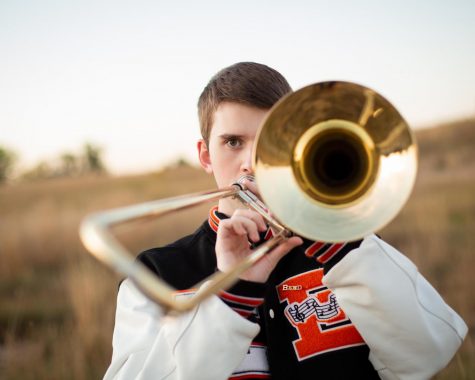 Grayson Blalock, Fall Editor-in-Chief
Grayson is the Fall Editor-in-Chief of the 2019-2020 Tiger Times. He was the Assistant/Sports Editor for the 2017-18 Tiger Times and was the Sports Editor...