Erie Students Give Back By Making Dog Toys
After school on Friday, February 21, a group of 30 Rotary Interact members, dog enthusiasts, and people who wanted to have fun or give back to the community came together to assist Erie's Rotary Interact club in making dog toys.
These students made around 40 toys and did not stop until all of the material was used up. While Beth Lee, an English teacher at EHS, played dog cartoons, the volunteers snacked and worked hard as junior AJ Juenemann, President of Rotary Interact, provided them with instructions.
Juenemann came up with the idea for and initiated this activity, commenting 'We were planning on doing a Rotary get back together for the second semester so we decided we can tie in a community service project and making dog toys is kind of easy and relaxed." 
Juenemann especially appreciated this activity due to his relationship with dogs, "Giving back and making these toys felt really good especially since I have three dogs at home and do 4H with dogs."
Junior Board Member Mia Weber explained the planning behind the big event, "While we have lots of exciting service projects in the making, this one came together last minute and it made me feel super encouraged to see so many people come help up!" 
Weber continued, "Since most of the club is upperclassmen, it was exciting to see some younger grades get involved! It just went to show that even a project that is thrown together at the last minute can be fun and make a really big difference."
Jamis Schriner is a junior in Rotary Interact and was especially moved by the dog-toy making process, "My friends made me come at first but I am now deeply involved emotionally in the dog toy process because of its calming manner and the way it never leaves me."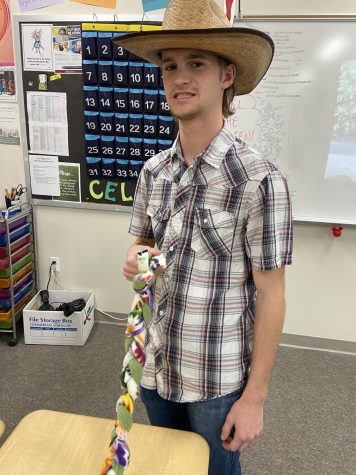 Junior board member Claire Watson loved the feeling of giving back during this process. "Shelter dogs can have some really hard lives so doing something small to help make their lives better makes me feel really good."
Dog-enthusiast Amy Norris also went to make dog toys, "Even though I am not in Rotary Interact I still went and had an amazing time hanging out with my friends and giving back to my community."
The large supply of dog toys is now ready to be loved and played with by the dogs at the Longmont Humane Society!