Girls State Swim Preliminaries Recap
THORNTON- Erie Swim locked in berths in the finals for all three of their relays as well as four individual events during the 3A state swim prelims on Friday.
The morning kicked off well with 200 Medley Relay. Erie shaved almost two seconds off of their seeded time and took eighth overall in prelims. Anna Lillie, Anna Dunn, Payten Irwin, and Kambrie Payne will swim in the A final Saturday when the final portion of the 3A state meet begins at 3:30 pm.
A few events later, Payten Irwin started to feel a case of déjà vu. As she took the block for the 50 Free, when she looked over to her right, she saw Caitlin Cairns of St. Mary's. One year earlier, when Irwin took the block for the same event, she was also up against Cairns. At the end of the race, Irwin took second with a time of 24.56 seconds, with Cairns leading at 23.62 seconds. Going into the second day of the state meet, Irwin will need to focus on edging out Cairns if she wishes to defend her state title. However, last year Irwin came out of finals in second place as well and was still able to come out on top.
Also making splashes in the same event was freshman Anna Lillie. Coming in seventh with a time of 25.62, she will swim with Irwin in the A final on Saturday. Lillie is the only other swimmer that was able to make finals in an individual event other than Irwin, and being a freshman sets the team up not only for a top ten finish on Saturday, but also sets up for three more exciting seasons.
When it was time for the 100 Butterfly race, the rivalry between Irwin and Cairns continued. Just like in the 50 Free, Irwin met Cairns in the 100 Butterfly finals at last year's state meet. Only, in that case, Irwin took third in the prelim and then took the state title in the finals. Just like in the 50 Free, when the buzzer went off, Irwin came in second with a time of 57.49 seconds to Cairns 56.59 seconds.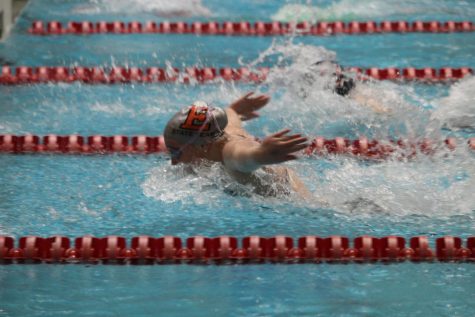 The Patzer sisters along with Meredith Olson and Emma Fling (subbing for Kambrie Payne) were able to squeeze into B finals in the 200 Freestyle Relay by taking 18th place in the prelims with a time of 1:49.88. This will be crucial to contributing to the team's chance of taking a top-five spot in the team scores.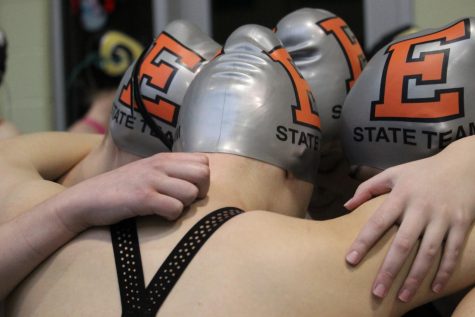 Lillie showed back up in the 100 Freestyle race coming in 9th with a time of 56.38 seconds. Since we are on the topic of déjà vu, if I had to guess, Lillie will be experiencing some with Ava Anderson of D'Evelyn in an Irwin-Cairns like scenario. Both are neck and neck in both the 50 freestyle and 100 freestyle races, with Lillie coming out ahead in both. With Lillie and Anderson both being the top freshman in the races, it should be an interesting scenario to play out not only on Saturday but in the following three seasons. 
Just as Erie started off with an impressive 200 Medley Relay performance, they ended with exceptional performance in the 400 Freestyle relay. "The Annas" (Lillie and Dunn) paired with Irwin and Payne were able to pull out a 3rd place finish with a time of 3:50.78. They will race for the title against Evergreen and Kent Denver tomorrow in the last event of the 2019-20 3A girls swim and dive season. 
While they didn't qualify in their individual events, Meridith Olson, Raegyn Patzer, Isabella Schneider, April Fabre, and Anna Dunn all represented Erie well, being that they qualified to compete in the prelims of the state meet. In addition, Olson, Patzer, and Dunn will also play key roles in all three relay teams' success on Saturday.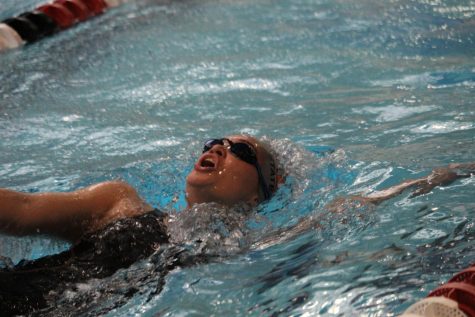 And all that is just the swim prelims. Dive will compete in their preliminary on Saturday at 9 am, and finals will take place along with swim starting at 3:30 pm. Diving will add to the team's success and will help to bring the team to a top-five finish along with Irwin, Lillie, and the relay teams. 
Every single event that Erie competes in on Saturday will be crucial to the team's overall success. However, going into tomorrow, Head Coach Kelly Shipley said, "I don't have any worries," and then said we should be looking out for,  "everything."
About the Contributor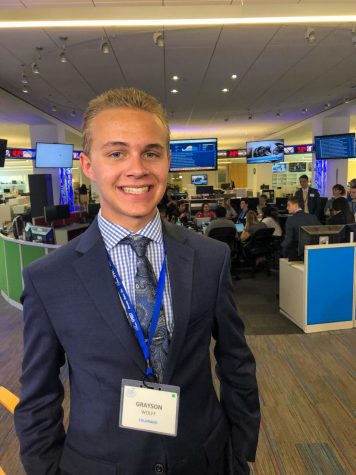 Grayson Wolff, News Director (ETN)
Grayson is a Senior at Erie High School and is the News Director for the electronic media division of Erie Tiger Media called the Erie Tiger Network. He...